I'm guessing probably most of you feel the way I do about "stanced" cars, but will today's 10K Friday contestants make you give pause to consider one? The BMW 540i is a favorite here at GCFSB; you get most of the M5′s performance at a lower price! The best of the bunch are the 6-speed variants, and while there aren't any of the coveted "M-sport" versions appearing today I think it's still an interesting face-off. Today we have a "stance" modified 1995 E34 against a stock 2001 E39; which would you choose? Let's start with the lowrider: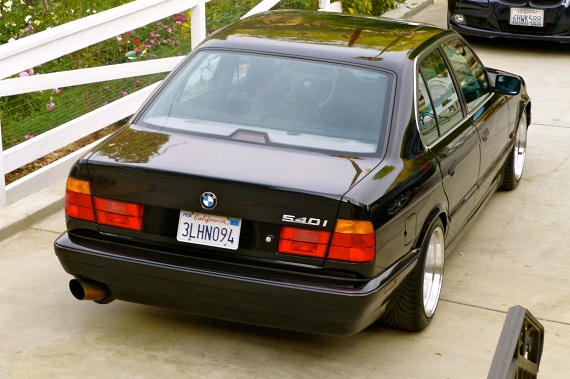 Year: 1995
Model: 540i
Engine: 4.0 liter V8
Transmission: 6-speed manual
Mileage: 88,000 mi
Price: $8,500 Buy It Now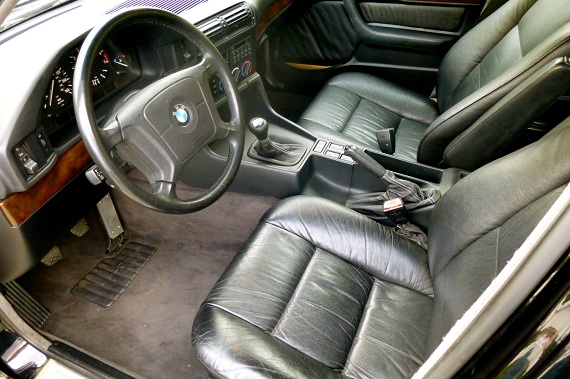 1995 BMW 540I WITH ORIGINAL 88K MILES ON THE MOTOR AND BODY ALL ORIGINAL SHINY PAINT 9/10

ALL FULL POWER PLUSH INTERIOR 9/10 NO RIPS NEW HEADLINER

ORIGINALLY AN AUTOMATIC TRANY CHANGED OVER TO LATE 90′S 6 SPEED TRANY WITH ALL OEM PARTS

ALUMINUM LIGHT WEIGHT FLYWHEEL AND PERFORMANCE CLUTCH.

ALL NEW EXHAUST SYSTEM 3 1/2 IN PIPING TWO NEW HI FLOW CATS AND AN AWSOME SOUNDING MUFFLER ALL MANDREL BENT WITH DTM STYLE TIP THAT YOU CAN NOT IGNOR.

ALL NEW COIL OVER SUSPENSION WITH BILSTINE INSERTS AND ADJUSTABLE MANOFIED CAMBER/CASTER PLATES

BIG BREAKE KIT WITH DRILLED/SLOTED ROTORS

17X8.5 BBS RS REPLICAS AND 17X10′S IN REAR WITH STRETCHED SUMITOMOS FOR THE STANCED LOVERS

ALL THE MODIFICATIONS ARE DONE BY MANOFIED IN SO CAL. THERE IS TON OF MONEY SPENT ON THE DRIVE LINE AND ITS A SOLID ZERO RUST WITH A NICE STIFF RIDE PLENTY OF POWER WITH BIG V8 WITH GREAT HANDLING AND A NICE SOUND ,WHAT ELSE CAN YOU ASK FOR

I PRICED THE CAR VERY MODERATE SO THERE IS NO ROOM TO NEGOTIATE

ALSO JUST THROWING OUT THERE, I AM LOOKING TO BUY A X5 4.8 is AS MY NEXT PROJECT

I LOVE THESE 4.8 V8 MOTORS

PLEASE CONTACT ME FOR ANY QUESTIONS YOU MAY HAVE.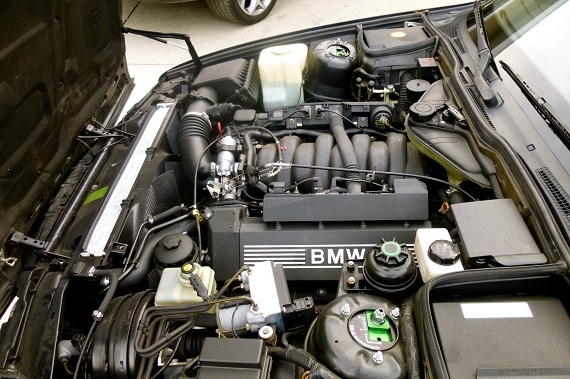 So apart from a poor use of the letter "E" and atrocious overall spelling, this is an interesting car. It's important to remember you're not buying the seller when looking at these cars. What we have, then, is a manual converted 540i that has been lowered with what appears to be a trick coilover system and a rather silly looking exhaust. Otherwise, it wears some cheaper imitation BBS RSs and looks pretty spectacular in black over black. Raise the ride height a bit more in the front and a bit less in the rear and tone down that exhaust, and I don't really see much of anything wrong here. But if Stance Nation scares you, there's always stock to consider: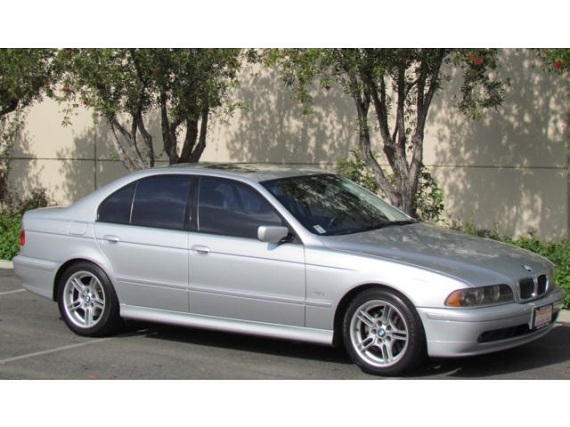 The E39 is – in my opinion – not as good of a looker as the E34 was, but it's still a good looking car. This particular example is a post-facelift car, giving it the updated lights and M-sport wheels that make these look a bit more M-tacular. In often-specified silver over black, this is a fine looking example with lower average mileage: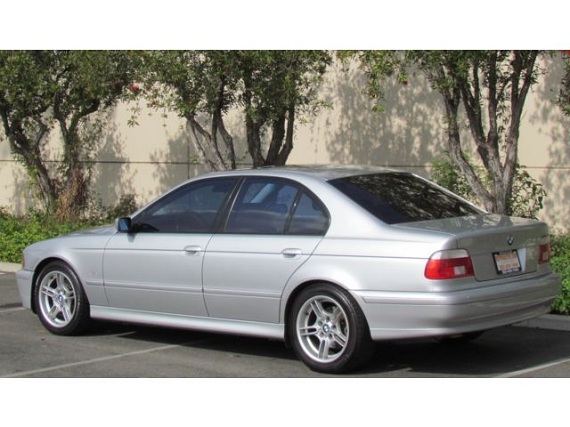 Year: 2001
Model: 540i
Engine: 4.4 liter V8
Transmission: 6-speed manual
Mileage: 111,016 mi
Price: $8,995 Buy It Now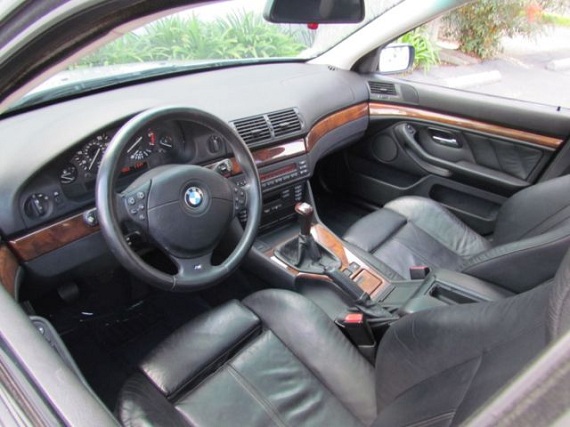 The mileage represented on this vehicle is accurate.This vehicle has a smooth shifting transmission.Overall, this vehicle's exterior is clean.The interior is clean and in good condition. If you enjoy having total control of a powerfull vehicle, then dont look any further because this 540i can satisfy you'r desire! This car is in good shape and comes equipped with; Sport pkg, CD(Single), Dual air bags, Side air bags, Leather seating, Moon roof, Alloy wheels, Traction control, Air conditioning, Power windows, Power door locks, Cruise control, Power steering and Telescoping wheel. We offer easy financing and we are available 7 Days A Week! You can view our inventory at 2630 E. Spring Street, Long Beach, CA 90806 or phone us at (562) 424-1444!!!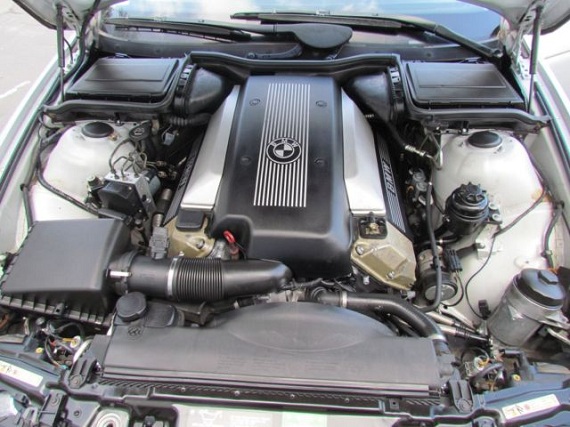 There are some bells and whistles on the 2001 that weren't on the 1995, so if you're into the latest and greatest, I'm guessing the E39 is the car for you. If you consider it an M5 on a serious budget, it's a great value. However, the same can be said for the E34, though E34 M5 prices are still amazingly less-than-silly and that would be the car I'd prefer. In spite of that, there isn't one here as part of this comparison, so which of these two would I choose? Well, it may be surprising but I really prefer the early E34 in this duo. It just looks the part so much more so than the E39 to me, though both seem like good deals overall. Because the modifications aren't overdone and I can easily envision how to "fix" them, the E34 gets my vote.
Which would you choose?
-Carter