The New Year marks fifty years since the introduction of the Porsche 911. Of the many generations which have worn the iconic number, the one period in 911 history that gets glossed over a bit is the 911 2.7 from the mid 1970s. This was a bit of an in between model, succeeding the classic originals from the 1960s and preceding the SC, or Super Carrera, with its technical upgrades. Nevertheless, for those seeking a bit of a sports car bargain, these 911s should not be written off. This 1975 911 2.7 for sale by North Shore Autosport in Chicago has been done up in the style of a period Carrera S and has been converted to Weber carburetors and has 3.0 SC cams.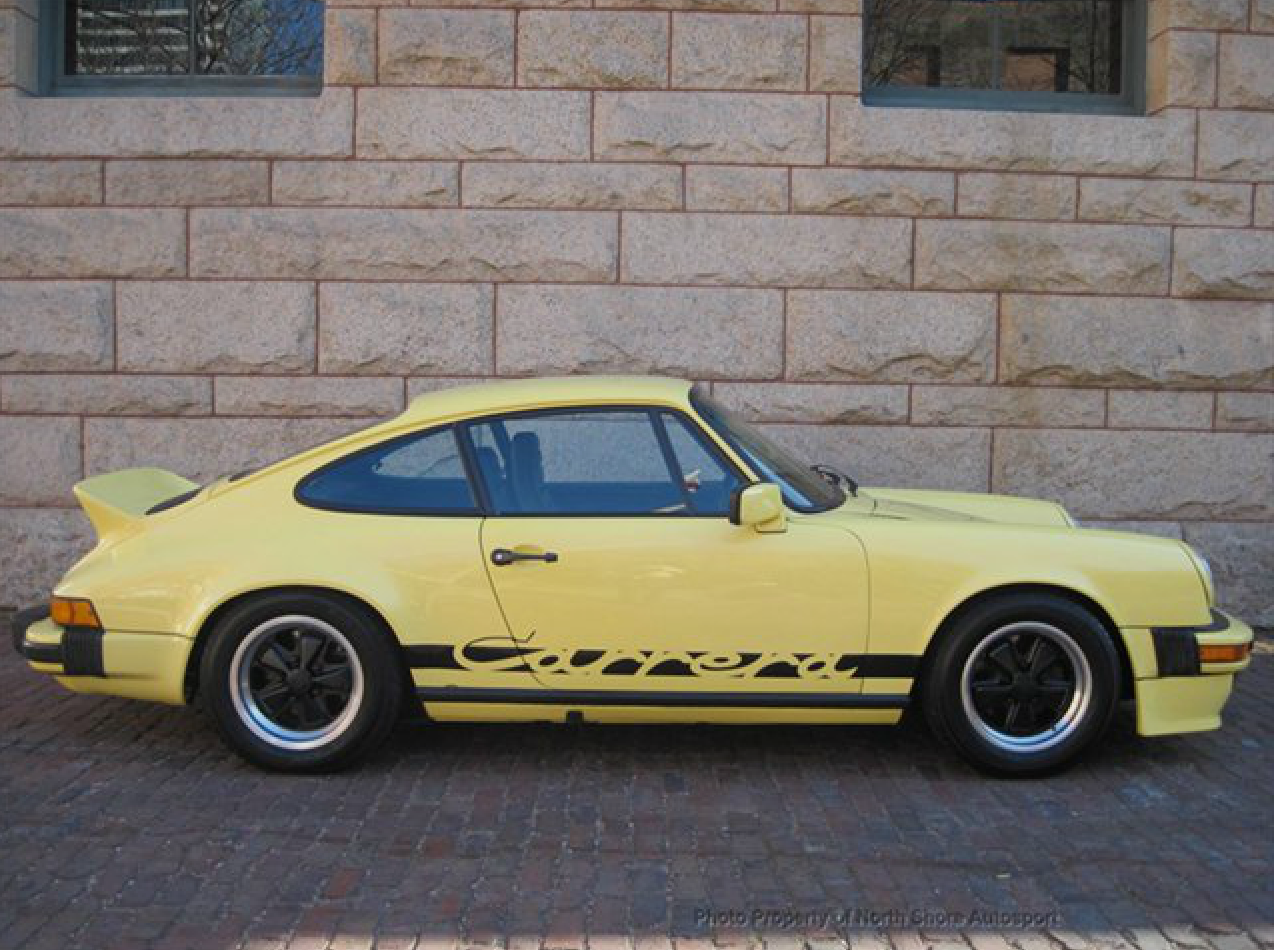 1975 911 S Carrera Tribute. Rebuilt 2.7 liter motor & 5-Speed manual transmission. VIN: 9115201014. Finished in Light Yellow (code 117) with Black leather seats and classic Carrera script applique.

Carrera Modifications & New Additions include:

Lightweight Interior (Door panels, Felt Carpets, Manual Windows)
New seats & Leather Upholstery
Weltmeister front and rear adjustable sway bars.
Bilstein Shocks & H&R Springs.
Factory steel rear SC quarter panels
3.0 liter SC Camshafts
Weber Carburetor Conversion
SSI Exhaust and Danske muffler.
CD Player

Original deck lid included as well, window parts, door locks, original camshafts, rear sear backs and some spare parts. Runs excellent and strong. Incredibly good looking and hard to tell from a real Carrera car. Virtually flawless paint and new drive-line, this is a great driver for those who refuse to spend double or triple for the real thing.

Please do not hesitate to contact our staff with any questions, shipping quote or to schedule a test drive. (312) 884-1149
As the seller's description highlights, this is a great car for someone wanting a lot of classic 911 style on a budget. Prices for good, driver quality 911s of this vintage tend to hover between $15,000 to $25,000, so we're about on point in terms of price; with the original and spare parts that come with the sale, its an added bonus. For someone in the market for a 911 they can actually use and look good while doing so, this car would be a good choice.
-Paul