The Ur Quattro was the car that transformed the Audi brand almost overnight. Not only did this car take the competition world by storm with its handling grip and prowess, but it moved this car company forward from its days of peddling NSU and VW derived products. Cars like the Quattro and C3 platform 100 and 200 series would have consumers looking at Audis as a viable alternative to the usual Mercedes-Benz and BMW products of the time. This Ur Quattro for sale in Vermont has over 150,000 miles on the clock but presents as a nicely worn example, no doubt owned by someone who knew they had something special.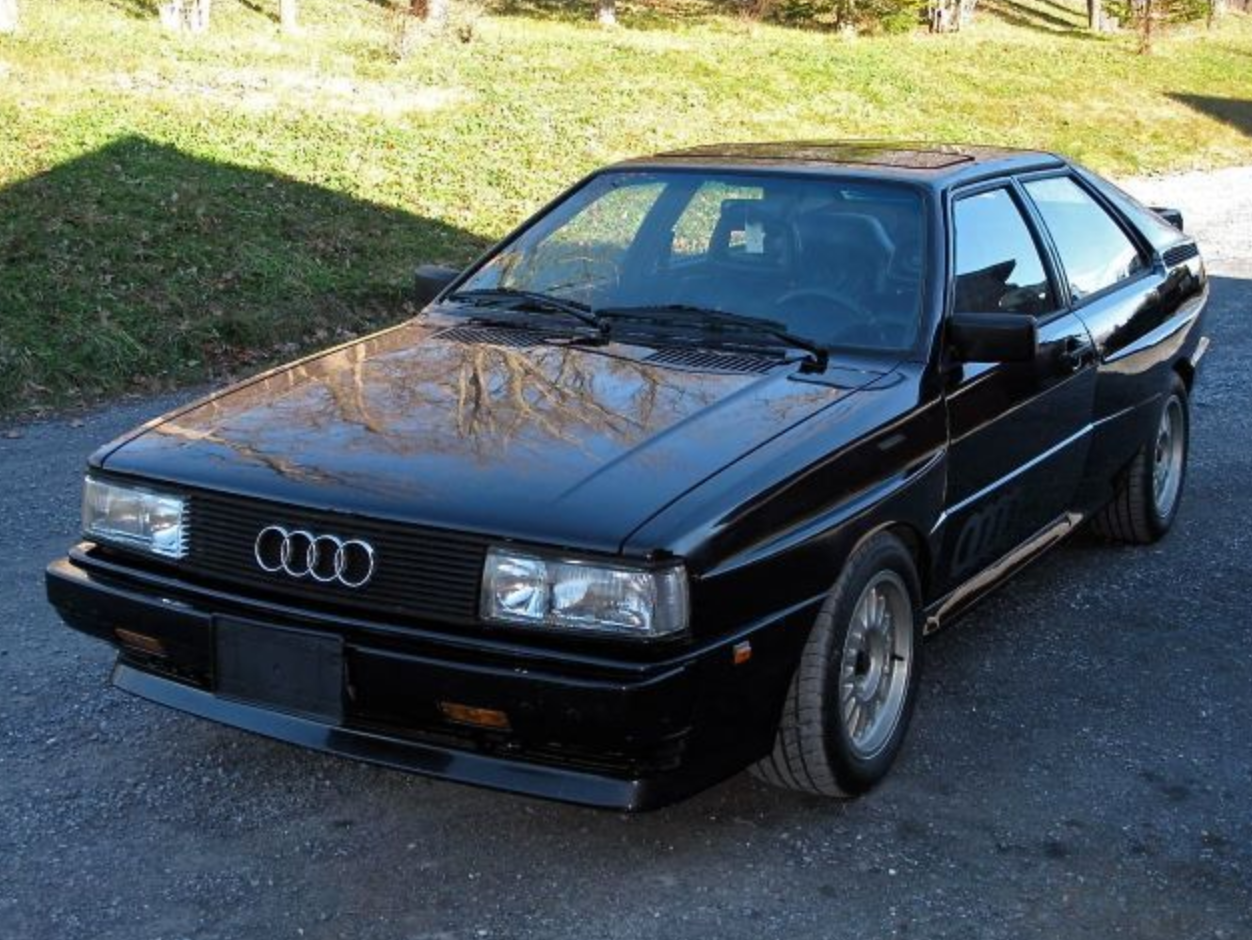 Commonly referred to as the Ur Quattro ("ur" being the German for original or primordial), very few of these iconic Audi Quattro Coupes imported to the United States between 1980 and 1984, my research indicates as few as 80 were imported in 1984. In my opinion, the 1984 models had the best look with the wider wheels and single headlight rather than the small rectangular lights. If unfamiliar, the Quattro Coupe was a homologated design built to dominate the World Rally circuit in the early 80′s. There is a plethora of information on the web about these cars – start with wikipedia and YouTube and stay up all night if you desire!

Considering that this car is 28 years old and has 150,000 miles, its easy to tell that it was very well taken care of since it has all original paint and no rust or accident damage. There are a few marks in the paint but nothing out of the ordinary, I am happy to share photos of all the flaws which are mostly light scratches and fading on the front hood. The wheels are all in nearly unmarked condition and all the lights and lenses are nearly perfect. You can still smell the original upholstery material, there are no major flaws or tears but the drivers seat shows minor wear, mostly because the foam padding has broken down a little.

The car was purchased from New Hampshire in non-running condition. The gentleman that owned it had meant to get it back up to speed. When it arrived at our shop we found that the engine had little compression so the engine came apart to reveal some broken piston rings in an otherwise perfect engine, minimal bearing wear, perfect crankshaft journals, really amazing condition. We bought a later model 1988 5000 Sedan for parts, thinking that we would put the larger engine 2.2 liter engine and better, more sophisticated ECU into the Coupe but realized that the original WX engine code on the block made the Coupe more valuable.

Ultimately, we opened up the cylinders from the 2.1 liter original displacement to the later 2.2 liter displacement with new pistons, bearings, rings, water pump, starter, on and on. We did install the later model ECU which has knock sensors and a more precise timing, fuel map and boost pressure regulation. At this time, the car runs perfectly. We just put a new CIS Fuel injection warm up regulator which made the car start hot and cold instantly. The transmission shifts perfectly, there isn't any noise in the driveline, the brakes are excellent and suspension is good.

We operate a busy classic car repair and restoration shop in Vergennes, Vermont that specializes in high end European sports cars such as Ferraris, Porsche and Jaguar. We overhaul about a dozen engines a year from Ferrari and Lamborghini V-12′s, Jaguar 6 cylinder, and Air Cooled Porsche engines among others. We are known and respected throughout the Ferrari world. You can see the other cars in our inventory and the caliber of cars that we spend time with at Restoration & Performance Motorcars (www.rpmvt.com).

If you do an online search for "FerrariCraft" or "Restoration & Performance Motorcars" in Vergennes, VT, you will see some of the other cars that we have for sale and the services we offer. You can see these restorations and others including Bentley, Porsche, Maserati, Osca, and Ferrari 166, 212, 250, 275, and 330 cars at our workshop blog (www.ferraricraft.com)

We have a enclosed two-car transporter that travels around the North East frequently, so we can help deliver the car to you. Or we can work with one of our other long distance haulers to get the car out west or down south. We have extensive experience importing and exporting cars from Europe and Canada and can assist in forwarding the car to foreign countries.
The Ur Quattro was a landmark car and as such, has demanded strong values in the used market for some time. The reserve hasn't been met at a shade under $10,000. These cars are in a similar price bracket to the E24 BMW M6s of the late 1980s. A well worn example like this Quattro may bring about $15,000 at the high end. For its relative rarity and historical significance, it's nice to see cars like this are still within grasp of collectors with more modest means.
-Paul