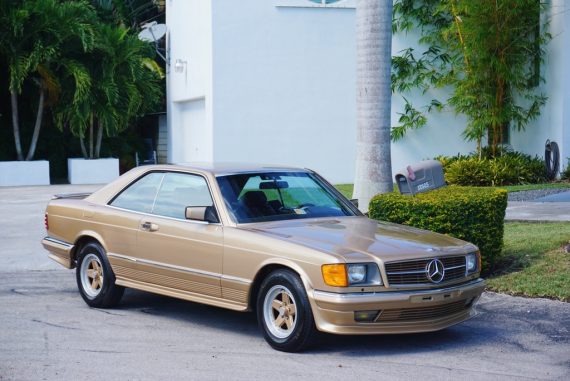 The W126 coupe has always been pretty popular and for good reason. It's well-built, reliable, has classic looks and can eat up the miles effortlessly. Back when the getting was good in the 1980s, the C126 was so popular that many gray market cars made their way to the US before Mercedes put an end to that. This car for sale in Miami is just that. A grey market car that made its way to America and was probably used by someone who had a strong resemblance to Sonny Crockett or Rico Tubbs because a Testarossa was really expensive. Now that it's 2016 and 1980s fashion is a popular Halloween costume, the value and collectability of cars like today's is in sort of in limbo. So let's try to break down the desirability of this golden coupe.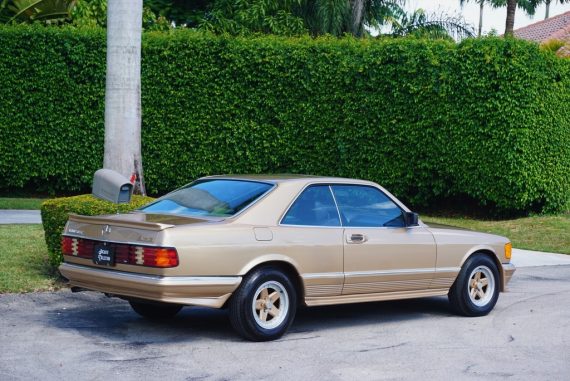 Year: 1984
Model: 380SEC
Engine: 3.8 liter V8
Transmission: 4-speed automatic
Mileage: 96,725 mi
Price: Buy It Now $15,500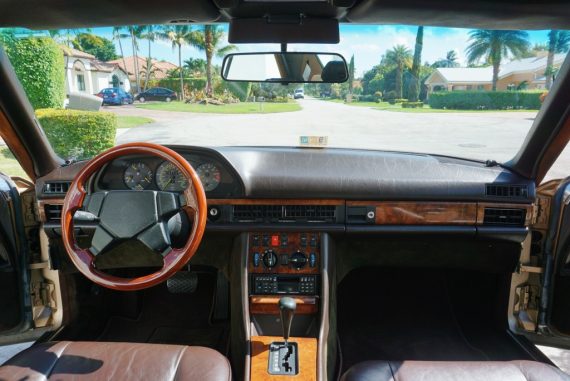 Straight out of an episode of Miami Vice!

This 1984 Mercedes Benz 380SEC has only covered 96k miles since new. It is a European grey market vehicle that was imported into the US in the 80's after it was sent to AMG for some subtle modifications. All US import & federalization paperwork is present along with a folder of maintenance and service records. This car is a true classic from the pre-merge golden era of Mercedes and AMG.

This W126 Mercedes is powered by a healthy 3.8 liter V8 engine mated to a 4-speed automatic transmission that goes through all the gears as it should. All the windows work making this iconic pillar-less coupe look amazing when they are rolled down. Every other function on this car such as the lights, radio, air conditioning, and even the automatic seat belt retractors are in working order. Very well maintained and rides like a dream with a recent ~$4,000 service to the self leveling suspension (SLS)

The exterior on this Mercedes shows beautifully. The gold paint shines like new with only minor imperfections that are inevitable on a car that is over 30 years old. This car was factory ordered with a genuine leather interior unlike most of Mercedes from this era that came standard with MB-tex synthetic leather. With that being said, the interior has held up incredibly well. The seats are in great condition showing only minor wear, however, there are no rips or tears present. The wood trim is in good shape and most importantly, the dash board is not cracked. The car will come with the owners manual, 2 sets of keys, and even the first aid kit which is all in German!

This rare S-Class coupe is a true example of when Mercedes Benz focused more on quality rather than quantity. The AMG plaque pictured indicates the authenticity of this unique Benz. eBay does not recognize the VIN due to the fact that this is a grey market European imported vehicle. The US federalized VIN is: WDB12604312003819 

Pre purchase inspections are welcomed, as well as trades.

Please call Sebastian at 305-790-5197 for any questions prior to purchase!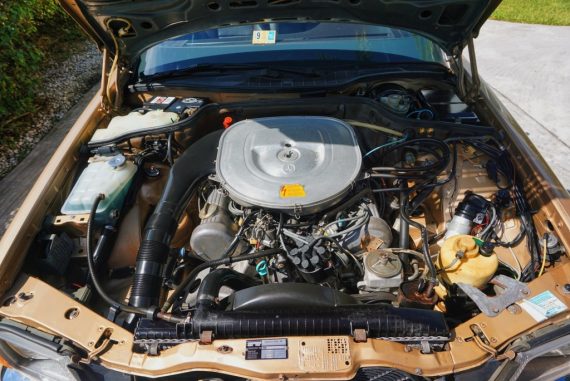 I'm really torn on this car. This C126 is a collection of aftermarket, AMG, Euro-spec, US-spec all thrown in a blender with a gallon of gold paint. The heckblende is something I never see anymore and it's usually a love it or leave it kind of part. The US-spec lights have stuck around and the wiper holes have been plugged up. The AMG bumpers were hit with multiple layers of gold paint and it isn't exactly the cleanest job in the world. The rear spoiler fitment is wonky and the AMG badge looks odd as it isn't level with 380SEC badge. Inside, the steering wheel (I think it's a Zender) is a sore thumb as it doesn't match the wood or the leather. The seats looks like they were carrying multiple wild badgers with the amount of long scratches on them both front and rear. Under the hood, the 3.8 liter M116 is the least desirable engine to be found in the C126 and wouldn't be anyone's top choice when it comes to buying one of these cars. The Zender wheels are rare but again, hit with the gold paint.
The price is $15,500 and I guess you could argue that it's in the ballpark. I personally think it's many thousands of dollars too high seeing as you can find an very nice Gen-2 560SEC in a desirable color and low miles for that price while still having some change left over. It's just there is so much going on with this car but I understand when they were 'building' this car. It was the 80s and everything was excess. So they grabbed everything they could find for this car and starting tacking it on. But it's 2016, it's all about original cars, not cars with everything and the kitchen sink stuck on them.
– Andrew