Update 7.22.2012: SOLD!
Update 7.6.2012: Price dropped to $2200. Surely there's an enthusiast out there who can take over the care of this survivor!
The following vehicle comes from our reader Kurt who has owned this mint example of an Audi Coupe GT since 1989. Being an East Coaster, I'm always impressed with car enthusiasts who own a car for an extended period of time and somehow beat the odds and manage to maintain a vehicle to meticulous standards. Kurt's Coupe GT is one of these very vehicles. Even though it is garaged in Manhattan, it has relatively low mileage for its age and has been well maintained. It was also featured recently in the bi-annual Audi Magazine. Towards the end of the Coupe's production run, it gained a bit of a smoother look, with integrated bumpers and flush headlights. With the 2.2 liter five cylinder engine and front wheel drive, these cars were good for around an eight and a half second run to 60 mph, with a little extra time needed for the automatic transmission model we see here.
1986 Audi Coupe GT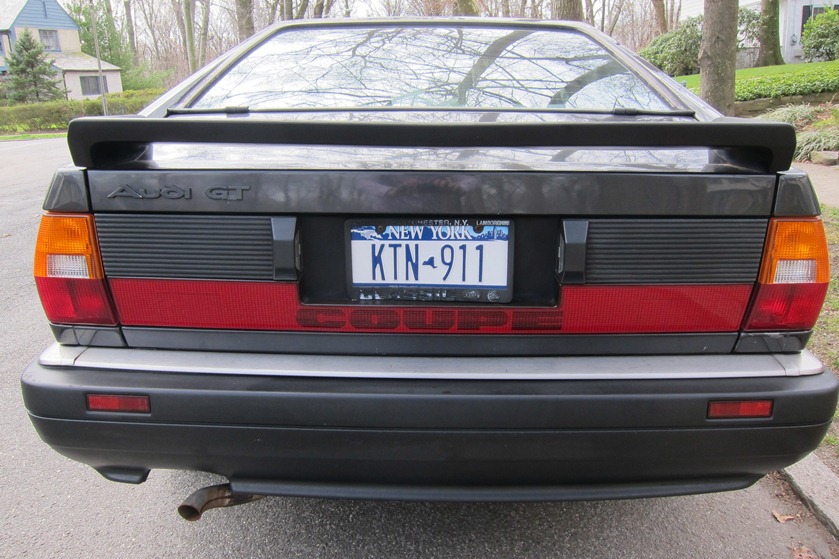 1986 Audi GT Coupe. Excellent condition. 144,000 miles. Automatic. Clean car fax. 2nd owner (purchased in 1989). From 2009-present the following work/preventative maintenance has been done (have all records going back to 1989):

New (4) KYB Shocks/Struts
New Exhaust
New Catalytic convertor
New Front tires
New A/C Compressor
New Condenser
New Fuel Pump
New Alternator
New Engine mounts
New Drive Shafts
New CV Boots
New Thermostat
New Temperature Switch
New Belts
New Manifold Gasket
New Valve Cover Gasket

Small paint bubble on right rear quarter panel below molding. Completely turn-key. Nothing to do. Constantly stopped in public by Audi fans. Asking $3,250.
These Coupes have their loyal following amongst German car enthusiasts. This particular Audi represents an affordable opportunity to buy a solid, well cared for example and enjoy modern classic motoring mixed with proven German engineering.
-Paul