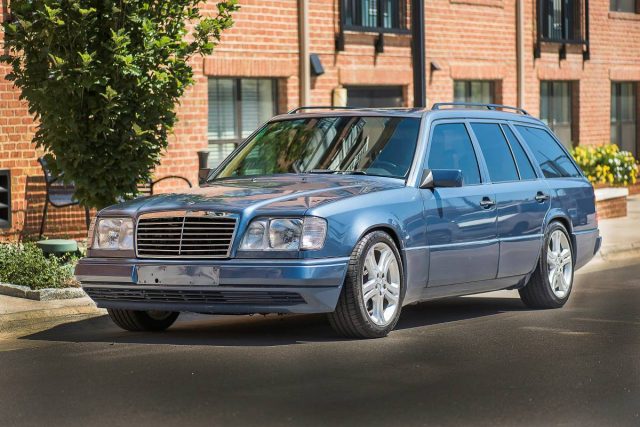 I love a good build. Probably because it is someone else's money, but mostly because it is a vision that someone has that is played out in car form. Sometimes they go really wild with stuff from everywhere, but a lot of things these builds are playing with the cards that the factory dealt. Restorations are nice and all, but my favorite is taking all the good stuff the factory has to offer and loading the car up that way. What we have today with this 1987 Mercedes-Benz 300TD is one of those cases. An extremely rare diesel wagon that was available in the US one year only in 1987, transformed into what the best the W124 has to offer.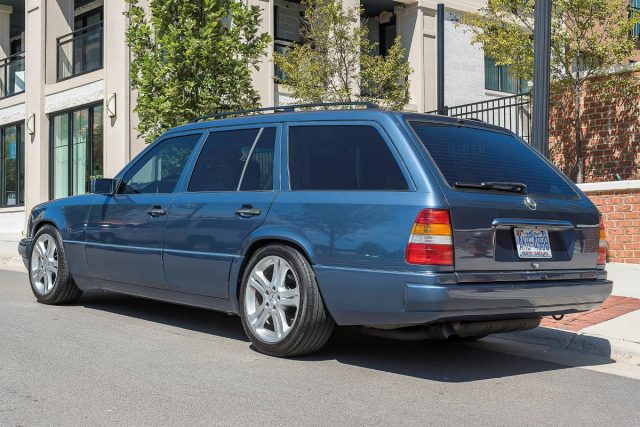 Year: 1987
Model: 300TD
Engine: 3.0 liter turbocharged inline-6 diesel
Transmission: 4-speed automatic
Mileage: 147,920 mi
Price: $14,500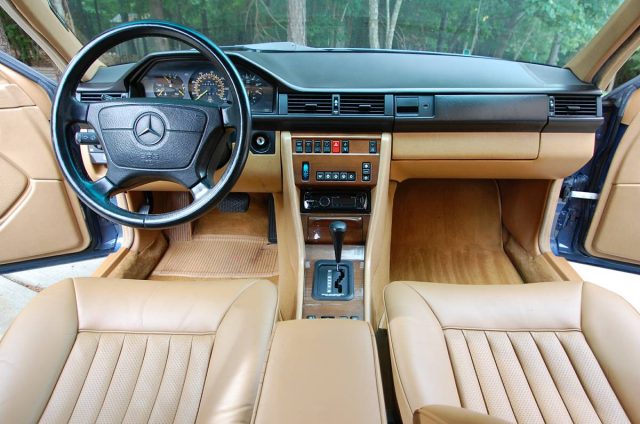 1987 Mercedes 300TD Turbo diesel Wagon – Sometime known as the 300TDT

If you are reading this you probably already know what a rare car it is. Only about 1,500 1987 300TD wagons were imported to the States in the w124 style with the 6cly 3.0L turbo diesel engine. This diesel wagon was a one year car in the U.S. and the last ones imported to the US. In my opinion, this is one of the nicest 1987 w124 diesel wagons in the country! There are likely only half of the 1500 still on the roads.

This car sold for right at $45,000 in 1987. It was a top of the line car and best diesel engine Mercedes had come out with. It runs well, shifts smooth and is fast with only 147,9xx miles

I brought this car about 7 years ago from the original owner who was in his 70's with the intention to just clean it up and maybe convert it to a vegi wagon. I soon realized what an amazing and well-engineered vehicle this was and began to restore and tastefully modernize it to have more of the AMG Hammer Wagon look and feel.

I am a true car enthusiast with a passion for detail, clean style and transforming cars to show pieces. If you are a MB purest , sorry ;). With this project the intent was to have my wife drive it and use as the family wagon, but the car got a little too nice for her to drive too. LOL. Unfortunately, life is hectic with three kids and work so this car has only seen about 1000 miles since we've finished it. 1000 miles in the last 5 years!! Even the registration is back to 2014 I think. I just started her up and exercise her around the block every couple of months and stays covered in the garage otherwise.

This car belongs with someone who can show it off and enjoy it in their collection….or have the sweetest 1987 300TD daily driver in the country.

If you're familiar with these cars you may be saying "that's a 94′-95′ 300TE, not a 1987TD"

A lot of money and time (hundreds of hours) was spent to complete this killer wagon and do a complete 1995 facelift (last year of the w124 wagon). It has the newer MB hood, MB body cladding all around, colored bumpers and mirrors, headlight assemblies with fogs, Avanti front grill, and even the 95′ stainless door handles!

If you count labor I am absolutely losing money on this vehicle. My loss is your gain.

Engine:

– Original engine with 147,9xx miles. Runs fantastic

– Rebuilt Turbo Charger

– Brand New (not rebuilt) Monarck Injection pump straight from Germany ($1000 just for the part)

– Brand new Monarck Injectors and fuel lines

– New motor mounts, water pump, fan and fan clutch, tentioner, belt, vacuum pump, glow plugs, and all filters. New valve cover gasket.

– EGR delete for proper clean running motor

– Engine has the #14 cylinder head and is perfect. I also have a complete used #22 head from a donor car available (with cam, lifters, injectors and all). If you know what I'm talking about you may be drooling now…

Suspension:

-Sports suspension and Springs from H&R performance (have originals if you want them too). New spring pads. Lower stance that looks and rides amazing. Lots of looks and compliments.

– ALL NEW – Control arm bushings

– Ball joints

– Bilstein Shocks up front (German)

– New Hydromatic shocks in rear (Mercedes and expensive) – Self-leveling rear end

– Brake pads and rotors front and back (see pictures)

– All Rubber brake lines.

– New sway bar bushings and end links

Drivetrain and Exhaust:

– New Drive line (driveshaft) flex joints (2)

– Driveshaft center support and bearing

– Pre-muffler delete and rear muffler replaced with another stock Mercedes. (quiet and breathes well!)

– Automatic 4-speed Transmission is original and shifts well.

– Stock console shifter (that changes gears without depressing the brake) was replaced with a complete shifter and brake pedal assembly from a 1995 where you must depress the brake to shift to drive. No accidentally bumping it out of park! Great Mod.

Body and Paint:

Many thousands spent on the 1995 w124 wagon facelift, body cladding, door handles mod, and paint.

The paint is a 2-stage clear coat with a remarkable blue color and shine. All side & rear glass, bumpers and molding were removed for paint. Very professionally done and could take to car shows tomorrow.

Front grill has the Avanti style grill with very clean lines and look.

Interior:

Original interior with 3rd row seating ($950 option) in excellent shape

it is REAL leather seats, not the MB Tex found in most cars. Rare option with the postopedic option (not working). The seats were fading some so they were professionally died the original Palomino color. The third row material was replaced and is vinyl, like factory.

– Carpeting is near perfect

– All the windows work

– All the vacuum auto door locks work

– The rear hatch pumps work – Stays up!

– Al the automatic seats work as well all as the telescopic steering wheel and the auto up-down head rests!

– A/C was converted from R-22 to common R-134A

– All of the vacuum pods were replaced in the dash. This was a huge and expensive job as the entire dash had to be completely removed. All trap doors for air flow work (rare)

– Old style "school bus" steering wheel was replaced with newer style MB sport wheel.

– No cracks visible on dash

– Have the optional rubber floor mats in perfect condition

– Original manual and first aid kit. At least three keys for the wagon

– Crappy stock radio was replaced with a nice Kenwood unit with detachable face, USB, Bluetooth, and wired microphone to visor. Sync your smart phone and talk while driving and listen through speakers

Other features:

– Wheels replaced with late-model MB E350 wheels and tires (expensive)

– Windows professionally tinted with 3M lifetime time. Tint is Legal and passes inspection

– Have the roof rack cross bars (missing most times) in perfect condition with hardware.

– As a Bonus – Have hundreds of dollars in extra parts, switches, relays, fuel lines, trim pieces, steering column and more that will go with the new owner. Great to have on hand or sell what you don't need.

– If someone wants the #22 complete head cylinder, I will throw it in for an extra $500. It is worth Waaay more than that, but will make a complete package if ever needed.. and almost impossible to find.

Negatives or things to finish:

– Tach is not working. May be a relay or something.

– Glow light is not coming on when key is turned but starts right up, even when cold. May be bulb only

– Sunroof motor works but sometimes will open but stops when closing (can manually close it from rear)

– I removed the washer fluid container from engine compartment, just need a new one ($40)

– There is one small crack in the rear bumper.

– Cruise control not working. Have not looked into it.

– I have the under hood pad (with aluminum square for turbo heat) but never glued it back. Was looking for a nicer new one.

_____________________________________________________________________________

I tried to be a thorough as possible in the long descriptions to answer most questions.

It's extremely nice considering it's a 30 year old wagon, and it's one of the finest examples of an 87′ wagon that I've seen. I wish I could keep it, but I can't!

I believe the only two options this car does NOT have was the heated front seats and the rear cargo cover. Thanks for looking!

PLEASE- No tire-kickers, low-ballers, or scammers. I don't want to Trade for anything either. If you don't have money please don't waste my time asking questions or coming to see it.

These are really cool wagons!!

Feel free to call me with more questions or to view this sweet Wagon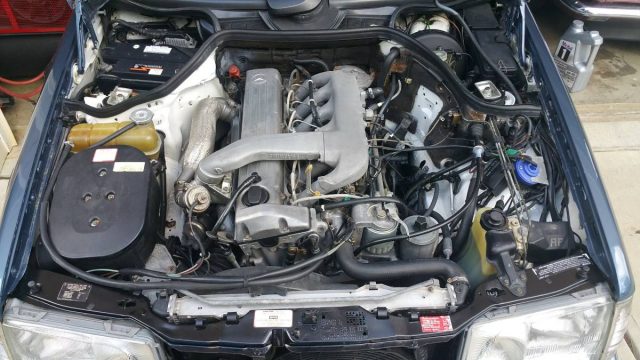 Take the five minutes and read through the entire ad. This car was basically made into the ultimate W124 diesel wagon and then some. Swapping out all the body work to the facelifted parts is a ton of time and a ton of money if you are doing it voluntarily. Then after doing all the body work, the engine was sorted, most of the suspension was replaced and the interior was swapped out with all upgraded parts. I honestly can't even begin to add up how much money was spent to get this car to the level it is at. It's an interesting mix of OEM+ parts with a little bit of aftermarket stuff and that combination works really well here.
I can't believe the seller is only asking $14,500 for all of this. A nice 1987 300TD usually goes between $5,000-10,000 depends on mileage — if you can find one for sale at all. Unlike the W123 300TD, these are very tough to come by. Most people just settle for the gas 300TE and I don't blame them. But this 300TD, if you love the S124, this is the one to grab.
– Andrew