Over the years some of the precious few RUF cars that were built have since met an untimely end.  Their ashes, 'er parts, scattered far and wide.  These parts end up on garden variety Porsche's causing their owners to tout them as genuine RUF cars.  To make matters worse there were some seedy parts houses in Turkey and the like that were pumping out knock off RUF components and shilling them to unsuspecting buyers.
I mention all this because it is important to do your homework when shopping for cars such as this.  If you are not sure what makes an authentic RUF car it may not hurt to check in with our friends at Rennlist.  I am sure they would more than happy to answer any questions a buyer may have as they are always looking to add another RUF owner to the fold.
Speaking of…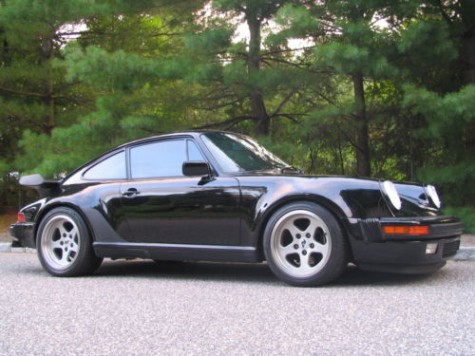 From the seller –
"Black on a tan interior with Sport Seats. The interior on this car looks like it has almost never been sat in. This is a very rare car. It is tough to find a RUF, even tougher to find a RUF BTR. Please look at the photo of the authentic RUF BTR tag on the motor. This car also has electronic injection! This car was done from new for the original owner on the original financing.  The original owner (an older gentleman) bought the car in Virginia, where he lived until he died(1992).  Later the family sold the car and it went to Houston and the car lived there until it came back to New York, 5 1/2 years ago.

I have been asked, "How fast will it go?" Who cares? I do not know…  I did not buy this car to race it. I bought this car because of how rare it is. I have only driven it a few hundred miles over the course of time that I have owned it.   Most of the time the car has spent under cover in my garage or in our showroom"
Right year, color, and equipment.  This BTR is not a conversion, it is an authentic RUF factory built car which adds to both the rarity and appeal.  The seller is right, while this car is blindingly fast this is not something intended for the track.  This is a collector's vehicle and needs to be treated as such.
At $65k it is priced a bit high.  I have seen these trade in the $50k range over the past few years.  That said we are talking a very small sample size and I think a premium of an additional 10% would be fine.  Either way this is a beautiful vehicle that I hope goes to a good home.
~Aaron.