The US seems has had a love/hate relationship with the hatchback over the years, as we've seen model lineups wax and wane with these offerings over the years. Currently, this body style seems to be making a comeback as manufacturers are adding more premium touches to this segment, as we've seen with the cars such as the MINI, Ford Focus and Mazda 3. Audi figured they would have their cake and eat it too in the early 1990s by calling what was a hatchback version of the Audi 80/90 a "coupe." Equipped with a 20 valve, 2.3 liter five cylinder engine, this car had big shoes to fill following in the footsteps of the Ur Quattro. It didn't set the world on fire with 164 horsepower and a curb weight glancing 3,200 lbs., but it had a clean look about it, especially from the rear three quarter view.
It wouldn't be enough and after two short model years, the Coupe Quattro would disappear from the US lineup. This Coupe Quattro for sale in Virginia has mileage that is a bit on the high side but the car appears well cared for.
Year: 1990
Model: Coupe Quattro
Engine: 2.3 inline five
Transmission: 5-speed manual
Mileage: 247,000 mi
Price: $3,500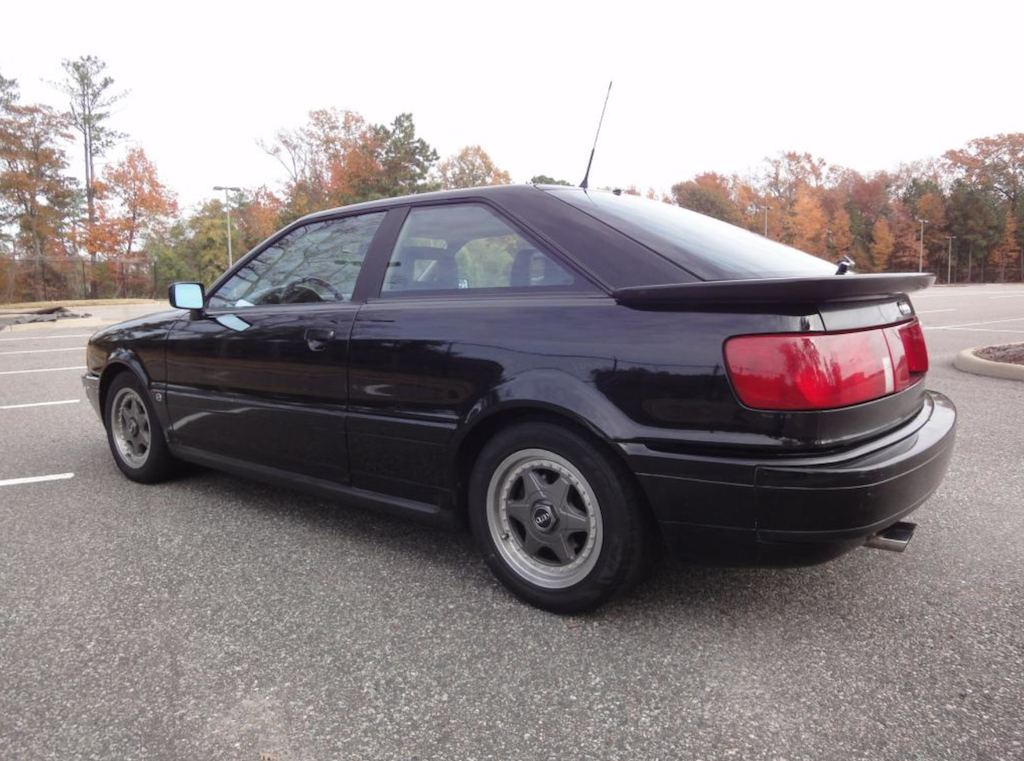 I'd always liked the look of this model coupe and so when I had the opportunity to buy one, I jumped on it. I wanted something that I could work on over the weekends, upgrade where necessary, and keep for a long time. After contacting a number of sellers, I decided on this 1990 Audi Coupe Quattro in September of 2008. I flew up to Connecticut over a weekend and drove it home to my home in Virginia (Hampton Roads area). It didn't come with much for records other than the original log book that the first owner had kept showing oil changes at the dealer, but it ran reasonably well and I had been without a car for a couple weeks after selling my Mk3 Jetta. Before flying up I ran a Carfax at the time and can probably find it for any potential buyers, but don't have a link to it right now. The VIN# [WAUGE58B8LA006501] is if you'd like to run a current one. Current mileage is ~247k, and as far as I know, it's original.

I love this car, but I'm putting this up for sale as things have changed for me. In 2011 my wife and I had our first kiddo, and I've quickly realizing that my time cannot be devoted to the car as it once was. Reality has set in, and I know that there is very little time to fiddle with the car, and even less money to devote to its upkeep. Nevertheless, this has been my daily driver up until July of this year (I now own a 4-door sedan that is much more amicable to a 1-year-old and a car seat), and I'd really like to see it go to someone who will love it, too. I've tried to get a feel for market value based on other similar cars that have been posted over the last couple months. I'm asking $3500, or best offer.

Items I've purchased and installed since taking ownership in September 2008, or came with the car:

Bilstein Race Struts & Shocks
H&R Sport Springs #50311
034 Motorsports HD upper strut mounts
Motor mounts
Empi Front Half-Shafts
034 Motorsports Brass Distributor Gear
034 Motorsports 7A Injector Kit
034 Motorsports Poly-nose stub Mount
Rebuilt Calipers, new rotors, pads, and Stainless/Teflon braided brake lines
Remanufactured AC Compressor
AC Condenser (NOS)
Expansion valve for R134A
Receiver/dryer
Alpine 7892 Head Unit (came with car)
Alpine KCA-420i iPod Control Interface
K&N Air Filter Panel (came with car)
Stebro Exhaust (purchased used)
OEM Sachs clutch & resurfaced flywheel
034 Street Density trans/diff mounts (front and rear)
Replaced center driveline bearing
Timing belt, water pump, thermostat done at 204k
Control arm bushings, tie rods, ball joints, swaybar links replaced at 210k
Tires replaced at 210k
Power steering hoses
FUBA Antenna
Headliner

Extras that will go with the car:

Inner & Outer CV Joint Boots for Rear Axle Half-shafts
Rear Differential Mount
Rear Differential Output Seals (Small & Large)
Engine Fan
Heater Core
All 4 Wheel Bearings
Additional Timing Belt
Interior-air carbon filter holder (OEM Audi plastic component)
Yakima Roof Rack Towers + Bars
Anything else I can find that belongs to my Audi collection…

The not-so-good:

When I purchased the car, the AC was not functioning at all (condenser threads were stripped, no charge in system). I replaced the condenser, compressor, expansion valve, receiver/dryer, and o-rings in order to use R134A refrigerant. It's charged and blows cool air, but the flap in the HVAC box behind the dash needs to have the foam replaced. You can read about the process here: (http://www.audiworld.com/tech/int55.shtml)

The front bumper was cracking (you can see the driver's side in the pics) and one of the previous owners had put screws into the steel support behind the bumper skin to ensure that it wasn't lost while driving. It never bugged me because I had plans to buy myself a set of euro bumpers off of eBay (didn't happen). The rocker panel just in front of the rear wheels has been pushed in, and was something I was very concerned with prior to purchasing the vehicle. There's nothing rusting through (thanks Audi for the galvanized unibody), and it was something that I'd only have fixed if I was going to have the entire car worked over by a body shop.

The cruise control hasn't ever worked for me, but I haven't looked into fixing it, either. It appears that all the components are there to work, so it could be as simple as brushing corrosion off the contacts at the steering column. I think at least one of the rear wheel bearings is making more noise than it should, but haven't had time to tear into it. The front door panel 'leather' is coming loose, and might be fixed by the time someone sees the car in person. Other than this, it's a 23 year-old car that isn't perfect, but definitely in good shape for a driven vehicle of its age. It has current Virginia plates and inspection is valid through February 2013, and there's no reason that I know of that it shouldn't pass inspection this coming year.
The seller has priced this Coupe realistically. The only thing that might hold it back a bit is the higher mileage, but honestly, this car really looks good for the distance it has covered. You don't see these Coupe Quattros come around for sale too often and a lot of them that turn up are usually basket cases. With a few fixes and a little TLC, this would be an interesting alternative to a period GTI or could serve as a basis for an S2 or RS2 project.
-Paul