We've talked a lot about the 190E 2.3-16 here at GCFSB, but one of the cars that spawned from that collaboration between Cosworth and Mercedes-Benz is perhaps one of the most wild cars to ever wear the Three Pointed Star. The Mercedes-Benz 190E 2.5-16 Evolution. This version of the 190E came about in a roundabout way. Originally, the 190E 2.3-16 was to be homologated for rallying purposes. When a change in rules came into effect, Mercedes scrapped that idea. Later in the 1980s, Mercedes was keen to enter the Deutschen Tourenwagen Meisterschaft, or DTM, race series. As a result, along came the 190E 2.5-15 Evolution I.
The Evolution I differed in outward appearance from the 2.3-16 and later 2.5-16 in that a bigger rear spoiler was added, 16″ inch versions of the standard alloys were fitted and the wheel arches expanded. In terms of engine modifications, a reduced stroke allowed for a higher rev limit. Three stage height adjustable suspension and quicker steering rounded off the package.
This wasn't where Mercedes stopped with Evo development, though. The Evolution II pulled out all the stops, turning what was once a humble W201 190E into a visual beast. Exclusive 17" wheels, a pumped up body kit and even larger rear wing gave some clues as to what was lurking beneath. Under the hook, the 2.5 liter engine produced 235 horsepower at 7,200 RPM and had a quite cammy idle to accompany the increase in power. This might not seem like a lot of power, but the car weighs in at just over 2,900 lbs, less than many modern day subcompacts, including some sport oriented ones like the Ford Focus ST and Renaultsport Megane 250.
This 190E 2.5 Evolution II is for sale near Stuttgart gives someone the opportunity to experience an awesome sedan separated from the legendary touring cars by only a few degrees.
Year: 1990
Model: 190E Evo II
Engine: 2.5 liter inline four
Transmission: 5-speed manual
Mileage: 140,000 km (~ 86,992 mi)
Price: €55,000 (~ $72,242 USD)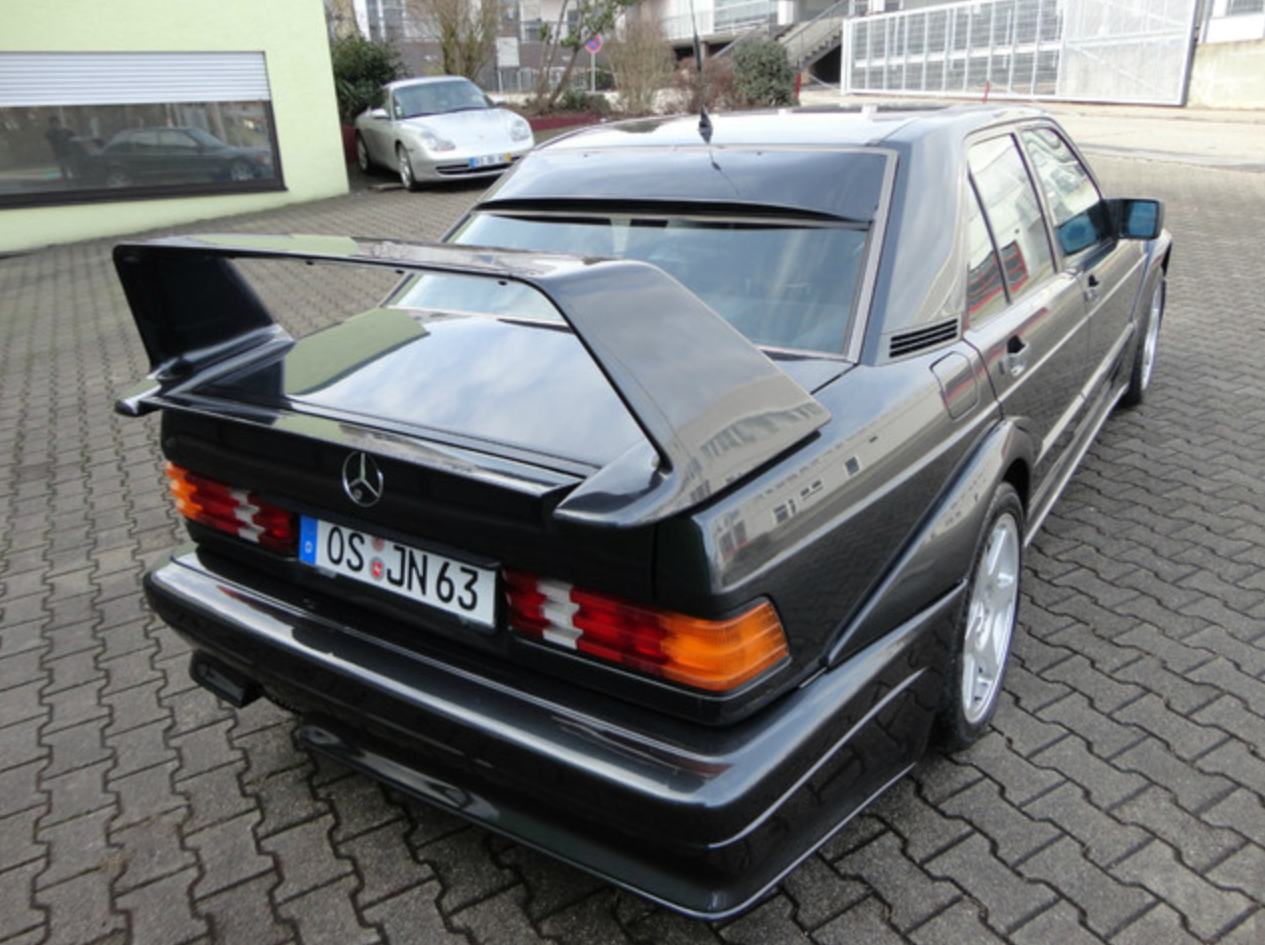 Just 400 built, vehicle is #144. The car has power steering, original and is accident-free.
While the ad says that 400 were built, there were actually 502 of these cars produced by AMG. All were painted in Blauschwarz (blue/black metallic) except the last two, numbers 501 and 502, which were painted Astral Silver. Unlike the standard issue 190E 2.3-16 and later 2.5-16, the Evolution models are certainly recognized for what they are by enthusiasts and have a loyal following. As such, prices are in the stratosphere, even past what the best example of its competitor, the E30 M3,is bringing. Edging close to $75,000, this modern classic is a Mercedes-Benz in the same vein as the original 300SL, 600 Grosser and 500E/E500. And whoever buys this Evo II should certainly stop in to the Mercedes-Benz Museum nearby to visit some of this storied history before heading out home on the Autobahn.
It might have not been a Mercedes-Benz that was sold in the US, but it made its impact in motorsport. Like the recent CLK63 Black Series, enthusiasts will look to this car as a touchstone when Mercedes-Benz management wasn't afraid to unleash such hard edged performance without compromise on the general public.
-Paul