Phillip dropped us a note to let us know about his very unique Porsche 964 America Roadster. Check it out: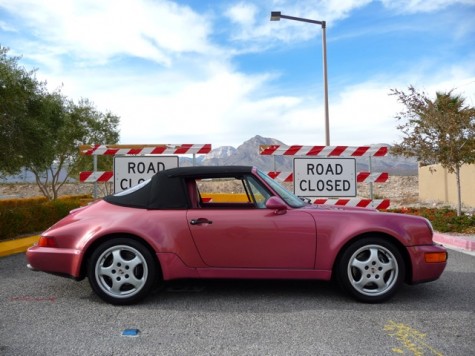 The 964 Wikipedia page states:
A turbo bodied cabriolet version was released in 1992. This had the standard electric spoiler and turbo guards. Mechanically it was the same as the standard model apart from 17″ cup wheels and the brakes and suspension which were 'Turbo' specification. Only 250 of this variant were produced in total during the 1992 and 1993 model years.
quote from seller:
This is a 1992 America Roadster in Raspberry red on Raspberry red (himbeerrot metallic) 1 of only 4 ever built according to Porsche North America.

History of the car.

First owner was a wealthy Western Canadian Businessman, now retired, who had taken triple A ball into Calgary and at one time had a lease on the saddledome. (documentation held by way of original in service warranty registration). He traded the car in on new Porsche turbo and the dealership wholesaled it out – purchased by a Canadian broker who deals in air cooled, limited editions Porsche – good reputation.

Second owner who I bought the car from; Canadian retired Banker from Japan. He is a Classic Porsche enthusiast and very knowledgeable about Porsche. According to him the Porsche has always been garaged/kept warm, never seen snow, virtually not seen rain.

Original owner confirmed it was factory ordered, custom matching interior including back seats (found in many euro cars, but very unusual in American cars, which usually have cheaper rear seat delete.
Original owner reports post ordering and upon its arrival he agreed to allow Porsche North America to use the car on the auto show circuit.

Allers Autosport has serviced the car this yr. & last yr. Frank (an inductee into Canadian Motorsports Hall of Fame) was formerly mechanic at MCL motors (Vancover Porsche Dealer) but for years has operated his own very small shop focusing on the aircooled Porsche (has no website) operates among aircooled 911's crowd.

5/08 orig. owner replaced cab top cables, pulleys, gears, transmission $2847
5/08 orig. owner maintenance ck, oil service and new battery $560
8/08 custom audio install (alpine headset with i-pod dock, boston/pioneer speakers), sorry but original speakers, cd, radio….all were bad.
12/08 orig. owner full engine ck/mechanical ck (air filter, plugs, heat exchanger gasket $842
1/09 orig. owner, replaced DME relay and servicing $410
3/09: oil service and replaced front hood struts $323
3/10 mechanical ck/ck plugs/ck brakes, oil service and replaced distributor caps & rotors $875
4/09 broker replaced cab top (pacific auto trim ) $1995
4/09 broker had alloy wheels refinished $672
7/09 new tires ( z rated, 17's stock sizes)

Mechanically the car is Perfect! Everything works and does not drip any oil! This Porsche has 66,000 miles and the odometer reads in KMS at 110,000kms. If someone buys it in the US I will Pay to have the Speedo converted to US MPH at Palto Alto Speedometer.

Interior/Exterior:
-Side panels, doors, turbo flares excellent. There are no dings/door marks/scratches. Same goes for door sills.
-Bumpers excellent (both resprayed last year for stone chips-front, scratches-rear)
-Hood / rear deck excellent. Overall excellent except for 2 small stone chips under front headlight which I inherited with car. The paint is in overall excellent condition
-Interior carpet is good to excellent.
-Door panels both carpet & leather – excellent
-Wheels newly refinished 17″ cups ( from the turbo model) excellent, no scuffs

-The seats are Porsche sports. Passenger seat is excellent, drivers seat is excellent but side bolster-entry side has approx 2″ wear mark).
-Shift boot/leather surround excellent
-Full leather dash (both upper/lower) excellent
-Brake lever, has small scar, approx 1/4″
-Rear seats/belts excellent
-Top new last yr., excellent
-Visors, excellent
-Steering wheel, excellent

If you would like to discuss the purchase please call Phone 702-556-9116
I have to say the car certainly looks well loved. Not to mention it's a pretty rare model in the 964 range. Nicely presented, documented, and ready for a night on the town — where I'll bet this color looks great under the city lights.
Good luck with the sale Phillip!
dc