Following on to the Audi S6 Avant we just featured, here is that car's predecessor, the UrS6 Avant. Originally introduced in 1991 as the S4, it became the S6 in 1994 when the new A4 and A8 were introduced and the car which it was based on, the 100, was renamed the A6. These turbocharged monsters are beloved by Audi enthusiasts and complete the trifecta of German super saloons from the mid 1990s with the Mercedes-Benz 500E/E500 and BMW M5. This particular S6 Avant is owned by our reader Josh who is making room for another great, fast estate: the Volvo V70R.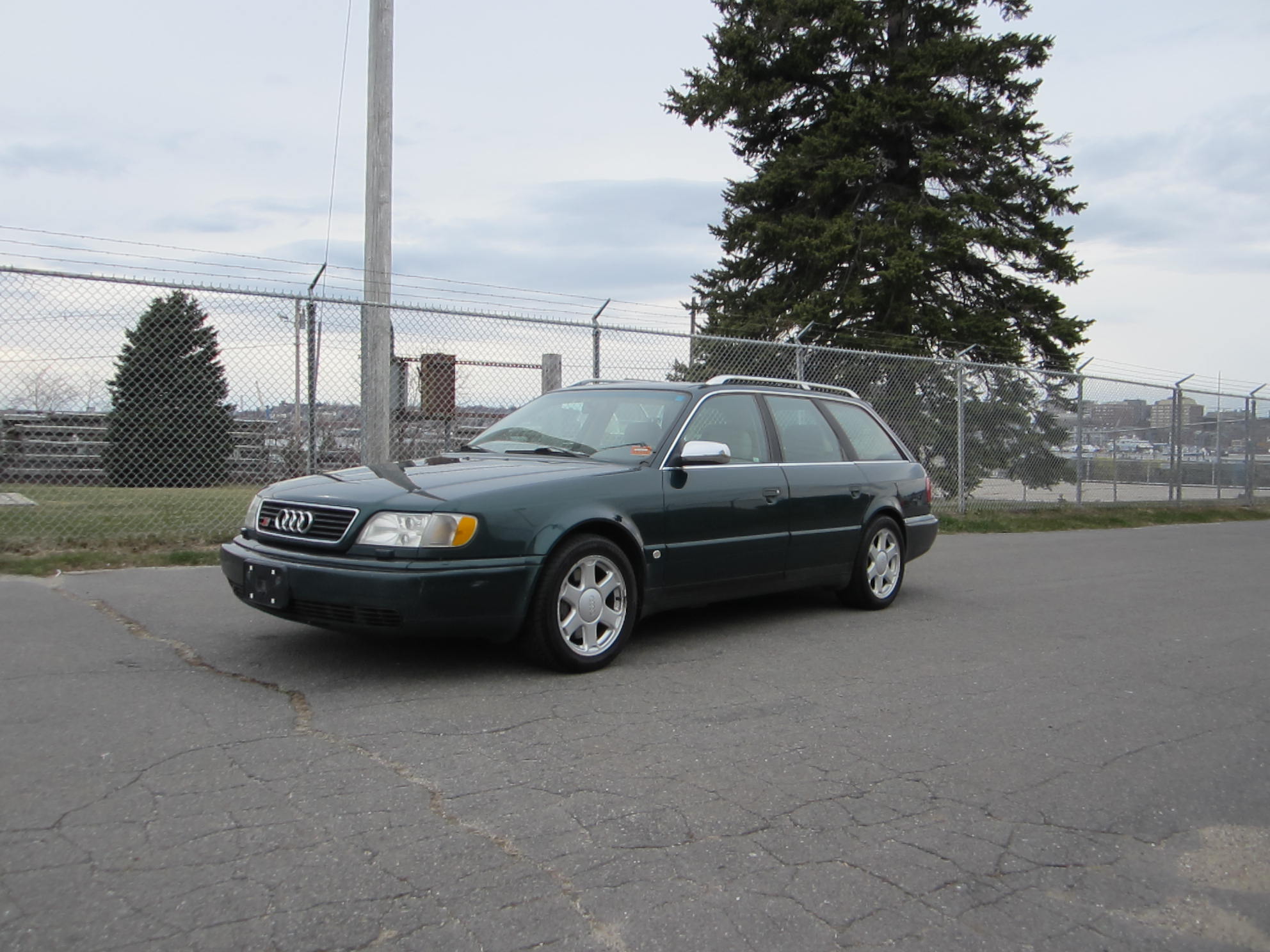 I am selling my 1995.5 URS6 Avant because I recently had an opportunity to buy a low mileage V70R and jumped on it. I purchased the URS6 in December of 2010, and had planned on doing an RS2 conversion as I have had two URS4's in the past and I enjoy working and upgrading them. I have a 2000 BMW M coupe as a summer car, and that has ended up taking up a lot of my tinkering time in the summer, so the work on the URS has really been focused on getting all the engine accessories into good repair so I would be able to start adding the go-fast bits.

I have owned it for 14 months, and in that time, I have put in over $5,000 on maintenance and upgrades that will increase the car's reliability and fun factor. For a full price buyer, I will include all the spares listed below as well. Email me for an excel list of all maintenance completed under my and previous owner's tenure. The car has around 151,000 miles (still driving it in town on the weekends, so mileage is going up…but slowly). The car was parked since December as I have been driving the V70r. The following is a summary of the recent maintenance done by myself as well as the previous owner.

$7,500

I also have:

– 17″ avus wheels with dunlop graspic snows with a season's use for sale for $400 with car purchase (wheels do not have center caps, and have been painted).

– 034 Stage 1+ kit including extra ECU, rs2 injectors, and wastegate spring. $700 with car purchase

Exterior pics: http://pix.kg/p/795945698212%3A422733637/scl

Interior pics: http://pix.kg/p/895945698212%3A959725858/scl

Specs:

1995.5 – no lockable differential
+/- 152,000 Miles (driving in-town only now, so mileage won't go up much).
Green / Ecru
Audi CD changer installed
Stock 16″ Avus wheels with continental all seasons with one summer left on them. (I had planned on going larger, but never did, and instead of buying new 16″ tires and increasing the price, I thought I'd let the new buyer decide the direction they wanted to go).
Porsche Boxter front calipers with A8 rotors, and remanufactured rear Audi calipers
Chrome mirrors
Last three owners (including myself) have been Audi enthusiasts, so this car has been very well maintained in my opinion.
Over $10,000 in maintenance over the last 4 years (going back to previous owner (I have all the receipts).

Previous owner:

Installed rebuilt climate control unit
New Timing belt and head gasket
Replace Valve cover gasket
Oil Change
Turbo gasket
New Coolant
New head gasket – machine head
Installed Lowering Srpings and Bilsteins
front crank seal
replace camber links
new front outer sway bar bushings
new valve guids
new serp belt and tensionor
Alignment
Install refurbished delta CC radio
AC Service
Replace front windshield washer pump
Oil Change
New Front Porsche Boxter brakes
Install stainless front brake lines
New Rear OE Brakes (rotors/rebuilt calipers/pads)

My Recent Maintenance (within the last 13,000 miles):

CD Changer installed
Driver's side door cables replaced
Spark plugs (FDPOR)
Exhaust clamps under front seats
Two new front strut inserts (Bilstein)
Front left strut mount
Bosch diverter valve
Front outer control arm bushings
Right front axle
Left front and left rear Wheel Bearing
Porsche brake shim/spacers to reduce squeal
Tie rod ends
Metal intercooler cross over pipe from URS4
034 Silicone Boost hose kit
N75 valve
Replaced misc vacuum hoses and cleaned some grounding points
New turn signal switch
New Fuel lines
Rear hatch and hood replaced
New Throttle Position Switch
New (used) POS's and stock coil system.

Fun Upgrades:

034 Motorsports short shift kit
034 Motorsports Silicone hose set
Boost Gauge installed
URS4 metal cross/over pipe installed
034 Motorsports PCV breather valve

Spare Parts:

Extra 16″ Avus rim with curbage
3 extra dash light bulbs
One used (10k miles) front Bilstein HD shock
Cannon front Winter Mats
Spare rear wiper motor
Spare rear driver side brake light housing
Spare rear hatch handle
Extra hood grill
Hard boost line
Extra cc radio – not sure of condition, as it was part of the spares package from the previous owner
5 used F5DPOR plugs
1 original POS & Original Coilpack
Plastic bracket from when the CD changer was installed
A pillar 2 Guage pod
turbo to intercooler cross over pipe boost hose -good condition
Intercooler to intake boost hose – good condition
2 extra new brake lines
rebuilt BOMB
exhaust hardware
Stock michelin man hose – good condition
1 extra porsche boxster brake caliper shim
Exterior hatch handle (installed on the extra hatch)
Extra coolant tant
Stock mirrors – small is intact and mirror glass is good, driver's is dissasembled, and mirror is 50% cloudy

I am very picky about my cars, but I also want to be honest for potential buyers. My opinion as to the issues that the car has:

– There look to be two light bulbs out in the dash – one half of the speedometer is darker than the other half, and the gas gauge is definitely darker than it should be. Three spare light bulbs are included as part of the spares.
– The Bomb is probably on its way out, as I periodically get the "brake" light staying on for a while after I start the car. I am including a rebuilt Bomb that the new buyer can install at their leisure. I have never had any brake pressure issue.
– I had a 034 1.8t coil conversion kit installed, but the car never really liked those coils. Around town, it was great, but when I got on the highway it would hiccup every once in a while when off throttle. I ended up chasing every logical boost leak, throttle position, spark issue, and in the end, it went away when the stock coils were reinstalled. A plus is that I think there is better throttle response now for whatever reason.
– Cruise doesn't work. I was hoping that the new steering column switch would fix the problem as there was an issue with the bright lights (that the new switch fixed), but that didn't happen. I haven't really started to dig any further
– The mechanical actuator on the drivers side door lock doesn't work. You need to turn the key twice to get the lock to unlock, as that triggers the central locking system. Happened on my URS4 as well, and wasn't something that was high my list of things to address.
– The driver's side seat heater doesn't work. The other three do.
– The gas pedal cover is off.
– As the pictures show, the driver's seat has wear, and is starting to show, with a small hole in the seat back, and in the outer bolster. It is definitely not as bad as some I've seen, but it isn't as nice as the passenger seat or rears.
– The sunroof sometimes needs to be "helped" to close. It never opens on its own, so It isn't a switch issue, rather I think it is more a track lubrication issue – if you follow it with your hand as it closes, it works fine.
– The clear coat on the on the original hood and roof had begun to oxidize. A couple months ago I sourced a replacement hood from Force 5, and installed that. The paint and clear coat are in a LOT better shape than the stock hood, but there are some scratches that look to have occurred while they were storing it. It does have a couple small chips that have light surface rust, but overall, it looks a lot better than the original hood, just because of the better clear coat. I still have the original hood, which a buyer is welcome to have for free – so buyer can decide which hood they'd rather have.
– I also recently replaced the rear hatch because the stock hatch had some rust bubbles and the metal behind the license plate lights had begun to rust badly. The new hatch has a better interior panel, and the exterior looks a lot better. Like the hood, it has a couple paint chips that have light surface rusting. a light sanding and some touch up paint would be enough to make them virtually invisible.
– There is a spot of rust on the front left fender on the inner face. (See pictures), but I am including a spare green fender that has less rust, but needs a good buffing before it could be installed. The current fender rust has not progressed to where it is visible outside the wheel arch, and it has not eaten through the structure of the fender.
– The bumpers have some scratches and bumps marks, but not bad for a 17 year old car. The rest of the paint is in good condition, but again, there are marks that are typical for a 17 year old car.
This may not be the most mint condition S6 Avant that is still roaming the streets, but Josh has done an admirable job in explaining the car's history, what he has done to it and what issues are still present. A car like this represents a good opportunity for the intrepid enthusiast to have a usable driver which could be improved bit by bit via weekend projects or for someone looking for a solid base on which to carry out a mild restoration.
-Paul