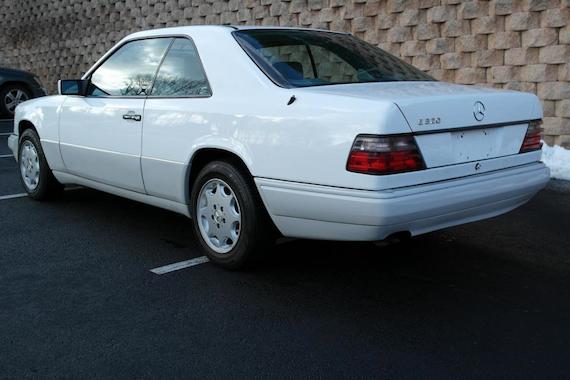 The 1995 Mercedes-Benz E320 Coupe we featured on Christmas Day is back up for sale at the same price. Could this relatively rare W124 find a home the second time around?
-Paul
The below post originally appeared on our site December 25, 2013: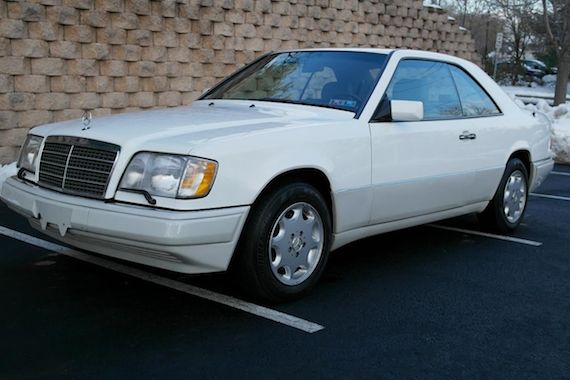 alt="$_57 (1)" width="570" height="380" class="aligncenter size-full wp-image-48423" />
The year 1995 marked the end of the line for the venerable W124. This was the first Mercedes-Benz to wear the E class badge and carried on the tradition of durability and quality set forth by its predecessor, the W123. A few new variants such as the V8 engined 400E/E420 and 500E/E500 were introduced, as well as the return to open-roof four place motoring by way of the 300CE/E320 Cabriolet. One of the more overshadowed models was the E class coupe, introduced in 1988 as the 300CE in the US which begat the E320 for the model's final two years in 1994 and 1995. Only 1,798 were produced in its final year, making this a rather rare E class in the grand scheme of things. This E320 for sale outside of Philadelphia is nearing 85k miles and has hit the market just in time to make it a really white Christmas.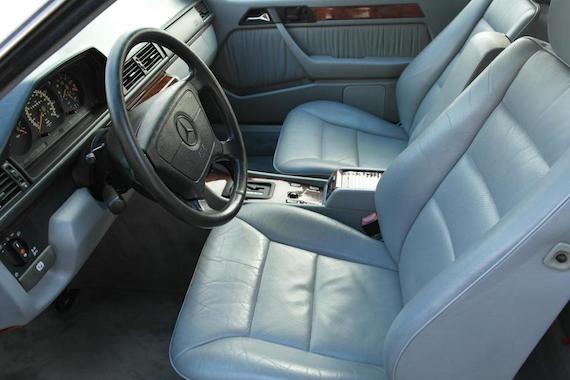 Year: 1995
Model: E320
Engine: 3.2 liter inline-6
Transmission: 4-speed automatic
Mileage: 84,950 mi
Price: $9,950 Buy It Now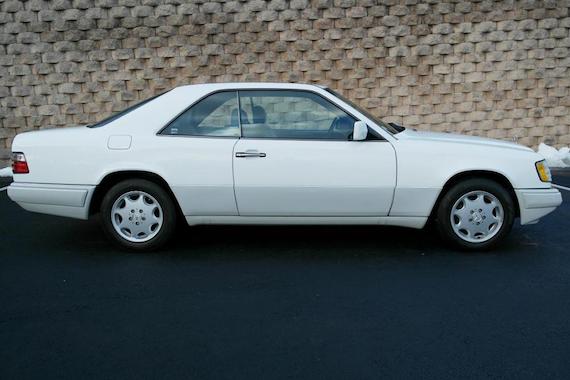 THIS IS THE NICEST $9,950 CAR YOU CAN GET. JUST A PERFECT W124 E320 COUPE, SUPER LOW MILEAGE AT ONLY 84K (UNDER 5K MILES PER YEAR SINCE NEW), AND A FLORIDA CAR FROM 1995 UNTIL 2008. IN THIS CONDITION THERE ARE VERY VERY FEW OF THEM LEFT. THIS WOULD MAKE A GREAT COLLEGE CAR, STATION CAR, WEEKEND CAR, OR EVEN A DAILY DRIVER DUE TO ITS INCREDIBLE MECHANICAL AND COSMETIC CONDITION. It has gone through multiple pre-purchase inspections and needs nothing at all except a new owner. No stories, so please read on to find out more. Here she is in all her glory.

Please let me stop you now if you are looking for an inexpensive, needy, or average E320 like most of them for sale. This is not that car. I am hired by clients to buy over twenty-five Mercedes each year, and used to have a collection of W16 chassis cars from this era. I can tell you there is ONE thing I look for: a car with an excellent service history and a clean current inspection. But most importantly, and this is very difficult to quantify objectively, it has to 'feel' like a proper Mercedes on the road. That means the suspension, brakes, throttle, controls, etc all have to feel like the car did when it was delivered new. Once those feels go south, there's no bringing it back. This car feels exactly like a proper W124 should on the road. Now you can find out what a $59K Mercedes should feel like, for under $10K! It looks NEW inside and out. Please understand, with these cars, you get what you pay for. I paid top-dollar to get this car, because it DESTROYED every other W124 I looked at for cosmetics and mechanicals.

Here's the deal:

This is a 1995 E320 Coupe in arctic white over dove grey leather interior, with matching grey carpets and grey headliner. It has burlwood interior trim. It has been dealer serviced, has only 84,xxx original miles, and looks like a million bucks. This car was LOVED, and was garaged since new. There is hardly a ding, dent, scuff, or scratch anywhere…it's unreal.

Exterior 9.25 out of 10 – Fantastic overall condition paint, body, glass, and trim. No dings. No dents. No scuffs. This E320 coupe looks amazing, with a deep shine to the white paint that's like looking into an endless mirror. This car looks great even under fluorescent light in a garage. Imagine getting a 18 year old car with no swirl marks or spiderwebs in the paint…amazing!

The lower side-body moldings are in great shape. The chrome, rubber, glass, and trim is all excellent and original. No oxidation, fade, wear, rust, etc. as you'd expect on an 18 year old car. Look at the body panels…..they are laser straight. This E320 coupe has driver and passenger airbags, electric seat belt presenters, power everything, sunroof, and much more. Wow!

It currently wears its OEM 15" alloy wheels, all true and in excellent cosmetic condition. The tires are worn out. At the BIN price I will include a good used set (over 75% tread remaining) of Bridgestone Ecopia tires in sizes 195/65/15. It goes arrow-straight down the road at high speed with no shimmy, pull, or anything else.

Interior 9.75 out of 10 – The interior overall including all seating and door leather, seat padding, dash, console, wood, and carpets are in great original condition. Only some minor stress cracks in the wood trim, no dash cracks, carpet rips, pretty much zero wear of any kind on the leather. Everything looks and feels near new. This is not the typical worn eighteen year old E320 – this car was garaged every day of its life and it shows. It was a Florida car from 1995 until 2008, so no salt or winters either. No refinishing, this is the ORIGINAL UNTOUCHED interior, without even any type of detailing, just a wash and a vacuum off the truck from PA.

The door panels and wood trim are also in great shape, like the rest of the car. Even the trunk and spare (never on the ground) are mint and bone-dry. Electrical 10 out of 10 – All lights, switches, radio, windows, wipers, seat motors, and power mirrors work perfectly. Vacuum lock system, interior lights all operating as they should. Even the original OEM radio and power antenna work perfectly!

Everything is operating properly, with no leaks. The service history is great too and documented all at the MB dealer. This means there is nothing for the next owner to do, it's all been done already. HVAC system is fast to respond, and operates perfectly with scalding hot heat and ice-cold A/C.

Mechanical 10 out of 10 – Engine starts, idles, runs, and revs to redline in every gear smooth and strong. You can barely tell when this car is running at idle in park, it's that smooth! Transmission is smooth yet aggressive, and downshifts eagerly. No abrupt engagement, just silky smooth shifts. She runs at high speed with no vibrations or noises. There are no leaks….NONE.

This E320 coupe has passed two separate inspections with flying colors. A pre-purchase overall inspection, and a mechanical inspection by my mechanic. After his final and thorough inspection for any problems, she's ready to roll. Engine is strong and eager to run, transmission smooth and ready to drop down two gears at your command. Brakes are solid and pedal feel is firm. Suspension is tight like new, no worn tie rod ends, ball joints, struts, or anything else. Steering nicely weighted with no play in the box. ZERO leaks or noises. This car drives and handles like new. Look at the condition of the engine bay! This E320 comes with all its books, two keys, and all MB dealer service records since new.

This E320 does not have any real signs of wear; no rubber rot, no leaks, no suspension problems, no lukewarm A/C….NOTHING. Everything is in fantastic shape, and at only 84K miles (less than 5K miles per year), it's not even close to broken in yet! And best of all, it feels 'right', and drives like a proper W124 Mercedes.

Nits: None. I know it sounds ridiculous to have a mechanically and cosmetically near-flawless eighteen year old car with748K miles on it, but there it is. The car is as perfect as you will ever see for a 1995 E320 coupe, and you'll likely never see another one like it! If you have questions, please call Bruce at 856-912-2600.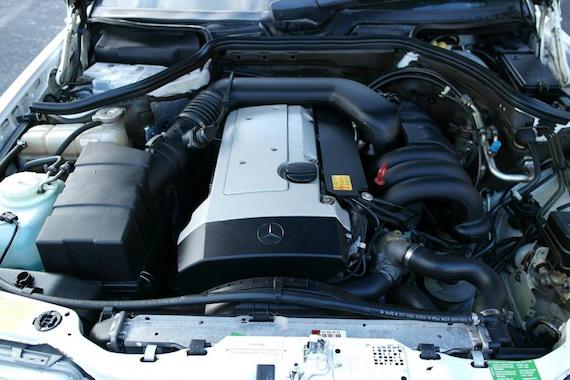 The asking price for this E320 is nearing the top of the range for what one could expect to pay for a late model W124 coupe. Only the very best E320 Coupe would bring over $10,000 these days, along with the possibility of a clean 300CE Sportline. The hardtops just aren't bringing the money we are seeing with the cabriolet variants. Everything about this car looks fairly tidy but nothing that a good cleaning and detail wouldn't handle. There's a few flaws, but nothing too major. The only issue I can readily spot is that the bumper cover on the rear looks a little wavy at the bottom. It would be well worth inspecting that portion of the car closely.
-Paul