Touted as one of the leading Mercedes-Benz tuners in the world, Renntech specializes in taking an excellent luxury car and turning it into a fire-breathing, tire-shredding supercar. Renntech owner Hartmut Feyhl's credentials speak for themselves: he spent over a decade at AMG and even was the technical director behind eveyone's dream Benz the AMG Hammer. Over the years there have been a number of Renntech standouts but one of my favorites has to be what they did with the W210 E-Class.
Across the Bay Bridge in Fresno sits a 1997 Renntech E60 RS for sale. All of the Renntech E60s started out as E420s and received the five-liter M119 V8 which was then bored out to six-liters resulting in 418hp and 440 lb/ft torque. The RS package included aggressively widened fenders to accommodate bigger wheels and rubber and gave the E-class a sinister stance. Renntech only made around 50 of these E60's and E60 RS models making this a pretty rare find.
Year: 1997
Model: E60 RS
Engine: 6.0 V8
Transmission: 5-speed automatic
Mileage: 125,000
Price: $17,000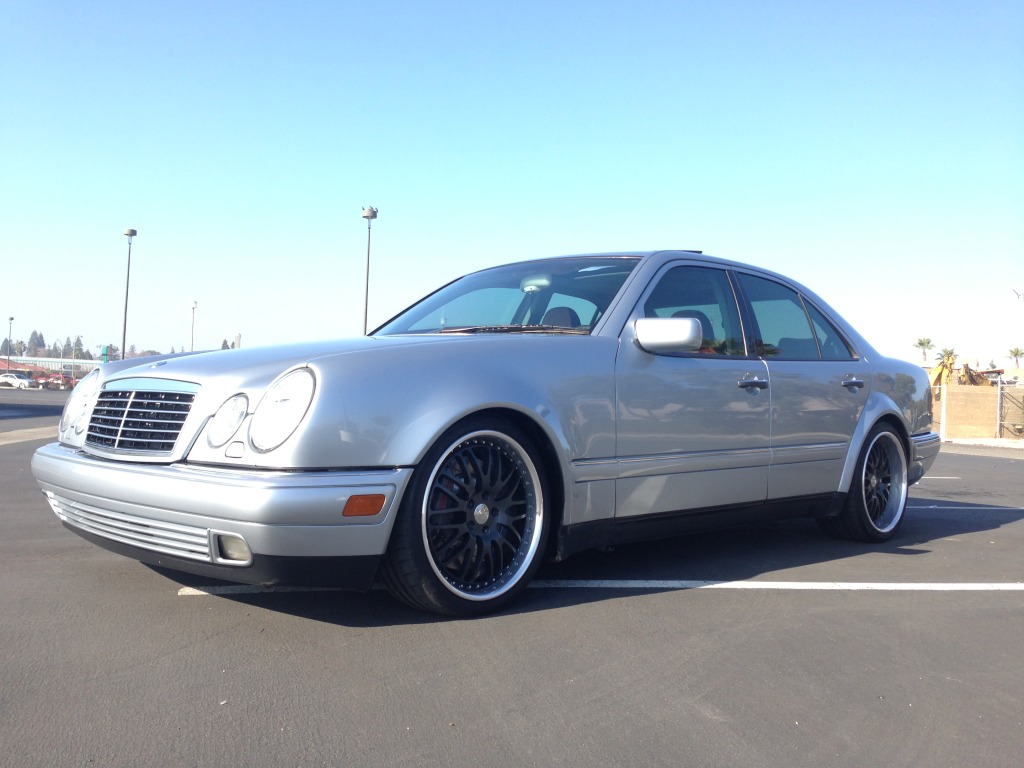 I am selling a one owner, clean title, 1997 Renntech E60 RS. It is in excellent condition, 125,000 miles, everything works and runs perfectly.

Full Renntech suspension
Front and rear Alcon/Renntech big brakes
Renntech Carbon Fiber intake
Renntech built 6.0 motor
Renntech tuned transmission and ECU
Renntech Exhaust
Iforged staggered 19″ 2 piece wheels with great condition tires

As part of the full RS package, Renntech had all 4 fenders custom flared with metal fenders & Renntech also had the whole interior of the car redone in red & grey leather and red and grey alcantara. They removed the factory seats and installed driver and passenger power Recaro seats as part of the RS package. Renntech built less than 30 E60 RS's and they were close to $150,000
I spent the better part of high school study hall geeking out over quarter-mile times and top speeds in my MotorTrend. It was during one of these sessions that I came across an article on Renntech super sedans and since then have been obsessed with these extreme performance-luxury cars.
This is an extraordinary car but I do have a couple of bones to pick with this E60. First off, the interior looks like it's straight out of a Pimp My Ride episode with the tri-color leather scheme and marble armrest. Also, I know that iForged makes nice wheels but these units just seem to clash with the charming brutishness that the W210 exudes. I think we'd all agree that a set of 18" AMG Monoblocks would really makes this Mercedes look a thousand times better. A stock 1997 E420 in good condition hovers right around the $7,000 range. Considering that the Renntech E60 RS package costed well north of $70,000 back in 1997, I think $17K is a pretty solid deal for a car this fun and this rare. If it hasn't sold by the weekend I may have to take a trip across the bridge and check this thing out. A glimpse at the engine bay alone is worth the trip.
-Ben