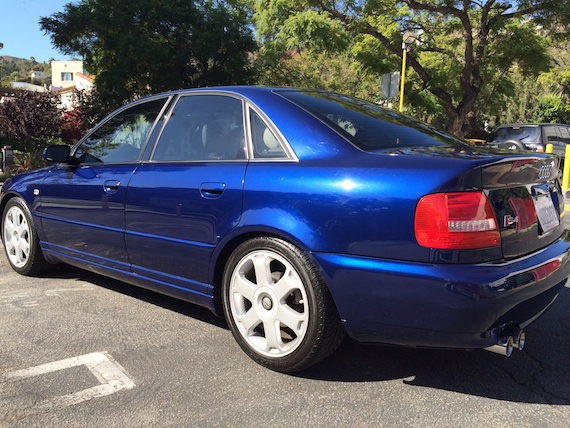 As I learned when searching for my M3, the good and the bad about factory hot-rods is that some are cherished (good), while many are trashed (bad). The upside to this is that you can find – with some searching – a clean, well-maintained and adult-owned example with some dedicated sleuthing. That certainly is the case here, as this lovely late-production B5 S4 with very low mileage demonstrates. The stock wheels are some of my all-time favorites, and I'm happy to report that this car's footwear – along with many of its other OEM components – haven't been trashed in the interest of achieving stratospheric power levels.
That said, the current owner has invested in some careful modifications, most obviously an Eibach coilover suspension. In addition, the car features Stage 2 power upgrades, including a GIAC ECU flash and a Milltek catback exhaust system. Otherwise, it's been left preserved and survived the wrath of the tuner crowd. In addition, the standard features list is robust, including silk Napa leather, comfort and all-weather packages, and a Bose Symphony stereo system. Throw in the somewhat rare color combination of Azure blue with pearl effect paint and you have a stunning daily driver with many more miles left in its tires – which, by the way, are new.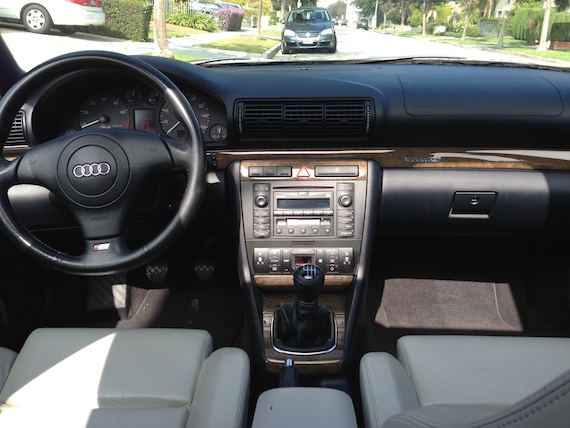 Year: 2001.5
Model: S4
Engine: 2.7 liter biturbo V6
Transmission: 6-speed manual
Mileage: 44,528 mi
Price: $22,000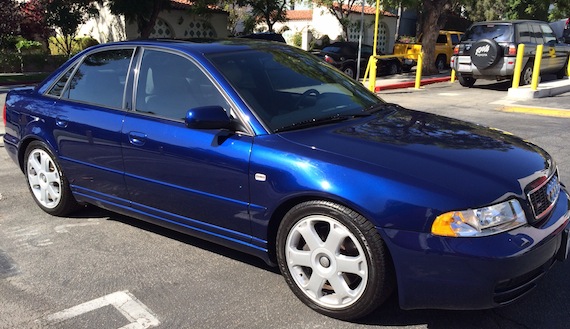 This Azure Blue, pearl effect 2001.5 S4 came off the production line 11/16/2000, making it one of the last 2001.5′s to market. One of the rarer Audi color combinations it came equipped with the silver, onyx leather interior and comfort package. Including silk napa leather seats, all weather package, Bose symphony audio package and navigation. All scheduled maintenance was done by the dealer under warranty.

When I stumbled across this beauty in April of 2012, I didn't need another car and wasn't in the market but as a long time Audi enthusiast I realized the rarity of such a low mileage B5 S4. I purchased it from the original owner on 4/05/2012 with mileage of 43,676. On 5/02/2012 with mileage of 43,725 I brought the car to Mike at WMS in Van Nuys, CA. Mike did a full stage two upgrade including:
GIAC flash with three files
Eibach full coil over suspension kit (new generation)
Milltek Super dual catback exhaust

Current car mileage is 44,528 and is garage kept. The car is in perfect condition with the exception of a very tiny crease on the front hood, which is hardly noticeable and mild, occasional pixelization of the infamous menu screen. Other than that, there are absolutely no dings on the entire vehicle and the paint is in showroom condition. The Michelin 225/45/ZR17 tires are brand new. This car was babied by its original owner and now has all the goodies to be immediately upgraded to stage three and beyond. It's also the perfect S4 to be left as is.

Low mileage, manual B5 S4′s do not exist. You will not not find another that compares to this beauty, and it is priced accordingly. The true Audi enthusiast appreciates the rarity of this classic and it is currently available for purchase at $22,000

Serious inquiries only
Chmecray@gmail.com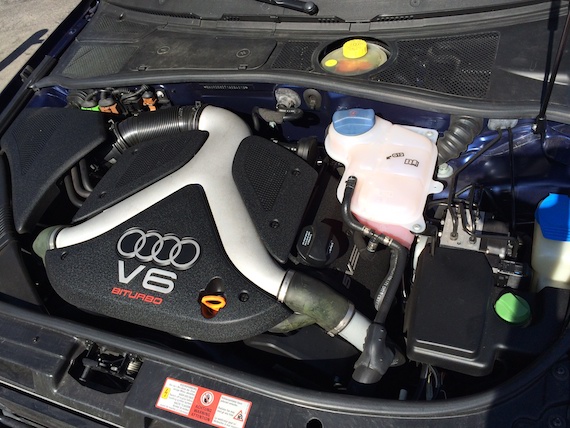 If I learned anything in my quest for a car (which required shipping it from San Diego to Rhode Island), it's that for someone seeking the perfect combination of maintenance history, features, and options, there is no unreasonable price or distance too long to acquire that vehicle. With relatively stock B5 S4s a dying breed, this low-mileage example is one of the few I've seen without suspect modifications and history. Contact the owner at the email above for more info.
-Jeff