I found this tricked out Turbo on Houston Craigslist a long time ago and it has yet to sell.  It's a 2001 996 Turbo with a ton of modifications.  To be honest I wasn't really interested until I saw the roof rack.   Once I was hooked I read the list of upgrades and saw this Turbo also has a RWD conversion.
I had never heard of such a thing so I jumped across a few forums and found that a good chunk of Turbo owners have done this before.  Many of the "convertees" recommend going for the full GT2 suspension upgrade to counteract the weight shift (the switch from AWD to RWD removes about 70 pounds).
2001 Porsche 996 Turbo – RWD & Roof Rack!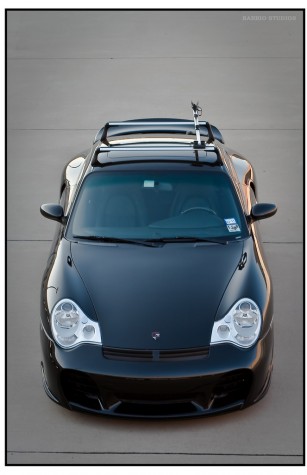 List of upgrades:
Exterior
TA front bumper with custom LED lights
Custom-made 997 TA sideskirts
TA Type II GTS rear bumper
Intercooler duct splitters
Authentic strosek rear wing
Custom painted Porsche emblem
H&R Street Coilovers
19" 360Forged Mesh8 with Toyo T1R or 19" HRE 895R (Chrome) – both with 99% Toyo T1R but HRE does not have tpms senors in the wheels.

Interior
FVD CF steering wheel
Tequipment roll bar
Brockway 1000
Eclipse DD Touchscreen HU
Boston Acoustics and Infinity Component speakers
JL subwoofer and amp
Ecliptech Shift-I tachometer
TPMS Sensor Unit

Engine: (All engine work done locally by DriverSource)
K16 Hybrid turbo upgrade (500 RWHP)
EPL Tune
Upgraded 1 Bar WG
New sparkplugs
Cargraphic exhaust
RWD conversion (have parts to convert back to AWD)
The owner is asking $57,500 for this low mileage example (23,000).
Here are my questions:
How do you feel about a RWD 996 Turbo?
Which wheels do you choose? 360Forged or HREs?
P.S. – I don't think the roof rack comes with the Porsche

-Ben