Collaborations between car manufactures usually have one of two outcomes: they can either be a success or can go horribly wrong. The Chrysler Crossfire lands somewhere in the middle of that scale. After a less than warm reception from the Chrysler TC, which was an attempt at creating an Italian exotic off humble K car mechanicals, the brass at Chrysler decided to go a different route the next time out. A few years later after the merger between Daimler and Chrysler. Using the first generation Mercedes-Benz SLK as a basis and Karmann as the final assembly point, Chrysler tried their hand at another high end coupe, the Crossfire.
The Crossfire first appeared as a concept car in 2001 and entered series production in 2003 at Karmann's Osnabrück, Germany plant. A coupe was first offered for 2004 with the roadster joining for 2005 along with the SRT models which used AMG's 3.2 liter supercharged V6. A little over 80,000 Crossfires were produced over five years, with production dwindling as time went on. At first these cars stirred up a buzz but interest faded over time. This 6-speed manual Crossfire coupe for sale in New York is the base model, which differed from higher end models in that the fog lights were deleted, black trim replaced the silver trim around the windshield and cloth upholstery replaced the leather normally found inside.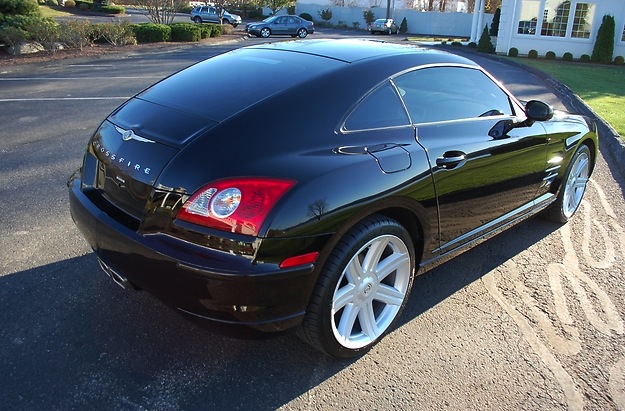 Local one owner new car trade in from Audi store. It is a sharp car with only 66,000 miles. Brand new tires, runs and drives like new. Has been very well cared for. You would be proud to call it your own.
Even though this is a base model Crossfire, that's a relative term as they are still rather well equipped. While the styling isn't to everyone's liking, it certainly is different. I doubt that I'd ever buy a Crossfire, but if I was in the market, I'd certainly rather have the 6-speed manual to make the most of the 3.2 liter V6. This engine is a rather stout unit, save for occasional issues that sometimes arise with the crank and camshaft sensors. Still, at under $9,000 with 66,000 miles on the clock, you're getting a lot of modern Mercedes-Benz engineering for your buck.
-Paul