With an original MSRP just a tick under $70K, the RS4 is something that an ordinary Joe like myself could only fantasize about owning. The naturally aspirated, 420 bhp V-8 that revs to 8250 rpm with an exhaust note that rivals that of any super-car is an absolute enthusiasts dream. With the six-speed manual as the only available gearbox, highly tuned suspension and a lap time around the Nurburgring just over the eight minute mark, what is not to love about this masterpiece…oh yeah…the price.
Luckily 5 years later these cars are attainable in the used market with prices coming down to reality.  This stunning Sprint Blue over Black leather RS4 for sale in Tempe, AZ is a clean example of an affordable super-sedan.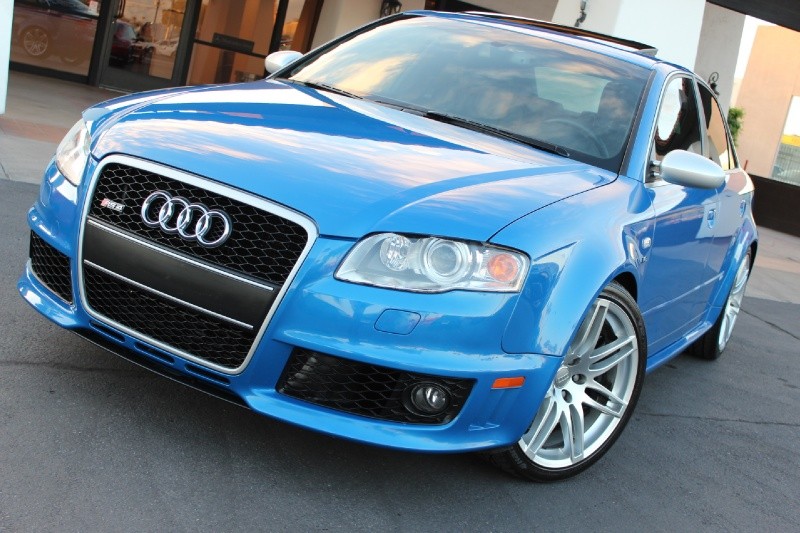 To the ordinary consumer, the 2007 Audi RS4 represents a bit of a mystery. Why would someone pay $66,000 for the RS4 when the basic A4 goes for only $28,240? The A4′s 2.0L 200-horsepower engine is a fine one, and who needs more?Well some folks just like to go a bit faster than their fellow drivers. For them, Audi makes the 340-horsepower S4 V8. For $47,500 you get a four-door sedan that will surprise drivers of many midlevel sports cars at impromptu traffic light derbies.But if you want to go hunting bigger game, Audi offers the $66,000 RS4. Audi has taken a lot of their Le Mans-winning racing technology and funneled it into this limited-production special. The 4.2L V8 will rev to a lofty 420 horsepower, and make fully 90% of its 317 lb-ft of torque at just a bit over 2,000 rpms.But the RS4 is not just a one-trick pony. A fully hydraulic dynamic ride control not only limits body lean to enhance the RS4′s cornering capabilities, but also delivers a surprisingly good ride.Audi has tuned the RS4′s quattro AWD system for maximum performance and it allows a bit more wheel spin for improved acceleration. The electronic stability control is also programmed to allow a smidge more tail-hanging-out fun, than in the A4. This 8.0 version of Audi's ESP even incorporates a brake rotor drying function in the latest potion of electronic wizardry.There aren't a lot of overt touches to the outside of the RS4 to give away the performance potential. Larger tires, unique wheels and some potent exhaust pipes are the main clues to the curious onlookers. Inside you'll find a few more signs of just how unique the RS4 is. Genuine carbon fiber is used in tasteful doses as accents. The sport seats are built by the world famous Recaro brand. They provide opulent comfort and also hold you tightly when you take your RS4 through your favorite twisties. The pedals are covered with alloy bright work with rubber inserts for better traction.There is even a "Sport" button that changes the throttle mapping for even faster response; and it opens the V8′s exhaust system some for an even more ominous rumble.The RS4 has the usual standard luxury touches one expects from Audi: sunroof, xenon self-leveling lights, power all around, climate control, rear park assist, and a six-disc CD changer. A Premium Package adds navigation, auto-dimming mirrors, a memory feature for seats and mirrors, rain-sensing wipers, Bluetooth, power rear sunshades, Sirius satellite radio, and a Bose sound system. Rear side air bags are also optional.The Audi RS4 is not for everyone. But, for those lucky few who want AWD supercar performance, without the discomfort of a low-slung two-seater, the RS4 may be the peak of desire.
Now I know what you're thinking $34K for a car with 72K miles, ridiculous….and in many cases you'd be correct. Not in this case. We're talking RS4 here, the 4 door version of the R8. Well, almost. The RS4 is certainly a stunning performer and in Sprint blue, it's a looker too. This car is priced a tick high for the mileage as I've seen cars in the 60K mile range for about the same price. No matter what the price, these cars will definitely have longevity in the Audi circles, and I suspect the depreciation will be very slow.
-Brian