In 1984, Porsche modified a version of the 911 for the sole purpose of competing in the 1984 Paris to Dakar Rally. This car was known as the 953.  While it was quickly replaced in 1985 by the infamous 959, it won overall in its maiden Dakar outing with Rene Metge and Dominique Lemoyne at the wheel. With a modified off road suspension, and powered by a 300bhp boxer 6, this car served as the test bed for Porsche's four-wheel drive system that would later be used on the 959.
This implacably detailed tribute car for sale in Bristol, Tennessee is as close as anyone will get to owning one of these legendary cars. The owner spared no expense in transforming this 1989 911 in to a spot on replica of the original 953.
Dakar Winning 953 Off Road Rally Tribute Car on eBay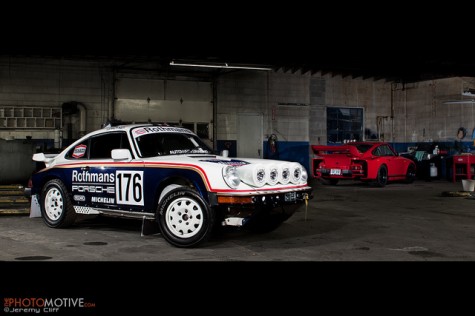 You asked for it. You got it. You wanted an all-wheel-drive Rothmans Rally Car and here it is.  You may remember July of 2010 when another 2-wheel drive 1980 Rothmans Rally Car sold to GoPro for upwards of $70,000 here on eBay.  Although that car was stunning in everyway the last owner knew it needed something more.  The previous owner searched the country high and low for the perfect donor and finally found an accident free, perfectly maintained, weekend driver, pilot owned, all original with every factory option 1989 1/2 Porsche 964 C4.

Meet AWD Paris……
She is an absolutely stunning freshly completed Porsche 911 Paris, Alger, Dakar Winning 953 Off Road Rally Tribute Car that has been painstakingly built over the past year from the previous order.  The previous owner spent thousands and thousands of hours building her.  She was built as a tribute to the winning Porsche 953 raced from Paris to Dakar in 1984 Piloted by Rene Metge and Dominique Lemoyne. 
…