The original VW Van is an iconic figure, forever associated with hippies, beach bums, and the ensuing free love. They are sweet cars for sure and can be done to the nines, whether it's California'd out with wooden racks and slammed suspension, rat-rod, or the more creative Porsche-swapped sportsvan. Think the 911 is an bass-ackwards affront to physics? Try putting those mechanicals in a breadloaf with the center of gravity of an elephant and suspension sophistication of a covered wagon.
If you're trying to get different in the VW Bus community and shirk the classic stereotypes, the Double Cab pickup is the way to go. Combining the classic cartoony front with all business in the back end, it's like a reverse mullet. It's no longer a hippy-mobile; it's funky classic work vehicle. Despite the bed, today's example will still turn heads at any show with a monochromatic white-and-chrome exterior and simple-but-gorgeous blue over white interior. A bare-metal restoration and former Porsche racer owner help explain the perfection, and the pictures of the engine imply the 85k miles is only on the chassis. Regardless, this is a great party truck, show car, or a way to haul the tires for your vintage racer.
1961 VW Double Cab Pickup for sale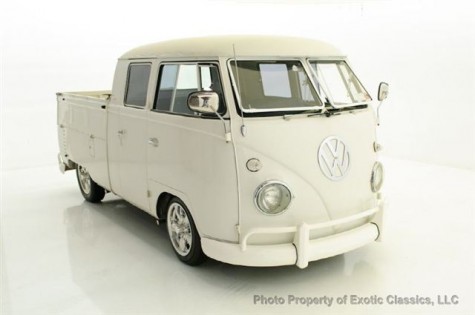 From the SELLER:
EXOTIC CLASSICS IS PLEASED TO PRESENT THIS 1961 VOLKSWAGEN DOUBLE CAB DROP GATE PICK UP. THIS VEHICLE IS FEATURED IN WHITE OVER BLUE LEATHERETTE INTERIOR.

THIS IS PERHAPS THE BEST EXAMPLE OF AN EARLY VOLKSWAGEN CREW CAB PICK UP. IT IS A RARE, BARE-METAL RESTORATION ORIGINALLY DONE BY LEE DIXON, FROM GEORGIA, AND RECENTLY UPGRADED AND REFRESHED BY PORSCHE RACER, JERRY PETERS, A FORMER OWNER OF THIS PICK UP. THIS IS AN INCREDIBLE MACHINE AND A MULTIPLE FIRST PLACE WINNER THAT HAS BEEN FEATURED IN DUNE BUGGIES AND HOT VW'S MAGAZINE.

THIS VW FEATURES A 1835 CC TYPE 1 MOTOR WITH TWIN KADRON 40 MM CARBS, 69 MM FORGED CRANK, MAHLE 92 MM PISTONS AND CYLINDERS, ALUMINUM DUAL PORT MANIFOLDS, CHROME FAN HOUSING AND TIN, FREEWAY FLYER GEARBOX WITH TALL RING AND PINION, ADJUSTABLE FRONT BEAM WITH DROPPED SPINDLES, FRONT DISC BRAKES, TYPE 3 REAR DRUMS, REAR SUSPENSION LOWERING KIT, 15″ EMPI CHROME WHEELS, 12 V SYSTEMS, SAFARI FRONT WINDOWS, RADIO DELETE DASH, ALL NEW SEALS, ORIGINAL OAK WOOD BED SLATS FOR THE REAR ARE ALSO HERE AND CAN BE SET FOR SHOW THEN REMOVED. READY TO DRIVE AND ENJOY. BODY RESTORED TO AN EXCEPTIONALLY HIGH LEVEL TO A SOLID RUST FREE VOLKSWAGEN.
I love seeing these, or even the later Transporter based on the T3 Vanagon. If this were mine, I'd go for a few cosmetic changes like non-tinted windows and some different wheels, and I'd love to see what the original wooden bed slats look like. But those are minor quibbles; the work has been done on this Truck to make it perfect. You'll have to call for a price, but I'd have to imagine it's at least in the high teens with the amount of work done.
-NR