Wow, take a look at this.  Not the lowest mileage I have seen but still under 100k turns on this 1983 VW GTI.  Totally original and unmolested.  Door cards and rear deck are not cut with ugly 6×9 speakers, the snowflake wheels look great, and the interior looks fantastic.  The only flaws I can find are the after market window cranks and the absence of a head unit, these are nits and should not keep someone from grabbing this car if they are in the market.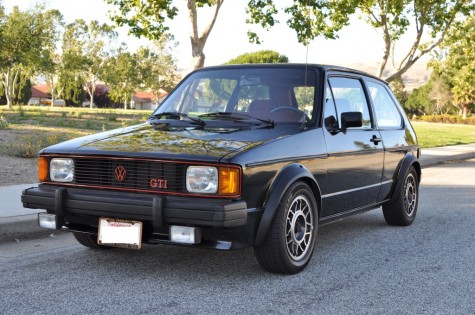 From the seller –
"1983 Volkswagen Rabbit GTI, 96,800 original miles. Black exterior with red interior, clean title, never been in accident, VIN: 1VWDC0173DV061918. Very well maintained since day one, always garaged. California car since new, originally purchased in Woodland, California.  I am very picky on my cars and I would rate the exterior in 8.5 out of 10 excellent conditions due to 2 imperfections: ¼ of the top has been repainted due to dent (see pictures), hood has been repainted due to oxidation. Other than the mentioned, all body panels and glass are original with original paint, all moldings and trims are intact, and no rust anywhere. Original interior in PERFERT condition, no cracks and tears whatsoever, front and rear seats in like new condition, all interior lights are working properly, sunroof open smoothly and no leak. Car is very solid with no mechanical problem of any kind, transmission shift smoothly through all gears, engine runs strong, smooth idle and no overheats, it is an original non A/C equipped model. Michelin Pilot XGT 185/60/14 tires on four corners, front tires have 60% trend remaining, rear 40%. Regularly oil change with Castrol synthetic and OEM Mahle filter. The car was rarely driven the past 8 years and stored in garage at all time, it only get driven during weekends, registration is renewed every year and it always pass emission test.

Few upgrades have been done to make this little GTI more joyful to drive.

Upgrade suspensions with KONI adjustable shocks and Neuspeed Sport springs
Neuspeed larger diameter front and rear sway bars with poly bushings
Neuspeed front upper tower brace and lower stress bar
Neuspeed short shift kit
Techtonics Tuning Exhaust System
Bosch H4 headlight conversion
Radio deck relocate to glove box for a cleaner look on the dash

Only issue I am aware of is the strut mount front driver side is starting to wear and make little bit of noise when going through speed bump, it could use a new strut mount in the next 5000 miles. I will include a pair of new OEM strut mounts."
Beautiful car, bidding currently sits at $3,500 with no reserve.  Looks like the seller is going to let this GTI speak for itself.  I think $5,500 is a reasonable price for such a original and well kept bunny.
~Aaron.