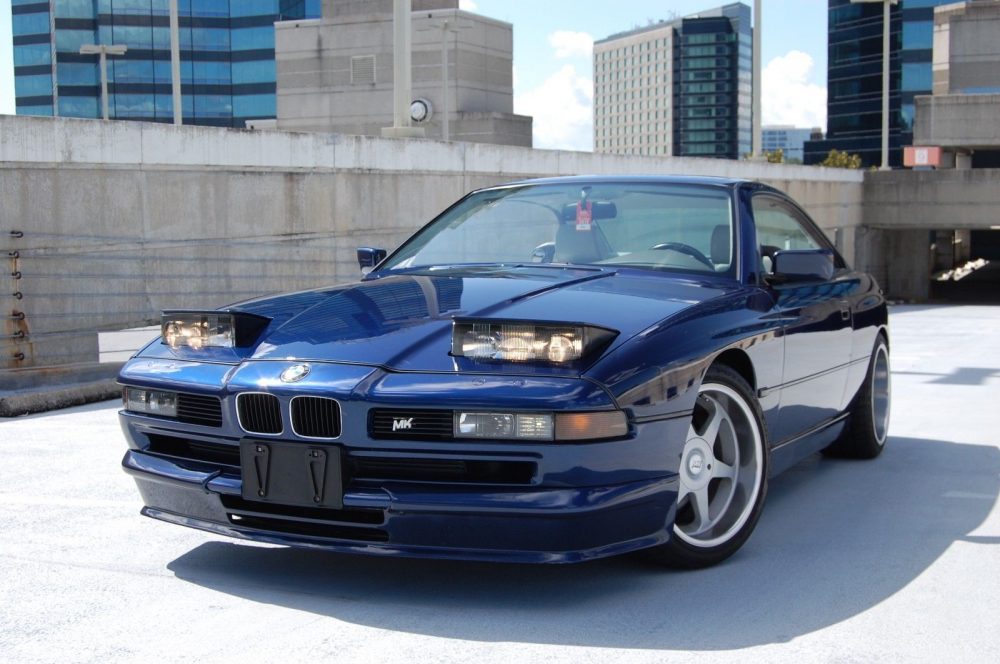 They didn't get many headlines, but this past weekend was a significant one for BMW. At Le Mans, BMW's M8 GTE didn't fair all that well – but the company did make a splash by parking a production-ready 8-series outside. Will the new 8-series be impressive on paper and in person? No doubt, but it's nowhere near as significant a leap as the E31 was from the E24.
The E31 was BMW's first real attempt at integrating lots of computer designs and controls into one of their road cars. The clean-sheet design resulted in a 2-door grand tourer that shared some visual similarities with the great M1, but stood apart as a more practical cruiser. Unlike the E24, the windows could fully drop, revealing a graceful pillarless design to match the sweeping greenhouse. The sharp nose amazingly hid an even larger motor than its predecessor; in fact, it was basically two conjoined M30s. That configuration certainly has some drawbacks, but there was no denying that the 850i had serious presence and credentials with the M70 V12 kicking out 300 horsepower.
However, BMW softened the character of what potentially could have been a screamer. Many were outfit with 16″ wheels for a better ride and tied to an automatic transmission. This was truly a GT car, and not the supercar slayer that BMW teased with its M8 Concept. You had a few options to remedy this. You could wait and get a later 850CSi, or you could turn to the aftermarket to harden and sharpen your 8. And one of the best places to turn was MK-Motorsport.
Though not as well-known as Alpina or Hartge, MK-Motorsport developed alongside its countrymen and raced them, too. They also created a long list of improvements for various BMW models, including the E31. Without doubt, though, their biggest impact was made with the perfectly styled and sized signature 6-spoke wheel. Outfit on this beautiful Mauritius Blue Metallic 1991, they measure a jaw-dropping 18″ x 11″ wide in the rear – and boy do they fit perfectly. But this 8 is more than just a pretty set of wheels: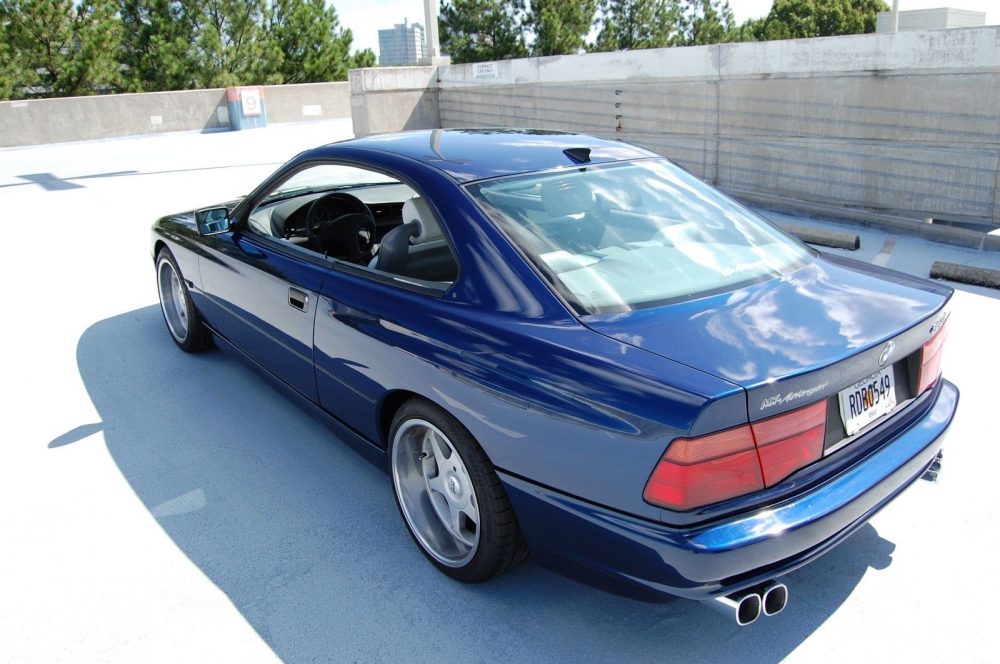 Year: 1991
Model: 850i
Engine: 5.0 liter V12
Transmission: 5-speed automatic
Mileage: 50,000 mi
Price: $32,900 Buy It Now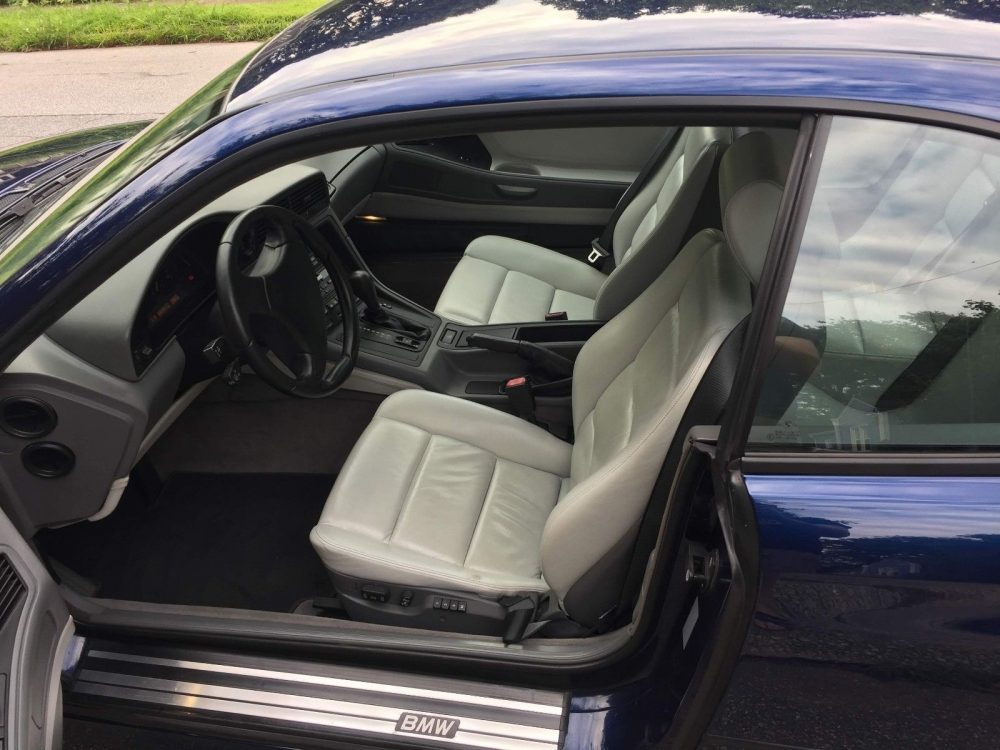 EURO SPEC. MAURITIUS BLAU METALLIC. MK MOTORSPORT. 50K MILES.

VIN:WBAEG21020CB03494

BUILD DATE 10/12/90

Exterior Color: Mauritiusblau Metallic

Interior: Silbergrau/Silbergrau Hell Nappa Leather

Mileage: 80300km/49,900 miles

OPTIONS:

L807ANational version japan

S240ALeather steering wheel

S245ASteering wheel column adjustment,electr.

S416ARoller sun vizor, rear lateral

S423AFloor mats, velours

S428AWarning triangle and first aid kit

S431AInterior mirror with automatic-dip

S459ASeat adjuster, electric, with memory

S488ALumbar support, driver and passenger

S494ASeat heating driver/passenger

S500AHeadlight wipe/wash/Intensive cleaning

S537AIndependent ventilation control

S676AHiFi speaker system

S687ARadio preparation

S694AProvisions for BMW 6 CD changer

S872APreparation f teleph.installation Japan

S925ATransport Protection Package

Imported from Japan on 4/7/16. One of likely only a handful of Euro-spec 8 series in the US and likely the only example without a sunroof (slicktop) as well as no EDC. Only 218 US Spec 8 series were sold in Mauritiusblau Metallic (nice respray while in Japan) making this #219. Probably only car in US equipped with full suite of exterior upgrades from German tuner MK Motorsport.

Much like Alpina, Hartge, & AC Schintzer, MK Motorsport offered both performance and exterior upgrades to various BMW models from the 80's and 90's. This particular car has the front badge, front spoiler and MK1 wheels. Both the spoiler and wheels dramatically improve the looks of a standard 8 series. Other goodies on the car included are a very nice Atiwe (Germany) 3-spoke airbag steering wheel, Eibach (Germany) lowering springs with Boge (Germany) shocks and a Remus (Austria) cat back exhaust. All parts are period correct items with the wheels having visible "Made in West Germany" stampings. The wheels are 18 x 8.5 and 18 x 11 inch are specific to this model are regarded in the 8 series community as THE wheels for the 8 series. Other than the aforementioned exhaust, the car is also equipped with K&N filters (just cleaned and re-oiled) and has a performance chipset that increases power by 10% as well as waking up the throttle bodies. Original chips will come with the car.

This car is turn-key and has been comprehensively sorted during my 2 year stewardship.

Engine:

Valve Cover Gaskets

Timing chain tensioner oring replaced

PCV hoses replaced

New plugs

New rotors and caps

Upper and Lower oil pan gaskets

Rear main seal

Oil and filter

Belt tensioner

Electrical:

New secondary alternator (Yes this car has 2 alternators)

Primary alternator new voltage regulator

Rebuilt headlamp wiring harness

New heater control valve

General Module upgrade

Headlamp solenoid

2x new batteries

Steering:

Completely resealed power steering box

New hoses

Suspension:

Front control arms and control arm bushings

Sway bar links

Brakes:

Bled system

New pads

New rotors

New wear sensors

Fuel system:

New fuel pumps

New fuel filters

Cleaned injectors with new o-rings

Cooling system

New radiator

New coolant

Transmission

New input and output shaft seals

New filter and fluid

New shifter cable

Tires:

Bridgestone Potenza RE760 @ 1000 miles on them.

Vehicle is located in Atlanta, GA and has a lien-free Georgia title in my name. Will assist with shipping arrangements.

For more information along with additional photos please call or text 404-731-0123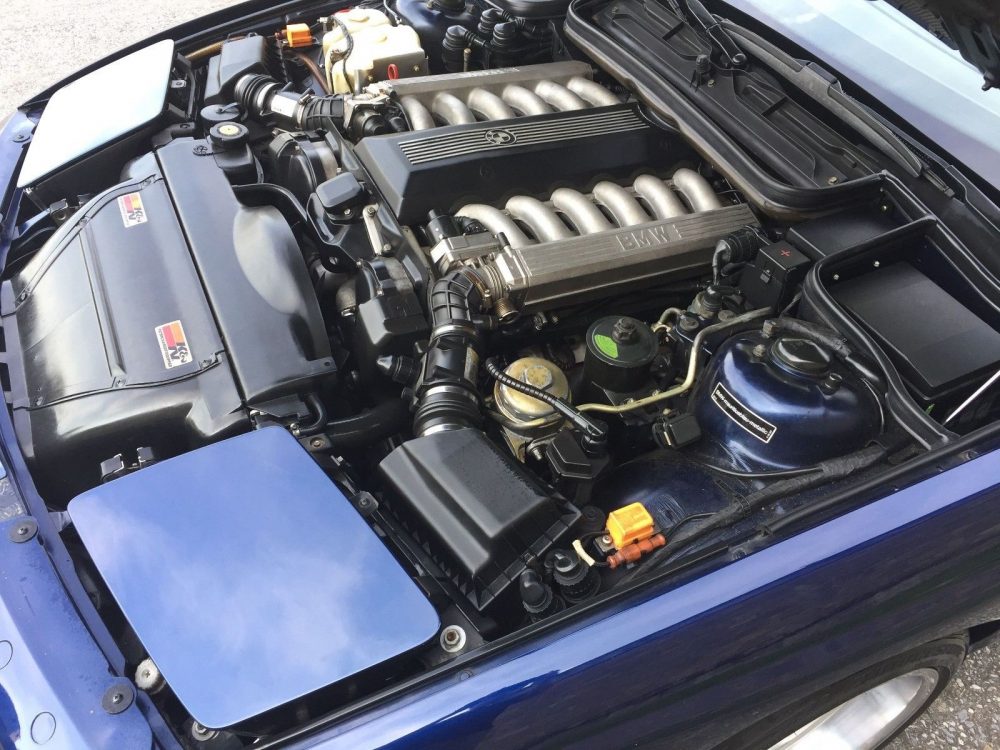 If you aren't immediately impressed by the stance of this E31, the seller's extensive photo album is equally a standout. Condition looks to be awesome; the car isn't overdone like the ABC Exclusive 560SEC Andrew just looked at, instead subtly upgraded with a fantastic assembly of parts from the best names out there. It's hard to believe only 5 years separate them, and that the W126 was sold alongside the E31 in some showrooms. The MK-Motoring details accentuate the 8's angular lines well and the result is quite purposeful in my eyes. But it hasn't just been modified, as the seller has gone through that notoriously expensive-to-maintain M70 and corrected the faults and leaks. As a result, this low-mileage 8 looks ready for its next owner to impress.
While the E31 might not have had the racing pedigree of even the E24, these 8s still draw crowds when they arrive. Long ignored by the collector world, many have fallen into disrepair and forlorn condition. Rebuilding one is no small feat, so the turn-key nature of this beautiful example is extra appealing. As BMW has reinvigorated the name and there has been greater appreciation growing for early 90s cars, perhaps these 8s will come to shine in the future. Even if that eventuality doesn't occur, this is a stunning example of a car which will turn heads and gobble highways up with aplomb.
-Carter