I have written about several Porsche 944 Turbos over the years.  Some with low mileage, but nothing like this.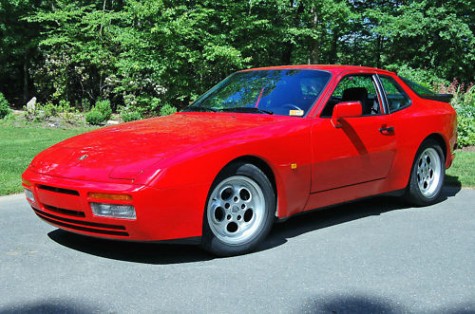 From the seller –
"I know the word "time capsule" is way over used by car dealers but I don't know how else to describe it. A 1986 (the first full year for the 944 turbo in the US) 944 turbo in Guards Red with Black interior and with 3603 miles on it. Just coming off a full inspection and sign off by the local Porsche dealer, this sweet ride has rec'd all new tires, battery and oil service. In short, it's ready to go! The history on this great car is that it was acquired new and held in the collection of a local gent who happened to be a multi franchise new car dealer. It received periodic use and service through the years and was then sold to it's second owner. It is the second owner who is now offering for sale. Without question, this is an extremely rare find for a 25 year old car with 3600 miles and in a condition so well kept as this. I didn't go check them all but I can't imagine how this wouldn't be the nicest 944 turbo in the country. And we haven't even begun to talk about the widely respected handling of the 944s. With near perfect weight distribution you can't help but be impressed with its performance. Clean Carfax of course. VIN is WP0ZZZ95ZGN140244, an ROW delivery."
This is an amazing vehicle, it would even be more so if it were not a ROW car.  But hey, beggars can't be choosers.  I would support the seller's claim that this very well may be the best 951 available at this time.
That said, there are a couple of things that trouble me:
This is a museum quality car, I cannot see someone buying this and turning it into a daily driver.  Since most enthusiasts like to, say, drive their cars that could keep this car from realizing its full value.
Buying this car will lead to a hefty service tab.  It is a safe bet that this 951 needs a timing belt, rollers, and water pump.  It also needs new tires as I am sure these are rotten.  Lastly, all hoses and gaskets would likely have to be replaced as they would have gotten dry and brittle over the years.  This could give a new owner pause.
That said, if you are someone looking for the lowest mileage 944 Turbo money can buy this would have to be it.  I am curious to see where bidding on this one goes.  Currently the action is up to $12k with a few days left.
~Aaron.