UPDATE:
The car is back up for sale on eBay with what appears to be a different owner, as of August 2012 now with 21,510 miles and an ask price of $24,900. It has received an updated grille: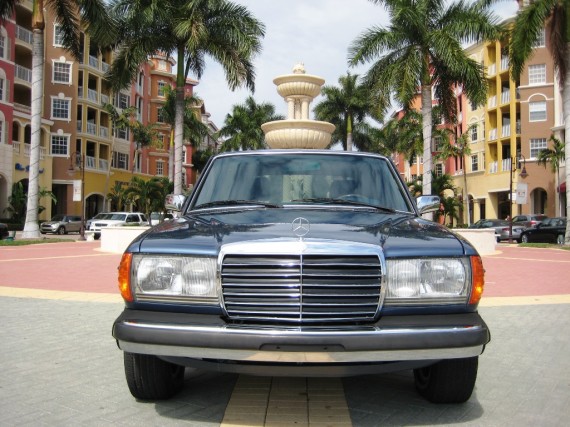 Original post:
I missed this one so the auction has ended, but it didn't sell, reserve not met and not even a single bid at $2500. So you can probably contact the seller and try to grab it if you want.
It is fairly self explanatory a diesel Benz stretched out to fit an extra row of seats. Only 17,835 miles. The seller says that the original owner ordered the car direct from the factory and picked it up in Germany before bringing it to the U.S. The data plate and headlights indicate its Euro grey market status. Not to mention the extreme stripped down nature of the interior, particularly considering this is a stretched version, obviously this one was setup more for taxi service rather than for executive service. U.S. market cars rarely had so few options.
The reliable 3.0 liter diesel engine will last longer than the body so you could consider it basically brand new.
Cars like this often go unloved until they find that special fan with a vision and a good sized garage. With all that extra bodywork, rust can be a serious problem if the car was parked in an unfriendly environment.
This is a far cry from a 600 or a Maybach, but there has to be a good use for this. The car looks well maintained and the cost of ownership here is going to be far, far, less than a 600. How about a really unique track side camper?
Someone should give this a good home.
~Evan