I got a fun little surprise this week.  The tranny in my 4.8is is shot at 70k miles and a few months outside the extended warranty.  This is a car that was $75k new so it would stand to reason that vital bits of the car would be well built.
Maybe not…
This got me to thinking about some BMW's that cost less than a rebuilt X5 transmission, the 318ti came to mind.  I remember when the ti was unveiled and was smitten with the curves and how the hatch actually worked from a stylistic standpoint.  This example is not for purists, although I am not sure purists would be drawn to the ti anyhow.  It has forced induction, aftermarket wheels, and some goofy carbon fiber stickers on the top surfaces.  But it is an affordable driver that is making 240hp, there has to be something to be said for that.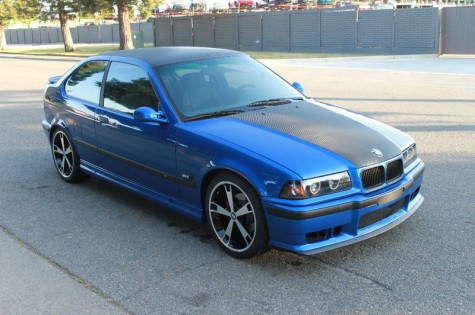 From the seller –
"1995 BMW 318 ti club sport 1.8 supercharger clean title , body of color electra blue, bumper m3 style spoiler m headlights with angel and hid, tires 225/18/zr18 new, rims new,new battery, new sparks, new ignitions. all service done. the car very fast under 240 horse power.

INTERIOR

Seating: five seats

Floor covering: carpet in load area

Cloth seat upholstery

Bucket reclining driver seat with height adjustment bucket reclining passenger seat

Symmetrical rear seats

Steering wheel

COMFORT

air conditioning

CONVENIENCE

Four disc brakes

Cargo area cover/rear parcel shelf

Power locks includes trunk/hatch includes fuel filler door and includes dead bolt

Vehicle speed proportional power steering

Cup holders

Ventilation system with four fan speeds recirculation setting rear seat heater ducts and micro filter

Opening rear ¼ windows

Tinted glass.

ENTERTAINMENT

Six speaker(s)

Diversity antenna

Stereo audio system with AM/FM and cassette

RIMS-TIRES

tires 225/18/zr18 new, rims new spare wheel

SAFETY

Driver and passenger front airbag

Height adjustable head restraints on front seats

Height adjustable reel front seat belts on driver seat and passenger seat with pre-tensioners

Reel rear seat belts on driver side reel rear seat belts on passenger side static rear seat belts on center side

ENGINE

Size-1.8 L supercharge

Cylinders-4

Torque-129@4500

Horsepower-240@6000″
That is a lot of car for what will probably sell for $4.5k, that will get you 1/2 a 4.8is transmission.  <Bitter much?>  It would be fun to return the car to something closer to stock form.  If nothing else some BMW centric wheels and lose the carbon fiber would go a long way.
Then you would have a nice looking sleeper that would surprise many for a very reasonable price.
~Aaron.