Based on the T2 Transporter, the Single Cab was a utility vehicle, that because of its rear engine layout had many great features that made it one of the best utility vehicles of its day. In order to accomodate the the height of the rear engine, the bed floor of the  Single Cab had to be raised. At first inspection this would look like an issue, however, it resulted in 2 great innovations that made these trucks more usable than many others of the day.
Because of the bed height, VW added fold down gates on the bed to make accessing cargo easier. This also gave the truck the capability of carrying loads wider than the bed floor. Another added benefit of the raised bed height is the "treasure chest" storage area, a weather tight area beneath the bed between the cab and the engine.
These design features on the T2 Single/Double Cabs made them great little workers. This clean original Single cab for sale in Victorville, California is a good example of a usable vintage VW.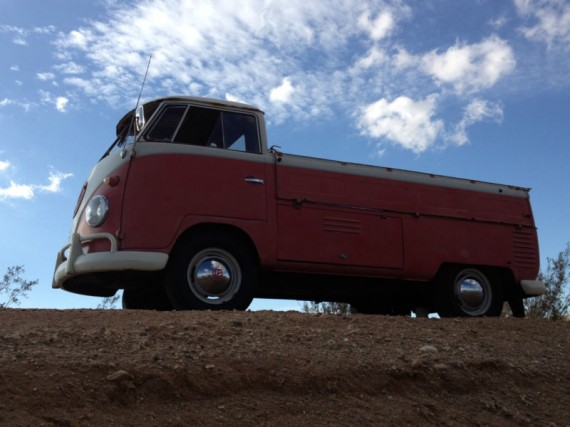 Hello, Up for sale is a 1961 VW Bus Transporter Single Cab powered by a 1776 engine which runs strong. A true vintage "peace" of history with a clean title. This vehicle has the original historical plates. The body is straight with some minor rust on the roof. A replacement roof will be included with this amazing piece of history. This is a head turner!!! Good Luck!!!
Finding one of these trucks that isn't a total rot box is no easy task these days.  As is the case with any VW, the epicenter for clean rust-free examples is California.  While this truck isn't perfect, it's in the right condition for someone that likes to drive and tinker with their cars. …