We've featured a great many 911s, 944s and 928s here on GCFSB. One Porsche that hasn't gotten much love is the 914. A joint venture between Volkswagen and Porsche, this sports car was born out of Volkswagen's desire for a halo vehicle and Porsche's desire to expand their lineup and find a replacement for the four cylinder version of the 911, the 912. In 1968, the prototype 914 was presented and the car went on sale as a 1969 model. Offered with both a horizontally opposed four or six cylinder engine, both variants were badged as Porsches in the US market, with the four cylinder cars badged as a Volkswagen-Porsche in Europe.
This 1976 version for sale in Georgia is the final year of the 914, and by this time, crash bumpers and a 2.0 liter four cylinder engine were part of the package.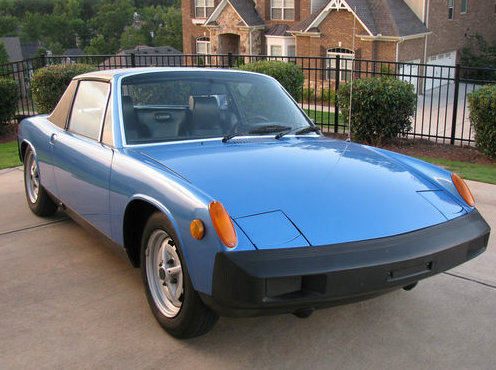 1976 Porsche 914 anacona blue collector quality. We are very happy to offer this collector quality 1976 Porsche 914 2.0 with only 53,000 original miles. As you all know the 914 are rapidly appreciating in value, following the 356 and earlier 911 models to rooftop values as everyone seems to appreciate these high quality build, last of the air cooled Porsches. Personally, knowing that the 914-6 models are now out of reach, I give the Limited Edition 914-4s followed by the 1976 models the highest collector values. The 1976 models in particular are very valuable because they were the last of the breed, the fewest produced of all of the four cylinders, and had all of the factory improvements developed over the years. No 1976 model was ever made in 1976, the last built in 12/15.

This is a November production car, with options of tinted glass and center seat cushion. This particular 914 certainly qualifies as one of the most collectible and if kept in its current original condition, will skyrocket in value in the next years. One of the best 914 colors ever painted (ancona blue L97b) and with only 53,000 miles, this car well shows those low miles with impeccable interior and body, totally original engine compartment, and immaculate front and rear trunks. In addition, the spare tire is the factory original having never hit the ground, the tool kit is complete, the owners manual and cover in the glove box, has all four original keys, and comes with the original factory window sticker and a file with the original maintenance receipts. The fussy owners actually kept the three sets of points, distributor cap, condenser, and rotor sets they changed over the years!

The body is as original as one could want, never rusted, never wrecked and with at least 95% of the original finish. The car had stick on side molding and negative side stripes installed early on (that I personally removed) and because of their years of installation, one can see slight etching of the original finish. However it is not bad and the paint is in such nice condition and shines so beautifully that it should NEVER be painted upon! The only other problem with this car (If you would call it a problem) is that it was rustproofed when new. This probably preserved all of the original paint under the wheelwells and floor boards and with some intense steam cleaning one could actually re expose this factory fresh finish!

This 914 drives as well as ANY 914 four cylinder I have ever driven, (as you all know I have driven literally thousands and well remember how they drove when brand new!) and our shop has thoroughly serviced the car so you can drive it home with confidence if you so choose. I like this car so much that I would consider it a very worthy 914 collectors car, it is that nice. I have my own black '76 2.0 in our small showroom, and this one would certainly rival it. As usual I have a reserve on this car, but it is very small as I really what someone who will appreciate this car to get it for a bargain price. You will not be disappointed!
A typical late model 914 2.0 will fetch anywhere from $14,000 into the low $20,000 range. Given the low mileage and original condition, I'd wager to say this 914 might bring somewhere in the low $20,000 range. Anything over that starts reaching into mint 911SC and 3.2 territory and then you'll find yourself saying "I coulda had a 911." Still, given the pleasant color and condition, this car presents well and given Volkswagen's recent drive to purchase an over 50% stake in Porsche, reminds us how intertwined the histories of these two manufacturers are.
-Paul