Any German car fan has watched the prices of E30 M3s shoot through the roof, while their availability dwindles. So what's the next logical step for collecting a modern BMW? The E36 M3 is the go to for many, and the prices as of late reflect that shift. The E36 M3 was equipped with the 3.2L inline 6 that produced 240bhp, and 236lb-ft of torque, and could run to 60 in 5.5 seconds. While the power numbers are impressive for a car of its size, the M3's handling is a thing of legend.
This beautiful Alpine White over tan M3 for sale in Pleasantville, IA at EuroWerkz is a great example of BMWs finest from the '90s.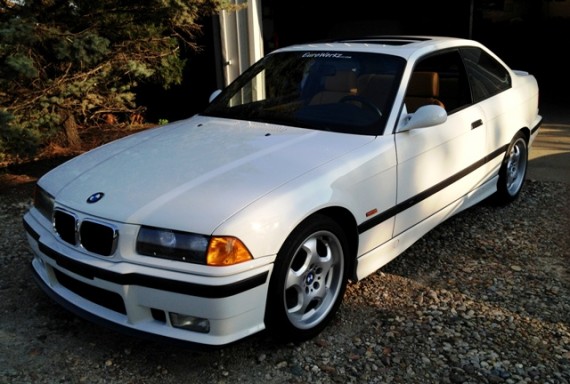 WBSBG9326VEY77049

Here is a car that is getting harder to find every day. We get inquiries about these M3's every week, so here now, is your chance.

A low mile, lovingly cared for, over serviced, BMW E36 M3. This car is a gem and we know this first hand because we sold it to the last owner in 2007 at 24k miles and have been taking care of it since. We are also a DINAN dealer  so we did all of the high performance upgrades on the car in 2007 as well as everything else that has been serviced or updated on the car. And that is a long list.

This car is Alpine white with very rare Modena/black two-tone interior and is a 5 speed manual. It has most all available options except Harman Kardon sound and automatic transmission. This car was born a luxury package car but has been treated to the front sport lip spoiler and regular lower grill. It has a long list of small popular tasteful upgrades like a European steering wheel and airbag upgrade, rear lip spoiler, clutch stop, BMW X brace, and hard wiring for an Escort radar detector. (Most original parts are also with the car including 2 sets of BMW mats) The major upgrades include the full Dinan Stage III engine package including the intake system, throttle body and software with the cat back Dinan exhaust and Strut tower brace. This car was cared for to the extreme and has been serviced more than regularly. It also has had the complete cooling system upgraded since 2007 with a new water pump, thermostat and housing, radiator and tank. The service is up to date including the 60k mile Inspection II where we just completed the transmission, differential, and brake fluid flush along with various filters not previously serviced. The car had new rear rotors just installed along with 4 new BFG comp 2 tires. This car is 100% ready to enjoy in every area and a truly beautiful example.

Cosmetically the car is approaching mint and it is certainly way above Excellent for these cars. It also won its class in the National BMW CCA Oktoberfest Concour in 2008. The front seats show some minor patina and wear on the bolsters but that is really the only flaw on the car. The car has a clean 2 owner Carfax and has all VIN number panel decals attached. It has been maintained with Zymol and Sonax products to the point of obsession and it looks like it everywhere you look.

Yes, we expect a top of the range price for the car. But when you realize what you are looking at and that these E36 M3's are done depreciating, this then looks like a lot of car for the money. And if the M3 market continues on its current path this car may well increase in value if well cared for. Just look at what the BMW E30 M3 market has done. Regardless this is a beautiful car and we are proud to offer it again and you can be the new owner of one of the nicest E36 M3's in the country.
This car is a beautiful example of the next great collector quality BMW, and the asking price reflects those aspirations. At $19,000 this car is aimed at the BMW enthusiast that is truly looking for a collector quality M3 to tuck away, and this car will deliver just that. With Dinan upgrades, and under 60k miles this car has the makings of a future garage ornament.
All that said, I feel like the $19K is steep, but considering where the market is for low mileage E36 M3s, this is priced well.
-Brian