No 1% household is complete without the obligatory SUV. Most opt for the Range Rover; actually I think they are mandatory in certain neighborhoods. In a sea of generic luxury SUVs, how does one stand out with the valet at the yacht club? Enter the solution: the G55 AMG.
Normally I'd be tempted to discuss the 504 bhp supercharged AMG V8, or the G55's off-road prowess, but these things are inconsequential to the 1%. Rather I feel the need to point out the "look at me" AMG styling that will turn heads all over town, the plush Nappa leather, and the navigation system that offers Zagat ratings for restaurants…you know the important things.
This arctic white G-Wagen for sale in Chicago, IL, is a god among men in the SUV market.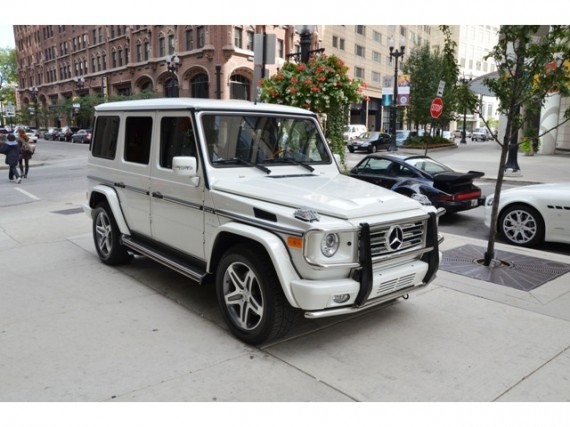 The G-Class is powered by a 382-horsepower, 5.5L V8, while the high-performance G55 AMG gets a supercharged version good for 500 hp. The G55 can dash to 60 mph in just 5.4 seconds, according to Mercedes-Benz. Fuel economy isn't stellar, but it's reasonable considering what the G-Class was built for: 12 mpg city and 15 highway. The AMG version achieves 11 city and 13 highway. Thanks to a serious mechanical 4-wheel-drive system, complemented by modern electronics, the G-Class has the goods for serious off-roading as well as simply taking on slippery road conditions. The system comes with three differential locks to distribute power in whatever way is best for the conditions. On- or off-road, traction is aided by the electronic stability control system, which also helps distribute power left to right. The G-Class is an old-style, truck-like SUV in look and feel, yet its interior is appointed with top-notch luxury materials, including premium leather, burl walnut trim and wood and leather trim elsewhere.
…