While many of the AMG cars of this era can slide somewhat under the radar with their dark or less flashy colors, think black, dark blue, an occasional silver, this one will not be missed by the authorities.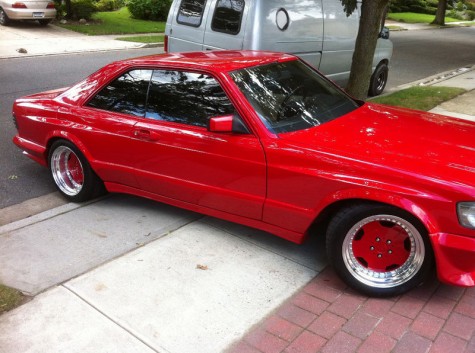 The Benz has been repainted in Mercedes signal red and this thing shouts. It has received the traditional mono-color scheme with all the chrome now body color, save some polish on the otherwise body color rims. The seller lists this as being an original U.S. market car that has had an AMG look kit added and the nicer Euro headlights, though one has a crack.
There are 73,000 miles on the 5.6 liter V8, not too high at all. The seller discloses some issues with the electronics on the car, but they seem like some relatively easy fixes.
Not being an original AMG car and with a few issues needing to be addressed means this won't see the $20,000 range some AMG widebodies bring. Right now it is sitting with bids at $10,000 and the reserve not met.
~Evan