A question posed by many budding car enthusiasts is which Porsche 911 is the best to buy for those new to the marque? As a 911 enthusiast who is still gunning to own one, I've always maintained the 1978-83 Super Carrera, or SC, is the one to put your money on. In the late seventies, Porsche was out to seek complete reliability, and the SC introduced the 3.0 liter version of the venerable flat six engine with Bosch K Jetronic fuel injection. Good for 180 hp in US trim, the SC also marked a change to a diecast aluminum engine block from the magnesium block used in 911 models from 1968 through 1977.
The funny thing about the SC is that it outsold the 928, which was developed to succeed the 911. It was during the reign of the SC that Porsche decided to continue on with the 911 program. It also marked the return of the first cabriolet Porsche since the 356 with the 1983 911 SC Cabriolet.
Here is a late model SC on offer from EuroWerkz LC in Pleasantville, Iowa.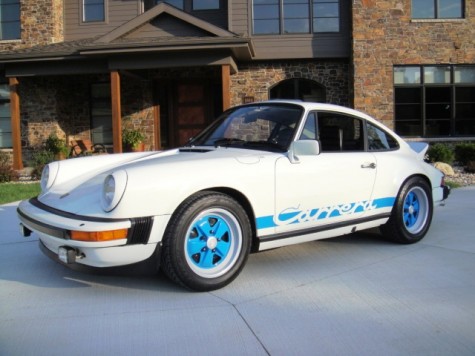 An extremely nice low mileage 2 owner example. First owner had it for 23 years, second owner did a mechanical freshening and cosmetic up date to RS look including RS valance,duck tail, and graphics. New 7 and 8 inch wheels with new Michelins. New optima battery and 3M clear bra all around. The car is a beautiful 911 that runs 100% in every area. Window sticker,Books and history since new. Recently detailed including a professional color sand that made this car really stand out. Ready to enjoy and it's a blast to drive! Call or e-mail for the details on any of our inventory. We speak car!

This Porsche is SUPER nice!
…