The 964 chassis Porsche 911 Carrera RS America was Stuttgart's answer for those who wanted a lightweight special stateside. Based on the Carerra 2 and using the same engine, gearbox and brakes, this car featured a partially stripped down interior featuring flat door panels and removal of the rear seats. Outside, a whale tail spoiler and sport suspension rounded out the package. Not to be confused with the hardcore Carerra RS available elsewhere, the RS still had a warm reception by enthusiasts seeking something a bit more driver oriented.
However, one could "technically" get something similar to a Carerra RS in the US if they wanted. The Carrera Cup you see here was the product of a stillborn race series that never gained sponsorship, the Carrera Cup. Porsche had produced 45 cars for the series. Instead of crushing them or offering them in another country, they were put on sale in US dealers but not advertised. These cars had a seam welded chassis, aluminum hood, thinner glass and the M64/03 engine. Approximate weight shed over a standard Carrera 2 was 200 pounds. Rarely seen these days, this particular Carrera Cup for sale in New York has never modified for racing, has never seen track time and appears as is when it arrived in the port.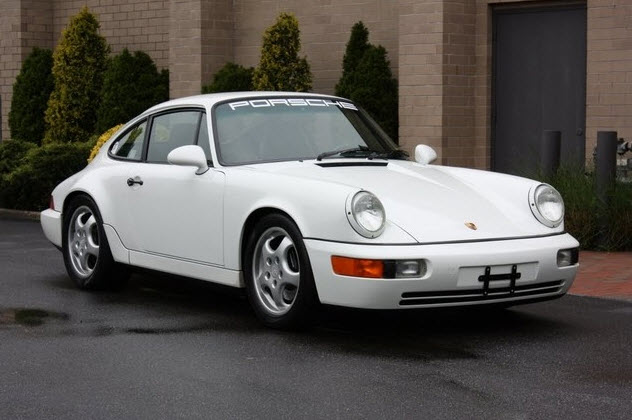 Grand Prix White with Black leather interior and Black carpeting, Two-owners from new, 5,000 original miles, 5-speed manual gearbox. This Carrera Cup car is one of only forty-five cars built for the U.S. Carrera Cup Race Series. Unlike the European Carrera Cup Race Series, the USA series never came to fruition. Based on a European Carrera RS, these cars came with the following changes from normal production:

Aluminum hood with aluminum strut brace, Deletion of body cavity wax and sound deadening components (except floor pad and roof), Sport Flywheel, Steel synchronizer rings in gearbox, Revised spring rates and struts, Recalibrated brake systems rates, Manual steering, Master electrical kill switch in front trunk, Partial electric seats, Rear seat delete (package shelf only), No sunroof, air conditioning or power mirrors, Racing electrical charging system, 36 amp hour battery, Racing engine mounts, Adjustable sway bars, Seam welding (extra stiffness of body shell), 3.6Liter engine rated at 256 h.p.
…