We feature a good number of these 911 tributes and backdates. Whether they are tributes to the original Carrera RS, to the 1967 911R like the one we see here, or just built by someone who prefers long-hood design, many of the basic principles and ideals behind them are pretty similar. And they can be very difficult to value. We wanted to take a look at this one precisely to help us gauge that value. This 911 is up for auction with no reserve so it should show us what the market thinks of these cars. Or at least what it thinks of this one. While the proverbial devil is in the details with any of these builds this one strikes me as falling within a middle ground and I think that makes it particularly useful for trying to understand value. It doesn't appear to be the most well executed or thorough build, but you can see that a good deal of work has gone in to building this 911R tribute and there are a lot of nice touches presented throughout. Bidding right now sits at $50K.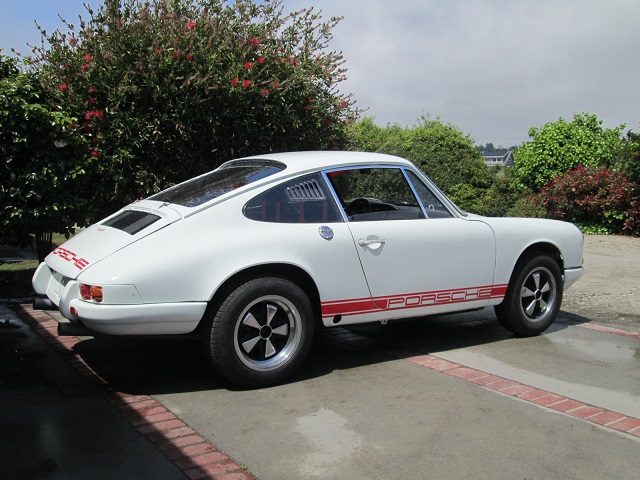 Year: 1972
Model: 911T
Engine: 2.4 liter flat-6
Transmission: 5-speed manual
Mileage: 0 mi
Price: Auction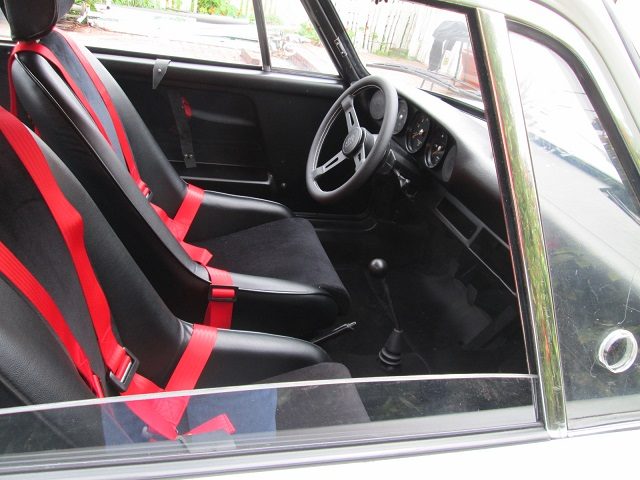 NO RESERVE AUCTION – THE WINNER WILL GET THIS BEUTIFUL

PORSCHE 911R TRIBUTE – WEIGHTS UNDER 2000 LBS * 100+ PICTURES *

COMES WITH CLEAN TITLE, BILL OF SALE, AND ORIGINAL WINDOW STICKER

FOR THIS 911R RECREATION THE 1972 911 T US MODEL WAS SELECTED BECAUSE IS THE MODEL YEAR THAT IS INSPIRED WITH 911R AND ONLY YEAR THAT HAS OIL FILLER/TANK ON THE RIGHT SIDE WHICH IS A TRADE MARK OF ORIGINAL 911R.

THE CAR :

* MATCHING NUMBERS – ORIGINAL DEALER WINDOW STICKER

* RUNNING 2.4 LITERS ORIGINAL ENGINE – PARTIALLY RESEALED

* RACING CHAIN TENSSIONERS

* WEBER CARBURETORS – REBUILT

* ORIGINAL 5 SPEED TRANSMISSION – SHIFTS GOOD

* GOOD CLUTCH

* FRONT AND REAR FACTORY SWAY BARS

* NEW BRAKES with SSI braided lines

* NEW KONI "CLASSIC" SHOCKS ALL AROUND

* NEW TURBO STEERING TIE RODS

* STRAIT BODY WITH ZERO RUST – NEVER IN ACCIDENT

* NEW BARE METAL GRAN PRIX WHITE SINGLE STAGE PAINT JOB ( FOR ORIGINALITY AND WEIGHT SAVING)

* THE ORIGINAL FACTORY UNDERBODY COATING WAS LEFT ON THE BODY FOR AUTHENTICITY REASON -BUT CAN BE REMOVED FOR FUTHER WEIGHT SAVING

* NO BODY FILLER ON THE CAR

* NEW PIRELI PERFORMANCE TIRES

* ALL SEALS ARE NEW

…AND MUCH MORE…

THE 911R PARTS:

* R- STYLE INTAKE MANIFOLDS RAIN SHIELDS WITH PORSCHE SCRIPT

* R-EXHAUST SYSTEM

* LIGHTWEIGHT ENGINE MOUNT

* 110 LITERS CUSTOM GAS TANK WITH R FUEL FILLER CAP MADE FROM ORIGINAL PORSCHE GAS TANK MADE IN GERMANY

* CUSTOMIZED ORIGINAL OIL TANK WITH ENGINE OIL 911R FILLER CAP

* R GOLD LOOK ENGINE DETAILS

* R – FRONT STRUT BRACE

* FIBERGLASS: DOORS, FRONT AND REAR FENDERS, TRUNK HOOD AND ENGINE LID

* R -STYLE ENGINE LID GRILLE WITH REIN SHIELDS

* LIGHTWEIGHT: FRONT WINDSHIELD, DOOR WINDOWS, REAR SIDE WINDOWS, REAR WINDSHIELD

* R- STYLE DOOR WENTS

* R – TAILLIGHTS, FRONT TURN SIGNALS AND FRONT MARKERS

* R- STEERING WHEEL WITH HORN BUTTON

* R-LEATHER STRAPS FOR DOOR WINDOWS

* RED DOOR POOLS

* R-LIGHTWEIGHT COMPOSIT DOOR HANDLES

* LIGHTWEIGHT DASH PAD

* LIGHTWEIGHT HOOD AND ENGINE LID HINGES

* WOODEN SHIFT KNOB

* LIGHTWEIGHT RED HEADLINER

* R- STYLE NEW SEATS AND RED RACING SEATBELTS

* LIGHTWEIGHT PARTIAL CARPET – REMOVABLE – ( THE REST OF CARPET COMES WITH THE CAR )

* R – RED ALL BODY DECALS

EVERYTHING ON THIS CAR IS DONE PROPERLY IN ATTENTION TO SMALLEST DETAILS

This recreation on arguably the most important 911 is dedicated to Porsche 911 air cooled legacy, and is a result of my forty five year long addiction to this icon of all sports cars, and decades of experience in customizing and restoring vintage Porsche cars.
…