I remember the chaos the Porsche Boxster caused when released in 1996.  There were scores of willing buyers plunking down late 90′s money to order Porsche's new offering.  At the time, a good friend brought his build sheet into the office.  Evidently we were not in the mood to work as we spent hours going over his options.  Fast forward to the following Christmas and my mother in law got me one of these and I was hooked.
I was lucky enough to get a 2000 986 in 2005 and drove it up until last summer.  These are wonderful cars that are willing performers and surprisingly reliable.  Since selling mine I always wondered what it would be like to own one that looked just like the aforementioned model that was based on the prototype?  Well, here is your chance.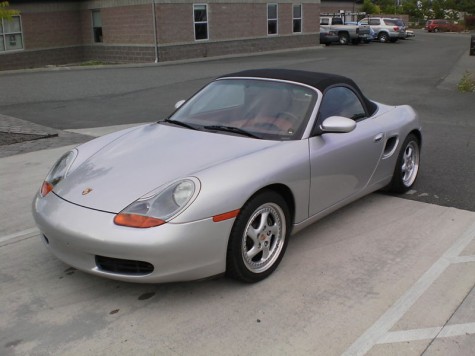 From the seller -
"Incredible Original Condition!  Regularly serviced, adult owned and kept in a carpeted, heated garage, these photos say it all.  New Toyo tires with less than 1000 miles on them, 5 speed transmission, power top, all original manuals and keys, custom factory wheels, outstanding color combination.  Drives perfect!  I am the second owner and helped the first owner find the vehicle as there was quite a wait to purchase these when they were introduced in 1997. This is the finest example of a spotless, original, low mile Boxster.  Absolutely no disappointments!"
Neat car, and good value at $10k.  I know early 986 values are soft, but if bidding does not take off this would be a good buy. That said, I noticed some oil stains on the driveway which makes me wonder if this one has RMS issues.  Most Boxsters do at some point so it is not catastrophic but would temper my enthusiasm a bit.  I would say a full PPI would be a good insurance policy against any costly surprises.
~Aaron.