It needs to be said straight away, that I'm a wagon nerd.  My first car was a wagon, and I drive one today almost 20 years later.  Throw in the fact that I'm a vintage VW enthusiast, and this car pushes all of the right buttons with me.
In 1973, VW decided to experiment with a technology that was "foreign" to them…the radiator.  With the introduction of the B1 Passat in Europe, VW used the Audi 80 platform for their first water-cooled offering to replace the aging Type 4.   Rebadged as the Dasher for the US market in 1974, these cars were sold as a premium import wagon with prices well above the competition.  This is probably why they were late to hit their stride in the US, and why the B1 Dashers are as uncommon as they come.  Even more uncommon are clean examples like this one for sale in Hood River, Oregon.  It's no surprise to me that such a clean example is available in the PNW, as it seems to be a safe haven for clean original water-colled VWs.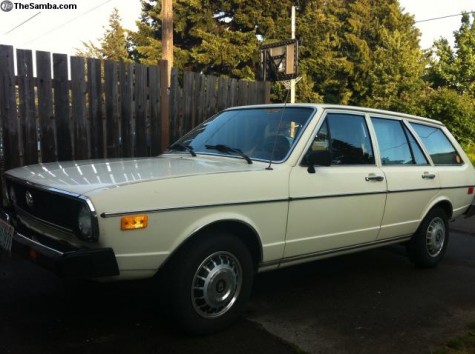 Up for sale is my 1977 VW Dasher Wagon Wolfsburg Edition. It's a manual 4-speed, Fuel Injected, 5-door, front wheel drive. This Dasher is NOT diesel. This car is in lovely shape. Daily driver and I would drive it anywhere. Completely stock, original paint. Minimal rust or dent issues. It has 113,000 original miles on it. I bought the car from the original owner. I have meticulous records of every fill up and oil change that this car has gone through since 1977. The car has the original factory window tinting, which is actually steel mesh screens that are mounted inside, over the windows. Plus it has the steel mesh sun shades on each rear passenger window.
…