Following World War II, there was widespread devastation to German industry. This led to shortages for all kinds of products, including automobiles. BMW began filling the void in the market for small, efficient cars with the Isetta microcar in 1956. Later that decade, BMW introduced a larger car, the 700, powered by a two cylinder, rear mounted engine. There were three body styles, a two door saloon, two door coupe and a convertible, which is what we see here for sale.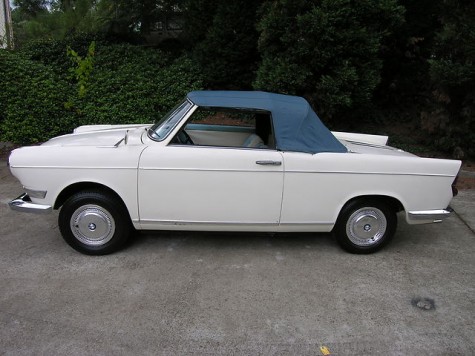 THE 700 IS A SMALL REAR-ENGINED CAR PRODUCED BY BMW IN VARIOUS BODY STYLES FROM AUGUST 1959 TO NOVEMBER 1965. THIS WAS THE FIRST BMW AUTOMOBILE WITH A MONOCOQUE STRUCTURE. THE COUPE MODELS WERE POWERED BY A 696 CC, 2 CYLINDER, 4-STROKE ENGINE THAT PRODUCED 30HP. THE CONVERTIBLE MODELS WERE EQUIPPED WITH TWIN SOLEX CARBURETORS GENERATING 40HP. THERE WERE ONLY 2985 CONVERTIBLE CARS WERE PRODUCED BETWEEN SEPT. 1961-NOV. 1964.

THIS BMW SPENT MOST OF ITS LIFE IN CALIFORNIA. WE HAVE A CALIFORNIA PINK SLIP DATED BACK TO 1975 (SEE PHOTO). IT WAS SOLD TO A COLLECTOR IN GEORGIA IN MARCH OF 2002. WE ACQUIRED THIS RARE BMW COUPLE OF MONTHS AGO. THIS CAR CAN BE DRIVEN WITH ITS EXISTING CONDITION. HOWEVER, IT WILL NEED A FULL COSMETIC RESTORATION.

THIS RARE BMW 700 IS BY FAR ONE OF THE MOST ORIGINAL AND RUST-FREE ONES IN EXISTENCE. THE PAINT APPEARS TO BE ORIGINAL. IT IS VERY DULL AND CHALKY AT PLACES. IF THE CAR WAS RESTORED AT SOMETIMES IN THE LAST 48 YEARS, THEY MOST HAVE TAKEN IT COMPLETELY APART AS WE CAN NOT FIND ANY PAINT LINES. THE SEAT COVERS AND DOOR PANELS ARE ORIGINAL. WE HAVE A FEW OLD BROCHURES, MAINT. BOOKLETS, AND OTHER COOL PHOTOS FOR THE CAR. ONE OF THE PHOTOS SHOWS THE PICTURE OF THE CAR BACK WHEN IT WAS IN CALIFORNIA WITH A BLACK PLATE.
…