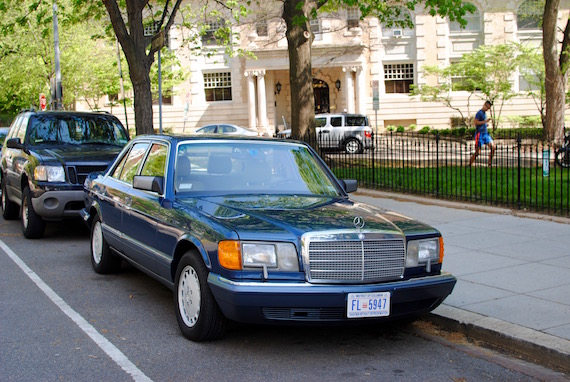 As readers will know, I've been on the lookout for a 300SE for a while now. In fact, one of the first cars I wrote up for GCFSB was a 300SE, which should tell you something. After a couple of false starts, I finally have a W126 I can call my own.
I found it on Craigslist while looking for cars to write up for the site. It stood out because it was in exactly the spec I'd been looking for. It was a 1989, a Gen II car with the more modern looking leather seats and updated exterior side cladding. It was in a great color combination, nautical blue over mushroom cream leather. And, unusually for a 1989 six cylinder, it was equipped with a passenger side airbag and upgraded Bose sound system, options that are more commonly found on the V8s. It also had only 116k miles on it, and was priced fairly. Unfortunately, it was located in Austin, TX, while I'm in Washington, DC.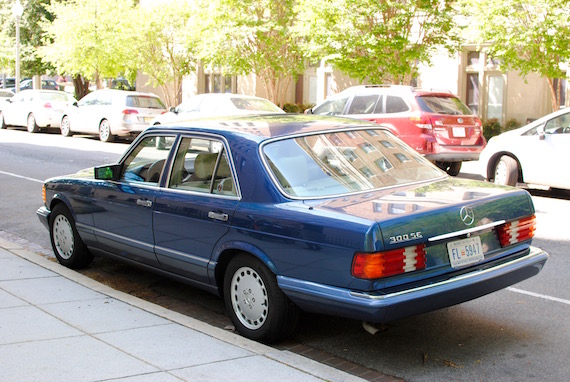 After a lengthy back and forth with the seller, apparently an enthusiast who assured me it was in excellent running condition, I decided to buy it sight unseen and have it shipped to me. After a couple of weeks of delays on the shipping company's end (I went with the cheapest option, and it showed), the car finally arrived. At first I was thrilled. It looked great.
But my excitement soon turned to disappointment as the hauler tried unload it. The car wouldn't start. To be more precise, the car would start with a puff of black smoke out the back and die immediately. It did eventually start on the fourth or fifth try. It then ran rough for a minute or two, like it was misfiring, then smoothed out. My heart sank.
We eventually got it off the transporter and I gingerly began driving it, uncertain what the problem was.…