When I approached an acquaintance's employer (a BMW mechanic for 30 years) about my pursuit of an E28 M5, he suggested the E34 for it's further progression of the storied S38 and more refined interior. I nodded and appreciated his input, but I've known people with E34s, and while they are slick-and-mean super sedans, my penchant for 80s Bimmers is unwavering. However, if I were considering an E34, this local example is what I'd want. Clean red with black valences and the naked rims with the maligned turbine covers in the garage, it has Dinan Stage III suspension a D'Silva chip to sharpen it up for playtime.
1991 BMW M5 for sale on SF Craigslist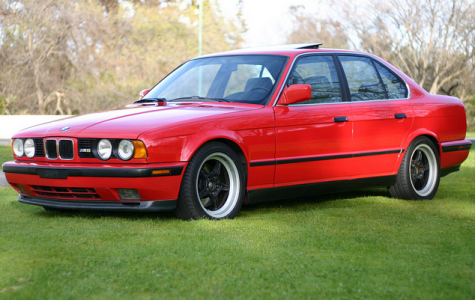 The seller's description:
I'm selling a 1991 E34 M5 Dinan Stage III with 121,000 miles.
Dinan Stage III upgrades include:
Front and rear adjustable Sway Bars
Custom valved Koni struts and shocks
Lowering springs
Height leveling suspension delete
I have also installed Mark D'Silva EAT Performance Chip (340 hp)

This vehicle is good shape inside and out. I have a lot of the service history from Dinan. I Have only used Shell Helix/ Penzoil Platinum Euro formula oil. I have recently replaced the spark plugs, wires, cap and rotor, power steering pump, power steering hoses, front end and center links with oem parts. The tires have less then 5,000 miles on them. The factory M5 turbine covers are included but are not shown in pictures. I took the car to Dinan and had one of their lead mechanics drive it and he was very impressed with the condition of the car. I have a lot of the previous owners maintenance records from Dinan on the car.

Serious buyers only please. No trades. I have a PPI for this vehicle. It checked out well, with some things that can be done (obviously for a car 20 years old) but the mechanic said verbally it was better than most for its age. I am accepting offers and am willing to work on a mutual price based on the cost incurred bringing this car up to perfect running order.
It sounds like the seller is a straight-shooter, offering to adjust price according to the little bit of work that needs to be done to bring it to perfection. He's asking $12k, which seems reasonable considering the condition and upgrades. If I were a little older or a little less beholden to cars from the 80s, I'd be checking my bank account.
-NR