I remember in elementary school when "Barney Bashing" became the pre-teen version of gang-banging. You like Barney the Purple Dinosaur? Cool, we're going to give you a swirly, piss on your Barney backpack, or rip apart your Barney Books. Well, folks, today we have a BMW enthusiast who brushed all that off and continued his dedication to absurd purple possessions. The ad is sparse, but the 1995 model year and 340hp designation indicate this is a Euro model of the E34 M5, which also means it comes with the seriously beasty S38B38. An extrapolation of the E28's S38B35 and the early E34's B36, this monster 3.8L inline-6 is a force to be reckoned with, producing the torque of the 540i and the most BMW horsepower until the E39 M5. Whether you can handle the purple, price, or unanswered questions for $16k is up to you.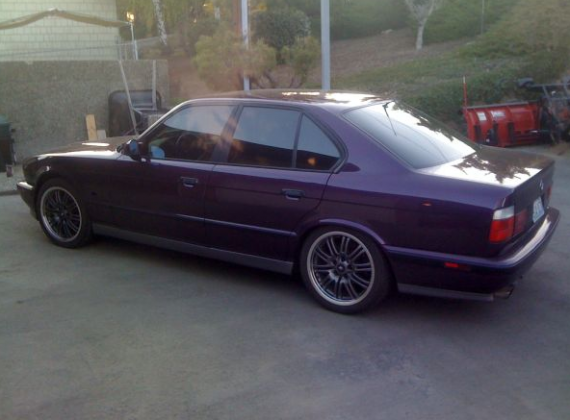 Hello, i'm selling my baby because I don't drive it very much anymore, I need the space and cash more then the car. Do your homework first this car is a collector's car, 340 hp out of the straight 6 cylinder with a 5 speed! It is a street legal race car! It is Daytona Violet (purple) with Grey Seude interior. The car has 75,035 miles as of February 2, 2013.

I'd be interested in trades only if you can prove your trade is worth the money, don't try to lowball me it won't happen!
I'd be interested in half trade and half cash again, only if you can prove your trade is worth the money, don't try to lowball me it won't happen!

If you want an inspection done on the car, I will drive the car to your mechanic at the desired time and place. I will also watch your mechanic do the inspection and if this is a problem for the mechanic then he/she is not a person I want touching my car! Please contact me for any questions you have. If you want a test drive, I drive while you are in passenger seat.

NO TIRE KICKERS
I'm actually kind of into the Daytona Violet. I'm less into the fake E46 wheels and the weak ad copy. S38B38 and 75k miles sound really good though and working the seller down closer to $14k would make this a good buy. At $16k, it's a bit too much money with too little information, but a Euro M5 is some great Bavarian rare even just for the engine. If the seller fully disclosed the Euroness and specifics of the car, it might be worth $16k, but he didn't, and until then it's just another E34 M5.
-NR