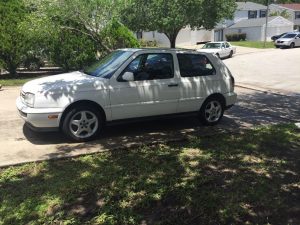 Do you want to maximize your budget and fun? Need an affordable ride that will reward you nearly every time you turn the key, but is also practical enough to daily drive?
Look no further. We may all want a car collection of virtually new, unused and perfect condition examples of our favorite car designs, but frankly that's just not a reality most who's names don't start with "Sultan" and end with a small southeast Asian country's name can contemplate. And even he needs to liquidate his massive Ferrari collection from time to time when small rebellions pop up.
Jumping in to a third generation Volkswagen Golf won't get you much respect outside of dedicated brand enthusiasts. But what it will do is reward your decision. Like the E36 M3, adding two cylinders to the model may not have sounded as sexy on paper as the high-revving double cam inline-4, but the result was better performance, better reliability, and cheaper prices for that speed. With 172 horsepower and 173 lb.ft of torque on tap, the VR6 took the Mk.3 into a new performance territory. It brought with it a more grown up feel, too – leather, a quiet(er) cabin, power windows and sunroof – these were unthinkable a decade earlier in the budget hatch. In fact there was only one option – a trunk mounted CD changer. Everything else? Standard. The increase in performance dictated upgrades throughout; sport suspension with sway bars, larger brakes with 5×100 mm hubs and accompanying 15″ wheels. 0-60 was firmly sub-7 second range, and the boxy hatch could brush 130 mph flat out. In a flat-out drag race, this economy car was on par with the Audi S6.
At nearly $20,000, the price tag didn't seem cheap at first. Indeed, in a little over a decade the base price of the GTI had increased 100%.…