The seller of this 1989 Porsche 911 Club Sport contacted us recently to update us on the status of his vehicle. While he charged a speciality dealer with selling it, there was no interest at the asking price of $129,900.
The seller is having the car returned to the collection and has asked us at GCFSB to update our original ad, as the price has been reduced to $97,500. Still a princely sum for a 1989 911, but consider this is one of the rarest and all time great 911's.
Update 10.26.2011: This car has sold.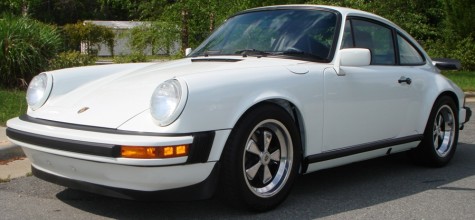 Dan: Pleasure to meet you. I've enjoyed reading your website/blog for several years and have added your motorcycle blogs to my everyday reading list, as well.

On May 31 of this year, I was traveling on business and checked into the hotel late that evening. I couldn't sleep so I popped open my laptop and decided to troll my favorite automotive websites. When I hit your GCFS blog, I was stunned. Somebody was selling a 911 Clubsport just like mine! Then it dawned on me… the featured car WAS mine. While it was cool to see the Clubsport featured, Paul's commentary struck a chord. It reminded me why I had originally purchased the car. Well done, Paul.

So why this email? I'd like to update your readers on the car before I list it elsewhere. The car is on its way home to NM. Frankly, the dealer charged with selling the car overpriced it from the get go. Yes, the car is the first of seven 1989 US cars produced. Yes, it's in excellent shape with only 14,761 miles on it. And yes, more Porsche enthusiasts have started giving the 911 Clubsport its due, with some pundits (911 and Porsche News and Georg Karcher) calling it the "RS of the 1980's" and one of the ten best Porsches ever (as a rennsport fan, I don't have a street car on my personal Porsche "top ten" list).
…