Phillip dropped us a note to let us know about his very unique Porsche 964 America Roadster. Check it out: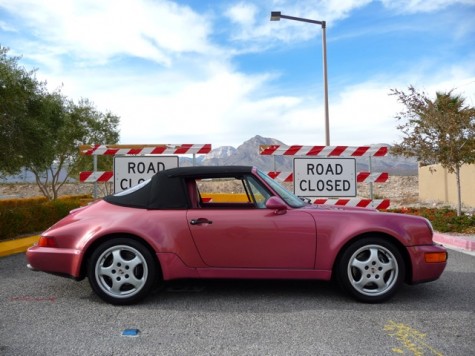 The 964 Wikipedia page states:
A turbo bodied cabriolet version was released in 1992. This had the standard electric spoiler and turbo guards. Mechanically it was the same as the standard model apart from 17″ cup wheels and the brakes and suspension which were 'Turbo' specification. Only 250 of this variant were produced in total during the 1992 and 1993 model years.
quote from seller:
This is a 1992 America Roadster in Raspberry red on Raspberry red (himbeerrot metallic) 1 of only 4 ever built according to Porsche North America.

History of the car.

First owner was a wealthy Western Canadian Businessman, now retired, who had taken triple A ball into Calgary and at one time had a lease on the saddledome. (documentation held by way of original in service warranty registration). He traded the car in on new Porsche turbo and the dealership wholesaled it out – purchased by a Canadian broker who deals in air cooled, limited editions Porsche – good reputation.

Second owner who I bought the car from; Canadian retired Banker from Japan. He is a Classic Porsche enthusiast and very knowledgeable about Porsche. According to him the Porsche has always been garaged/kept warm, never seen snow, virtually not seen rain.

Original owner confirmed it was factory ordered, custom matching interior including back seats (found in many euro cars, but very unusual in American cars, which usually have cheaper rear seat delete.
Original owner reports post ordering and upon its arrival he agreed to allow Porsche North America to use the car on the auto show circuit.

Allers Autosport has serviced the car this yr. & last yr.
…