What do you get when you combine the winningest marque in motorsports, the world's toughest rallye, and a legendary rallye driver? You get this stunning tribute to Björn Waldegård's 1978 entry in to the East African Safari Rally. While the combination of Waldegård and porsche never produced a victory in the 1978 Safari Rallye, the combo teamed up 34 years later for a victory in the 2011 Safari Rallye Classic.
This impecably done tribute for sale in Costa Mesa, California is an instant throwback, and embodies everything that made the late'70s motorsports awesome.
1988 Porsche 911 3.2 Martini Tribute on eBay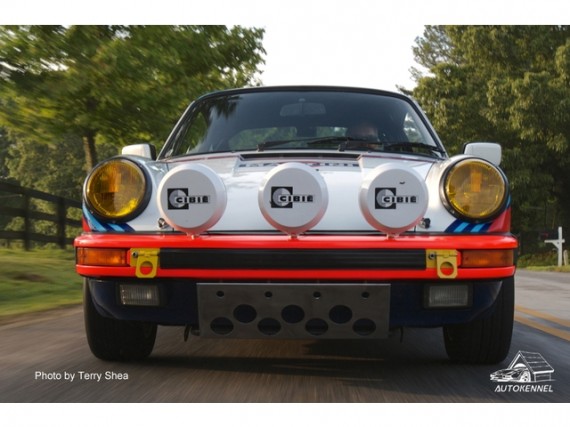 1988 Porsche 911 Carrera 3.2 RS Martini

East Africa Safari Rallye Björn Waldegård Tribute

VIN # WP0AB0910JS121255 146,200 chassis miles (7,500 miles since build)

Grand Prix White with Martini Graphics and Black Leather Interior 5-Speed G50 Manual Transmission

Clean and Clear Title

Original California 2-Owner Car

No Accidents/Original Paint

Numbers Matching

Vehicle Located in Atlanta, GA

In the late '70s, the Porsche motorsport department set itself challenges away from asphalted surfaces. The East African Safari Rally entered into Porsche racing history as an extraordinary trial for driver and technicians. In fact, the African Safari is considered by many to be the world's toughest rally.  In 1978, Porsche sent two modified 911 SC 3.0 sponsored by Martini to the starting line.

Porsche dominated the field, until a technical defect threw Waldegård, who had a lead of 46 minutes, back into fourth place. The team of Preston and Layl ended the rally in second place overall. Waldegård was one of the premier rally drivers starting and went on to win the championship the following year as a driver for Lancia.  Porsche eventually settled its account with the African continent in the Paris-Dakar Rally: the Porsche 911 Carrera 4×4 won there in 1984, followed two years later by the legendary Porsche 959.
…