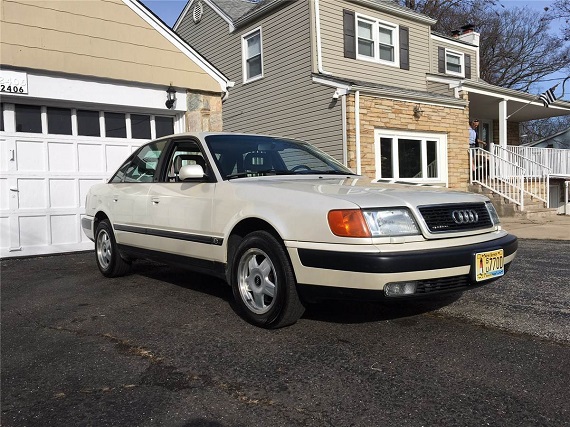 Audi's naming convention between 1985 and 1995 was, to say the least, a bit confusing. Audi had already changed its B2 series to the 4000 designation and C2/3 series to 5000 to help differentiate them from the earlier models. Starting in 1986, Audi introduced the "CS" designation. In the 5000 model, that denoted the turbocharged model, as the "S" was lower spec model. The same carried to the 4000 model. In both cases, the "S" model was no longer available with quattro. This was a bit confusing, as the 4000S quattro had been available in '84/'85, and the '86 model was effectively identical to the outgoing '85. It was more confusing, though, in '87, when the "S" model was introduced with quattro in the 5000 range but not in the 4000.
In 1988, the trim levels changed again. Now the 4000 designation was gone, replaced with the B3 models that brought the small sedans in line with their European counterparts. Now there was a low spec 80 and a high spec 90, both available with quattro. The 5000 soldiered on for another year with only revised badging script to bring it in line with the change.
In '89, the 5000 was changed over to match the 80/90 with the 100/200 models. As with 80/90, the 100/200 differentiated trim and engine choice. Quattro was available in both models, but the 200s were higher spec and had turbochargers. It made sense.
Things started to get confusing again in 1992, though. Audi was really struggling to make sales in the U.S., and the introduction of the new "S" performance models further muddied the waters as the new C4 was introduced. Gone was the 200, but S/CS designation was back! However, since turbocharged models were limited to the S4 in the U.S., there was no 100S quattro – only the 100CS quattro. This convention, however, only lasted 3 years.
At the same time, the 90 range was also revised in 1993 to the new B4 model. In 1992, only the 80 model was available, but when the new 90 model was launched, the 80 was gone and the 90 was now S/CS trim, too. The strange changes continued in 1995, when thoroughly frustrated by their lack of sales success Audi completely relaunched their brand with the new "A" series of names. So, in 1995, the 100 became the A6 and the S4 became the S6, with only minor changes between the two. But the 90 continued alongside the A6 range for one more year until the new A4 was ready, although the CS was dropped in that year and replaced with "Sport". Still with me?
The point of all this is that each of these generations of Audis is pretty unique, but none were particularly sales successes. In the case of the 100CS quattro we see here, a scant 5,000 of which were sold in the U.S.: