Perhaps this is a bargain the world of one percenter cars, mere pocket change for those used to spending this much just doing regular servicing on their Gulfstream V.
There are plenty of Maybachs on the market in both the short wheel base 57 and extended 62 configurations. Prices new ranged from the $350,000 base model to the absurd $1.4 million Landaulet model.
The car featured here is a mere $122,800, which is on the low end of the used Maybach market. the car has served its purpose, covering 66,350.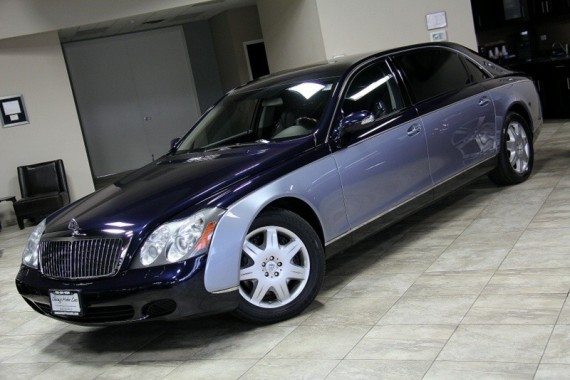 I picked this particular specimen out as, while you are getting the benefit of some depreciation and perhaps having your neighbors turn up their nose at your frugality when buying a used Maybach, this one is finished in the rarer Cote d'azur Dark Blue with Silver paint scheme. The colors give this Maybach a particularly striking presence.
These were never pretty cars. Outside their soft, rolling, lines make them seem whale like, much less aggressive than say a BMW Alpina B7. Inside the Maybach has it all over the 7 and trumps the top of the line Mercedes S class models as well. Luxurious seats with personal entertainment lend to the first class plane atmosphere. A separate set of roof mounted gauges in the back allows you to keep tabs on your driver. This car has the very cool electro-translucent solar paneled roof option. This added $14,000 to the cost of the car, but provided a large sunroof that could be dimmed to let in more or less light from above. This technology was pretty innovative when they first added it into the roof of these cars and is quite fun to watch in action. Google it if you haven't seen it before. The solar panels provide power to help keep the car cool on hot days.…