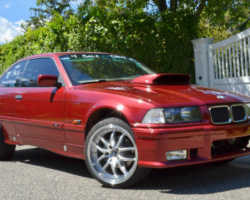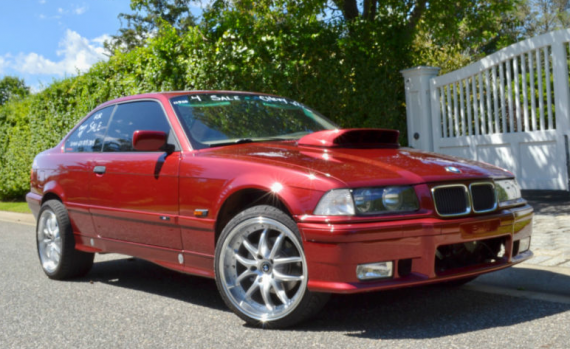 My appetite for engine swaps has waned as I grow up and appreciate originality and provenance, but that's not to say I dislike them. I still think an S38 in an E30 would be excellent, or a modern 2.0T in an older VW. I can usually even get past the uncomfortable feelings of cognitive dissonance when I see 3-series with 2JZs from Supras or RB26s from Skylines. There's been an LS1-powered E30 M3 that crops on eBay every once in a while that looks great and must be a wild ride. Hopefully I've convinced you that I'm not upset with this 3-series purely because of the engine swap. It's the whole package – the Subaru scoop, the terrible stance and wheels – piled on top of a Chevy 355 that makes me feel sad for the unwitting 318i that was the basis for this monstrosity. Sure, it does great burnouts, but why?!
Year: 1995
Model: 318i
Engine: Chevy 355 V8
Transmission: 5-speed manual
Mileage: ???
Price: $11,900 Buy It Now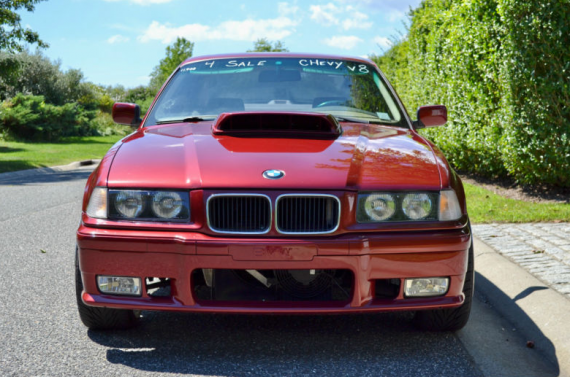 GetAwayCarz Performance Drivelines has just completed the newest addition to the lineup of fire-breathing mix-breeds. This car started out life as a 1995 BMW 318i (YES, as far as insurance is concerned, it's a 100HP 4 cylinder that doesn't require a high emissions inspection 🙂 ) The shell has 170k on it but is in excellent condition. We added a 355 cubic inch small block Chevy with 10 to 1 compression, 2.02″ intake valves and 1.6″ exhaust in freshly rebuilt heads, .465″ lift cam with 282/282 duration with a fresh timing chain, a new then modified edelbrock intake, a holley 4 barrel mechanical secondary double pumper carb with custom fabricated Ram Air box for dense cool air through the hood scoop, full MSD ignition system including 6AL box, MSD billet distributor, MSD custom taylor ignition wires and MSD's Blaster coil, adjustable fuel pressure regulator is on drivers side strut tower for accessibility.
…