When I was but a wee youth, I had visions of a GTI or Scirocco as my first REAL car.  Sure, the Ford LTD I drove through high school was a car in the loosest sense of the word, but it had zero value as a vehicle.  It was big, ugly, got awful gas mileage, and it smelled like moth balls.
The day before my graduation my dad presented me with the keys to my new car and a payment book, I took the VW keys and went outside to see what awaited.  A GTI, Scirocco, heck I would have taken a MKII Golf with a sunroof at this point.  It was not any of them, it was a 1984 Rabbit Diesel.
For what is was it was a pretty cool car.  It was fitted in Wolfsburg trim and had Tarantula wheels from an older Scirocco.  I mean at this point beggars could not be choosers.  But it was a diesel, you know, before they were cool.  That pang of disappointment was replaced with glee as I got to know my capable little hatch.
These cars are surprisingly fun to drive and the 50-60 mpg was a nice bonus, which was needed as you could drive all over town looking for diesel fuel.  By now most of these cars have been run into this ground which makes this example a great opportunity.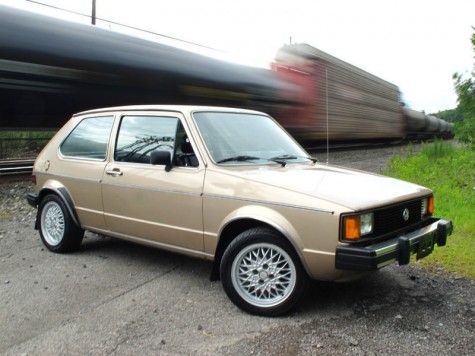 From the seller –
"This is my 1981 Volkswagen Rabbit LS Diesel.  This is the second one I've had for sale recently, and by far the best.  In fact I would venture to say this is the finest condition Diesel Rabbit for sale in the country.

This car runs, looks and drives like a dream.  I would trust this car to drive cross-country.

This car will get around 55 mpg highway- you cannot beat the fuel economy.

These iconic cars are getting more and more difficult to find, and I strongly believe this is the nicest one that you will find for sale anywhere.  This car has only 78,968 original miles since new.  I am a specialty car dealer-  I searched and searched, and found this car in the hands of a private Volkswagen collector.  He had this in climate-controlled storage for over 20 years, hence the low mileage. It was put away back when George Bush, Sr was president!  Once I had it brought out of storage, I went over the car carefully to bring it up to speed mechanically.  Since it was brought out of storage, I have had the timing belt and tensioner replaced, plus done a flush of all fluids, replaced all filters including the fuel and oil filters, replaced the front wheel bearings, replaced the shift linkage bushings, plus serviced the brakes.  The oil was changed with Rotella Diesel oil.  All of this work has been done in the last 50 miles.  To my knowledge the car needs nothing mechanically.

This is the "luxury" LS edition, which includes an upgraded interior with leatherette (vinyl) seats, larger wheels/tires with stainless full wheel covers, plus cruise control and air conditioning.

This car has been gone over carefully and it runs and drives like a dream.  The engine starts up perfectly and it runs very smoothly.  The transmission shifts perfectly and the clutch is tight.  The car runs, drives and handles great.  I would trust this Rabbit to drive to California and back- no worries.  It is peppy, handles great and it is fun to drive- anyone who says these cars are slow must have been driving an automatic.

The car has the 1.6 naturally aspirated 4-cylinder diesel engine and 4-speed manual transmission. It has a plug-in block heater for winter.  It has a great radio, a Panasonic AM/FM cassette that really was the cat's meow back in the 80s!  This car turns heads everywhere it goes, because of its outstanding condition and also because most people haven't seen one of these in a generation!

The interior is excellent.  The seats are in superb condition and they look sort of like real leather even though they are vinyl.  The foam is still in great shape and the seats are supportive and comfortable.  The carpets are VERY good and have been covered with original "Rabbit" logo floormats since new.

The body is absolutely straight, solid and super clean.  I cannot imagine you will find the body of a Rabbit in better condition.  The paint appears to be all original, and there is no evidence of any accidents or damage, ever.  The paint is extremely glossy and in superb condition for the age.  The body is straight, clean and looks excellent.  There is basically NO RUST of any consequence, save maybe some tiny surface rust on a paint nick.  There is absolutely NO ROT or body rust of any significance, at all. The body, paint and underside are SUPREMELY PRISTINE for the age of this car. The strut towers are perfect- all the welds are like new with absolutely no rot or rust.  If you have the opportunity, come out and see this car- it is in amazing condition.

All of the guages work, including temp, fuel, clock, speedo and odometer/trip odometer.

The headliner is slightly sagging, and is pinned up with pushpins to keep it taut.  It looks fine this way.

Keep in mind that this car is 30 years old and as such it isn't perfect.  Here is the list of what is wrong- the shifter boot is slightly torn; there is a tiny nick in the windshield (not a crack); the driver's door hinge sags just a tiny bit; the cruise control doesn't appear to work; the crankcase breather hose has been routed to under the car rather than back in the intake (common for diesels); the passenger side "vent window" glass is missing in the photos but has since been replaced; there is a tiny split in the vinyl on the driver's seat; and there is typical 4-cylinder diesel vibration at idle- upgraded engine mounts would fix this. The title reads 78,850 miles non-acutal, due to the age of the car. The air conditioning does not blow cold.  It is the original R12 system, and to make it work you will have to have a mechanic convert the fittings and O-rings over to R134a and charge the system.  The compressor, belt and all the A/C equipment is intact.  The compressor pulley turns and the hoses all appear to be in good condition.  I'm not messing with a 30-year old A/C system since it is beyond my skill level- I will leave this to the new owner."
The mileage is one thing, that is a rarity as these cars get driven and then driven some more.  The condition is what I find amazing, it looks like it has been in storage for two decades as the seller states.  It is one thing to store a car, it is entirely something different to store it in such a way that it ages appropriately.
I know I am gushing and I am sure part of that is the 18 year old in me.  But this car looks and feels like something special.  If I was looking for a reliable, economic, and trusty commuter I would look no further than this.  This Rabbit is sitting at $3k with a little more than a week to go.  There is no reserve so this car will sell.  If I had to hazard a guess I would say this is a $5.5k to $6k car.  That seems high but given the cost of gas and the amazing condition of this car that price point seems appropriate.
~Aaron.