Yeah that sounds weird no matter how I type it.
I have a Randy Johnson story, I am sure 98% of the people in the Pacific Northwest have one.  I was at a record show, you know, the kind of place where smelly people try to unload their rare and out of print LP's.  It's like High Fidelity threw up, smells like it to.
Any how, my buddy who we will call John (cause that is his name) is looking at obscure Led Zeppelin albums when I hear him raising his voice.  It sounded something like "I don't care who you are if you don't give me some space I will knock you out!"  I cleaned this up but you get the idea.
Turns out Randy Johnson was as cantankerous and nasty in life as he was on the diamond.  But hey, he got his 300th win in a Giants uniform so he can't be all bad.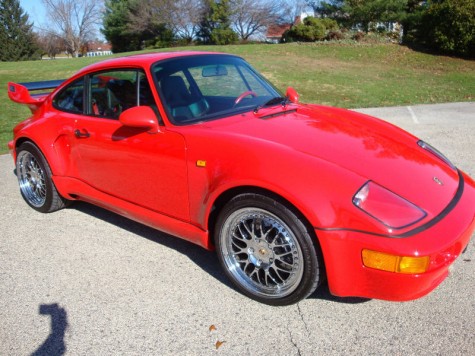 From the seller -
"1991 Porsche 964 Turbo Gemballa Upgrades. 25k Miles!!!

THIS IS NOT A SALVAGED TITLE.  THIS IS A CLEAN PA TITLE AND PLEASE CHECK THE LAST PICTURE POSTED.

Formally owned by Sy Young winning pitcher Randy Johnson Arizona Diamondbacks.  This is the real thing !! Just like the poster you had above your bed when you where a kid  This car has always been adult owned, never raced, and never, never  smoked in!!  It was sold at Barrett Jackson Auction announcing prior ownership by Randy Johnson.  Also verified history with Porsche archives.  This is a one of a kind, rare automobile in excellent condition and was always garaged or showroom kept.  It recently spent three  years as a show piece on a dealership showroom.

Exterior Upgrades

1. Gemballa Avalanche conversion front end.

2. Gemballa Quarter Panel intakes.

3. Gemablla Side Skirts.

4. RSR Carbon fiber Spoiler.

5. HRE 3 Piece chrome 18″ wheels with like new tires.

Interior Upgrades

1. Gemballa Design Recaro Racing Seats with backs painted to match exterior

2. Gemballa gauges red with red trim.

3. Gemballa door panels.

4. Gemballa door sills

5. Carbon fiber back trim for gauges, shifter, and hand break.

6. Precision Power Stereo System valued at $11,000

7. K40 Built in Radar Detector.

Performance

1. Gemballa Exhaust System

OPTON 220- limited slip differenttial

Notes:

The suspension and engine are completely stock.  This car was never raced and is super clean .  The car was stolen from its previous owner and paid off by the insurance company and later was found.  This will show up on the car fax report.  I do not have any more information about previous owners other than Randy Johnson and personal info listed .  Please view the last photo.  If you are not happy with this car after bidding on ebay  then I wont hold you to it . I will assist with all domestic or international shipping ."
I don't want to nitpick, but, if the car was purchased by an insurance company it will have a salvage title.  Maybe not in PA but these things have a tendency to rear their ugly little heads at the most inopportune times.  Also, it's Cy Young and brakes, OK I am done.
This car is not my cup of tea but it may appeal to a certain buyer.  Outside of that pesky title issue it looks to be well sorted and in good shape.  The $39k starting bid is a dream, subtract $10k and it may get some play.
Either way it is neat to see a 964 turbo with all these period correct Gemballa bits.  MC Hammer would approve.
~Aaron.