As luck or happenstance would have it this is the second former 928 of Mr. Sheen that we have featured.  The first was a 1994 GTS with crazy low miles that was in exceptional condition.  This one is a little more road worn, the Sheen factor does not do much for the value but it sure makes for an interesting story.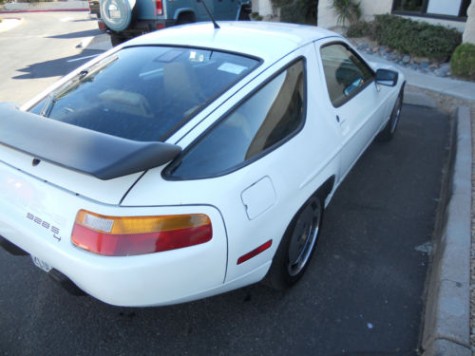 From the seller -
"This was originally purchased by Charlie Sheen in 1989.This car is in very good shape. Great shape for the year and miles. Do not let the miles scare you. I drive this on the freeway at 80 mph and it runs straight and strong. No leaks or problems, not one rattle or issue that I know of this amazing sports car is road ready. This Porshe had over $7000 in maintnance performed less than 4 k miles ago. The tires are in great shape. A/C blows cold , all power options work, both power seats, power sun roof. The stereo in this beautiful car is incredible. Charlie spent big bucks on the system. This car needs nothing but a new home. All my friends love this car and thought I called it the Chalie Sheen car to be funny. I have to show them the copy of registration for CS.

The car does have scratches on the rear quarters, I tried to show them in the pictures but they didn't show up. They have been touched up but not to great standards.

Ebay did not let me select automatic transmission but it is not a manual.  A lot of fun. A great driver and a piece of celebrity memorabilia."
I am torn, the car has seen some wear, the weird angles that it is shot does not do anything to increase my confidence.  But it has had $7k of recent work, that should stand for something, right?  No, of course you are right.  Cars like this eat wallets, what was I thinking.  Nothing to see here, move along, move along.
Depending on which side of the fence you are on I cannot find a good reason to spend more than $10k on this car.  Drive it, drive it hard until it breaks and buy the next 928 castoff from Mr. Sheen.
Now that is what I call WINNING!
~Aaron.