Too often we sit back in anticipation for the release of a new model and are left scratching our heads asking ourselves "what the hell were they thinking?" (I'm looking at you BMW 5-Series GT!) Seldom are the times when a brand really nails it. I personally think Volkswagen nailed this one: the 2003 Passat W8 wagon.
I like to imagine the scene similar to how the BMW M Coupe was conceived. Couple of Volkswagen engineers sitting around after work, drinking Dopplebocks and talking about what they would make if they had creative control. "Four-wheel drive, plenty of power, let's give it a 6-speed…and it's gotta haul a lot of beer!!" In reality it was an exercise to test the W-engine technology for future use in the VW Phaeton, Audi A8 and Bugatti Veyron, which isn't a bad story either.
From my web research it appears that less than 100 W8 wagons with the 6-speed were brought to the US making this a very special and rare car.
Year: 2003
Model: Passat W8 wagon
Engine: 4.0 W8
Transmission: 6-speed manual
Mileage: 105,000 mi
Price: $9,000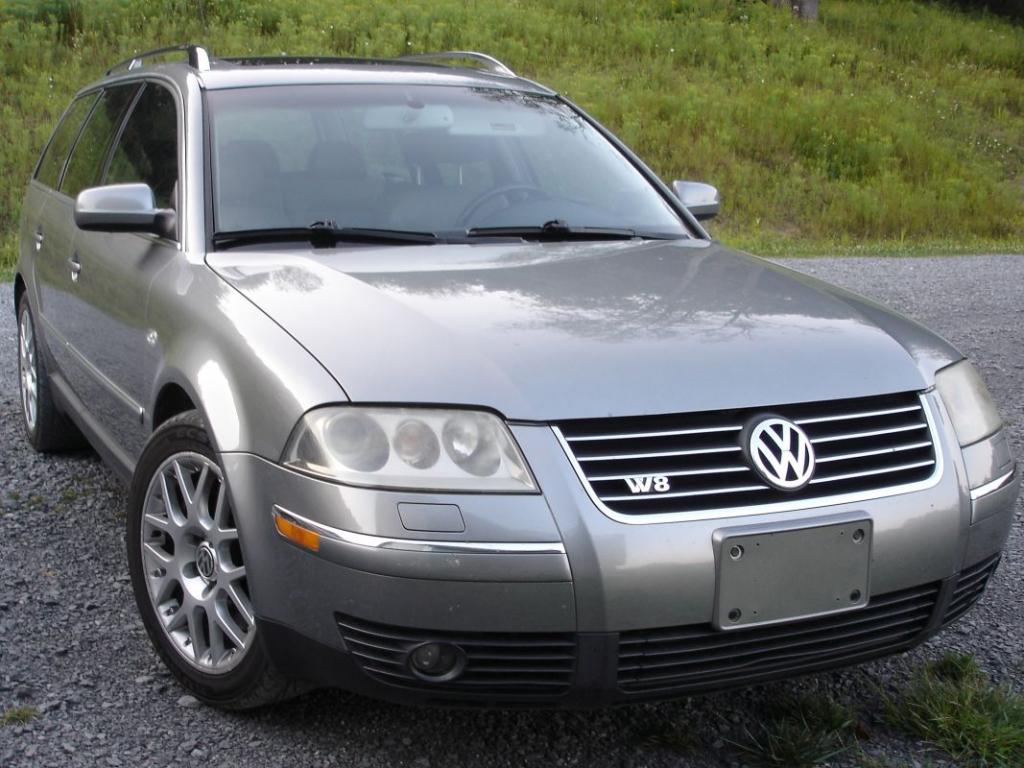 It is with heavy heart that I post my beloved W8 for sale. It's become necessary for me to get a new truck, so I must let my toy go. I'm posting it here first. I'd love to see it go to an enthusiast.

Warning: if you are looking for a practical, daily driver Passat, then this car is not for you. The W8 is a different animal. It had very limited production, and repairs are often expensive and complicated, requiring hard-to-find parts and specialized tools and training. It is a heavily modified, high performance Passat with a very sophisticated 4.0L 8 cylinder engine. (http://en.wikipedia.org/wiki/W8_engine) For example, it looks like a stock Passat, but it requires 9 quarts of synthetic oil and supposedly has a top speed of 174 MPH. It has four cams, three fuel tanks, two counter rotating balancing shafts, unlined aluminum block and vacuum stiffened engine mounts. If you are a VW enthusiast and know what you are looking at, then by all means, buy this car. I have taken good care of it, and it needs to go to a good home. The combination "Sport, Manual, Wagon" makes this car all that much more rare.

It includes the Madras rims, although most pics show with winter treads. Will consider including winter wheels, if buyer needs them.
$9K is a lot of coin for a VW wagon but the thought that this will be a future collectible keeps me interested. As the seller mentions in the forum thread, this car is not for everyone, it's a "heavily modified, high performance Passat with a very sophisticated 4.0L 8 cylinder engine." The gamble is that if anything goes wrong there are very few indie mechanics who are well-versed on the W8, so you would most likely have to take this to a dealer and get spanked on repairs. The big threat for the W8 is the failure of the cam shaft timing adjusters but the seller states this is much less common for the manual transmission model. Besides a couple oddball noises from the HVAC this one checks out and has a clean CARFAX.
-Ben