Not new to you.  I mean NEW, at the very least new 'ish.
Here we have a time capsule, a 1991 E34 M5 with only 6k miles on the ticker.  Where has this thing been anyhow?  Who buys something like this and does not drive it?  For me the temptation would be far too great.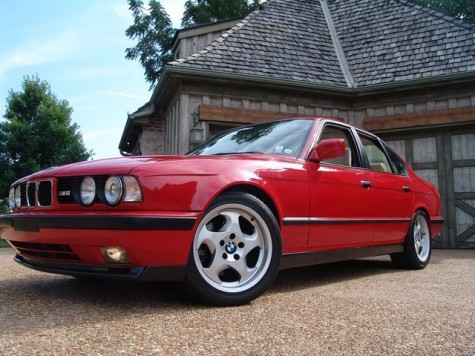 From the seller –
Wow" Only 6k Miles! Newest on Planet Earth!!! Serviced to Death. Show Piece. None Finer!!! If you always wanted a E34 Body M5 This is It. Like going to your BMW Store and finding a "New" M5 they forgot they had!

Special Equipped with:
Euro Cam Gears
Dinan Stage 2 Suspension Kit!!!
All Books, Records, and Receipts!

Passed 100 Point Inspection & Just Serviced!!!"
This car is in amazing shape.  The interior is impeccable, even with the low miles that would be impossible to keep that clean.  The paint looks flawless.  The motor is so clean I would be willing to eat my lunch off of it.
I can't remember ever seeing an E34 M5 with this kind of mileage so it stands to reason that it would fetch crazy money.  The buy it now seems high but bidding is already at $37k so what do I know.  This is a museum piece and I am sure someone has been looking for a M5 like this for some time.  I will be curious to see where this one ends up.
~Aaron.